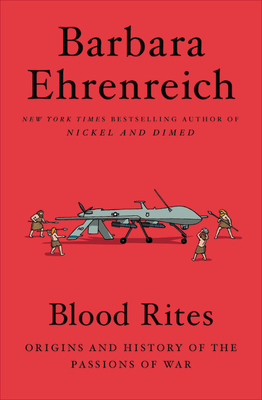 Blood Rites (Paperback)
Origins and History of the Passions of War
Twelve, 9781455543700, 384pp.
Publication Date: January 7, 2020
Other Editions of This Title:
Paperback (5/15/1998)
Compact Disc (1/7/2020)
Hardcover (5/1/1997)
Paperback (4/1/2011)
* Individual store prices may vary.
Description
A New York Times Notable Book
An ALA Notable Book
"Original and illuminating." --The Washington Post
What draws our species to war? What makes us see violence as a kind of sacred duty, or a ritual that boys must undergo to "become" men? Newly reissued in paperback, Blood Rites takes readers on an original journey from the elaborate human sacrifices of the ancient world to the carnage and holocaust of twentieth-century "total war."
Ehrenreich sifts deftly through the fragile records of prehistory and discovers the wellspring of war in an unexpected place -- not in a "killer instinct" unique to the males of our species, but in the blood rites early humans performed to reenact their terrifying experiences of predation by stronger carnivores.
Brilliant in conception and rich in scope, Blood Rites is a monumental work that continues to transform our understanding of the greatest single threat to human life.
About the Author
Barbara Ehrenreich is the author of over a dozen books, including the New York Times bestsellers Nickel and Dimed and Natural Causes. She lives in Virginia.
Praise For Blood Rites: Origins and History of the Passions of War…
ORIGINAL PRAISE FOR BLOOD RITES:
"Keen and arresting...One of today's most original writers has tackled one of humankind's most intractable subjects."—
New York Times Book Review
"Original and illuminating. It is a large step from the all-male hunting band to the U.S. Marine Corps. Barbara Ehrenreich plots the path, nevertheless, both passionately and persuasively."—
John Keegan, The Washington Post
"Splendid...A fascinating perspective on our staunch devotion to mass, mutual slaughter. BLOOD RITES is that rare animal, a non-fiction page-turner."—
Newsweek
"Exceptionally wide-ranging, BLOOD RITES is brilliant, persuasive, and thoroughly accessible."—
The Philadelphia Inquirer