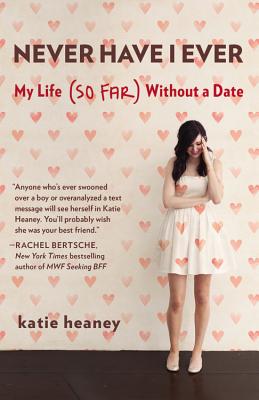 Never Have I Ever
My Life (So Far) Without a Date
Paperback

* Individual store prices may vary.
Other Editions of This Title:
Digital Audiobook (1/13/2014)
Compact Disc (3/1/2016)
Pre-Recorded Audio Player (5/1/2016)
Compact Disc (3/1/2016)
Description
A hilarious, quirky, and unflinchingly honest memoir about one young woman's life-long (and totally unsuccessful) search for love.

"I've been single for my entire life. Not one boyfriend. Not one short-term dating situation. Not one person with whom I regularly hung out and kissed on the face."

So begins Katie Heaney's memoir of her years spent looking for love, but never quite finding it. By age 25, equipped with a college degree, a load of friends, and a happy family life, she still has never had a boyfriend...and she's barely even been on a second date.

Throughout this laugh-out-loud funny book, you will meet Katie's loyal group of girlfriends, including flirtatious and outgoing Rylee, the wild child to Katie's shrinking violet, as well as a whole roster of Katie's ill-fated crushes. And you will get to know Katie herself -- a smart, modern heroine relaying truths about everything from the subtleties of a Facebook message exchange to the fact that "Everybody who works in a coffee shop is at least a little bit hot."

Funny, relatable, and inspiring, this is a memoir for anyone who has ever struggled to find love, but has also had a lot of fun in the process.
Praise For Never Have I Ever: My Life (So Far) Without a Date…
"Reading Never Have I Ever is a bit like reliving your most awkward moments -- but in the best way, because this time, the cringeworthy moments are happening to someone else. Anyone who's ever swooned over a boy whose name she didn't even know or overanalyzed a text message from a crush will see herself in Katie Heaney. You'll relate to her frustrations and admire her confidence, and probably wish she was your best friend."—Rachel Bertsche, New York Times bestselling author of MWF SEEKING BFF

"Katie Heaney is so hilariously fun to read that you may not notice right away how insightful she is about friendship, romance, and the essential weirdness of human relationships."—Emily Gould, author of And The Heart Says Whatever

"I challenge any reader to not feel like one of Katie Heaney's closest girlfriends as she examines, in the most charming, honest, original and amusing way imaginable, how she's managed to never have a date. But don't let the breezy language or topic fool you-this is also a brilliant examination of what it means to be a friend, a girl and a human being. The first guy to take Heaney out will be very lucky; in the meantime, we her readers are the lucky ones."—Anna David, New York Times bestselling author of Party Girl and Falling For Me

"No one has ever captured the angst and frustration of crushes as perfectly and humorously as Katie Heaney. Anyone who has ever fallen in love with a cute stranger on a train, on the street, in class, or at work, will instantly identify with it, and laugh and cringe along with her dating misadventures. But what is most admirable and impressive about this book is how unflinchingly Katie is able to examine herself. As hilariously cutting as she is when describing the male objects of her desire, she's also self-deprecating and introspective. And the book manages to point towards another (oft overlooked) great love in a woman's life: that of her friends."—Chiara Atik, Author of Modern Dating: A Field Guide.

Astute and tremendously witty, Never Have I Ever chronicles the romantic travails (well, almost romantic) of the very funny Katie Heaney. At some points, I actually got tears in my eyes from laughing too hard—Rebecca Harrington, author of Penelope

"Katie's writing is hilarious, and warm, and thoughtful, and reading this book is like having a little version of her to hang out with. What's that, Miniature Paper Katie? You don't like the bath??"—Edith Zimmerman, founder of TheHairpin.com

"Every twentysomething woman will relate to at least one of the disastrous attempts at courtship in this memoir. And then she'll want to buy copies for all of her girlfriends so they can discuss it over a few glasses (bottles?) of wine at book club."—Library Journal

"Katie's prose illustrates her life events by letting the voice in her head reveal all. Everything that ever crossed your mind while you were with your friends and crushes will echo back to you as you read about moments like a messy kiss with Eric or the feeling of helplessness when finding out that a friend of the opposite sex likes you and you just are not ready for that kind of information."—HelloGiggles

"Never Have I Ever is a strikingly profound and brilliant memoir that presents on-point observations about growing up, friendship and the confusing world of dating. Katie writes with such ease and skill that it's hard not to become completely wrapped up in her many relatable adventures. Her wit and intelligence effortlessly place her amongst today's great writers, and readers will be left thinking, "Finally, someone gets it." If you're a fan of Mindy Kaling, the New Adult genre or are simply looking for your next great read, Never Have I Ever is the book for you."—RT Book Reviews
Grand Central Publishing, 9781455544677, 272pp.
Publication Date: January 14, 2014
About the Author
Katie Heaney is a senior editor at BuzzFeed whose writing has appeared in Cosmopolitan, Vulture, The Hairpin, The Awl, and Pacific Standard, among other places. She is the author of a memoir, Never Have I Ever, and the novel Dear Emma. She lives in Brooklyn.
or
Not Currently Available for Direct Purchase