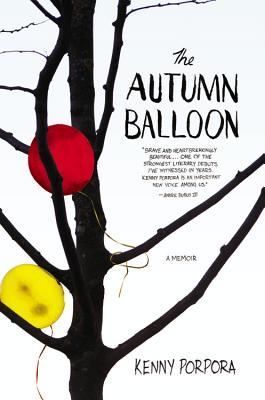 The Autumn Balloon
Hardcover

* Individual store prices may vary.
Other Editions of This Title:
Digital Audiobook (2/2/2015)
Description
Every autumn, Kenny Porpora would watch his heartbroken mother scribble messages on balloons and release them into the sky above Long Island, one for each family member they'd lost to addiction. As the number of balloons grew, his mother fell deeper into alcoholism, drinking away her sorrows every night in front of the television, where her love of Regis Philbin provided a respite from the sadness around her.

When their house was foreclosed upon, Kenny's mother absconded with him and his beloved dog and fled for the Arizona desert, joining her heroin-addicted brother on a quixotic search for a better life. What followed was an outlaw adolescence spent in constant upheaval surrounded by bizarre characters and drug-addicted souls.

In the wake of unspeakable loss, Kenny convinced a college to take a chance on him, and turned to the mentors, writers, and poets he found to rebuild the family he lost, and eventually graduated from the Ivy League with a new life.

Porpora's memoir is the story of a deeply dysfunctional but loving family, and follows his life from the chaos of his youth to his triumphs in the Ivy League. At times darkly comic, at times elegiac, The Autumn Balloon is a beautifully written testament to the irreplaceable bonds of family, even under the most trying circumstances, and one that marks the debut of an exciting new writer.
Praise For The Autumn Balloon…
"Porpora describes the realities of his life with humor, grace and laudable neutrality, never once falling into the surviving-against-all-odds tone so frequent in this genre. . . .a brilliant debut from a fine writer . . . Four out of four stars."—USA Today

"[A] piercing first book."—Kirkus Reviews

"Compulsively readable. . . alarmingly engrossing. I sat down with this book with the intention of reading a chapter or two and came up for air hours later, bewildered and with my cheeks wet. . . A memoir that should be moved to the top of everyone's to-read list immediately."—Lambda Literary

"It is a rare and essential book that begs to be written, that must be written. One senses that the writer's very survival is at stake, and the writing had better rise to the material or else all is lost. It is an artistic high wire act that only a precious few can pull off and when they do, the result is mesmerizing. Kenny Porpora more than achieves this in his brave and heartbreakingly beautiful memoir, The Autumn Balloon. This unforgettable tale lays bare the squalor of addiction and the poverty of the mind, heart, and body that comes from that, yet it is also a fearless meditation on the surprisingly enduring love of family, those eternal blood ties that ultimately save us all. This is one of the strongest literary debuts I've witnessed in years, and Kenny Porpora is an important new voice among us."—Andre Dubus III

"Spellbinding, gut-wrenching, and wildly cathartic, Kenny Porpora's heady literary debut is everything you want a memoir to be. This book will leave you with a sense of gratitude for life's biggest heartbreaks, and remind you that our greatest triumphs arise from our deepest struggles. Kenny Porpora is one of those rare individuals who was utterly destined to become a writer, and The Autumn Balloon will no doubt find a place on the shelf among the very best of its genre." —Claire Bidwell Smith, author of The Rules of Inheritance

"Kenny Porpora's stunning memoir, The Autumn Balloon, had me from the opening pages and wouldn't let me go until the very end. Even then, I didn't want to say goodbye to my narrator and his extraordinary ability to find something of beauty in the darkest places. This family story of addiction is full of moments--some tender, some funny, some ordinary--that speak of the love that persists even in a family's most brutal times. This is a story of what we take from one another and what we do to move forward. A beautifully written book about loss and redemption,The Autumn Balloon is as real as it gets."—Lee Martin, author of Such a Life and From Our House

"Kenny Porpora's startling and incisive debut memoir cuts a wide swath, from heart-rending to hilarious. In an eloquent voice, he tells of one of the most horrendous childhoods imaginable, avoiding any hint of self-pity. Out of the shabbiest materials, he has found a life worth living, and grown into a man who is capable of forgiveness and love. His testament will not be forgotten."—Robert Goolrick, author of A Reliable Wife and The Fall of Princes
Grand Central Publishing, 9781455545162, 304pp.
Publication Date: February 3, 2015
About the Author
Kenny Porpora, 26, is a freelancer for the New York Times, and a breaking news editor at the Huffington Post. He is a graduate of Hofstra University and the Columbia School of Journalism.
or
Not Currently Available for Direct Purchase