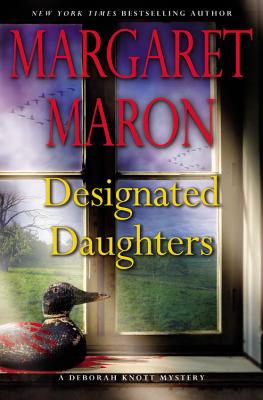 Designated Daughters (A Deborah Knott Mystery #19) (Hardcover)
Grand Central Publishing, 9781455545285, 320pp.
Publication Date: August 12, 2014
Other Editions of This Title:
Digital Audiobook (8/11/2014)
Hardcover, Large Print (9/1/2014)
Mass Market (5/26/2015)
Pre-Recorded Audio Player (8/1/2014)
MP3 CD (9/1/2014)
Compact Disc (9/1/2014)
Compact Disc (9/1/2014)
* Individual store prices may vary.
Description
When Judge Deborah Knott is summoned to her ailing Aunt Rachel's bedside, she assumes the worst. Thankfully when she arrives at the hospice center she learns that Rachel hasn't passed; in fact, the dying woman is awake. Surrounded by her children, her extended family, and what seems like half of Colleton County, a semi-conscious Rachel breaks weeks of pained silence with snippets of stories as randomly pieced together as a well-worn patchwork quilt. But the Knott family's joy quickly gives way to shock: less than an hour later, Aunt Rachel is found dead in her bed, smothered with a pillow.


Who would kill a woman on her deathbed? Was it an act of mercy, or murder? As Deborah and her husband, Sheriff's Deputy Dwight Bryant, investigate they cross paths with an unlikely set of suspects: Rachel's longtime minister; her neighbor, the respected local doctor; the friendly single father who often sought her advice; and perhaps the most puzzling party of all, the Designated Daughters, a support group for caregivers that Rachel's own daughter belongs to.


Soon Deborah and Dwight realize that the key to solving this case is hidden in Rachel's mysterious final words. Her mixed-up memories harbored a dark secret-a secret that someone close to them is determined to bury forever.

About the Author
MARGARET MARON grew up in the country near Raleigh, North Carolina, but for many years lived in Brooklyn, New York. When she and her artist husband returned to the farm that had been in her family for a hundred years, she began a series based on her own background. The first book, Bootlegger's Daughter, became a Washington Post bestseller that swept the major mystery awards for its year-winning the Edgar, Agatha, Anthony, and Macavity Awards for Best Novel-and is among the 100 Favorite Mysteries of the Century as selected by the Independent Mystery Booksellers Association. Later Deborah Knott novels Up Jumps the Devil, Storm Track, and Three-Day Town each also won the Agatha Award for Best Novel. Margaret is also the author of the Sigrid Harald series of detective novels. In 2008, Maron received the North Carolina Award for Literature, the highest civilian honor the state bestows on its authors. And in 2013, the Mystery Writers of America celebrated Maron's contributions to the mystery genre by naming her a Grand Master-an honor first bestowed on Agatha Christie. To find out more about her, you can visit MargaretMaron.com.
Praise For Designated Daughters (A Deborah Knott Mystery #19)…
In DESIGNATED DAUGHTERS, practically the whole clan shows up at the hospice where Aunt Rachel has interrupted the process of dying to deliver a rambling account of all the things that have been on her wandering mind. It's quite a lovely deathbed aria, narrated in the honeyed accents of the region. But someone must have feared Aunt Rachel might divulge a buried secret because that someone creeps into her room and smothers her with a pillow.
Maron knows how to adorn a solid murder mystery with plenty of ancillary entertainments. But her broader theme involves the way families flourish when they work together for the common good. While there are charming scenes of group projects like building a pond shed and assembling a bluegrass band, the clan members Maron really cherishes are those who devote themselves to caring for the elders of the family. Living saints they are, every last one of them.—
New York Times Book Review
In MWA Grand Master Maron's outstanding 19th mystery featuring judge Deborah Knott of North Carolina's Colleton County (after 2012's
The Buzzard Table
), Deborah's elderly aunt, Rachel Morton, lies near death in a hospice. Rachel attracts a crowd of friends and relatives as she talks of "babies, fires, and unpaid debts, of someone who beat his wife and of cowbirds and vegetables and broken jars." A distraction allows a killer enough time to slip into Rachel's room and smother her with a pillow, thus ending her ramblings, which apparently concealed deadly secrets. Unraveling those secrets-some 60 years old-is a slow, difficult process with lots of suspects among friends and family. Maron achieves a delicate balance as she explores differences between mistakes, sins, and crimes, and shows that justice is not always arrived at by conventional means. Humor (e.g., Deborah outfoxes an unscrupulous auctioneer) and social issues (e.g., the difficult role of caregivers to the elderly) add to the warmth of a large family with all its foibles, squabbles, and quirks.—
Publishers Weekly
When Judge Deborah Knott gets a call from the convalescent home about her Aunt Rachel, she expects to hear the worst. She arrives to find her aunt awake and telling stories from her past, including some that are new to Deborah. Yet within hours Rachel is dead, and it is obvious that she was murdered. While Deborah and her husband, sheriff's deputy Dwight Bryant, investigate, her family becomes embroiled in a dispute with a dirty antiques dealer. Alternating viewpoints between Deborah and Dwight, Maron weaves family threads together with current events that leave the reader wanting to know more about the Knott family tree.
Verdict: The author's 19th series outing (after
The Buzzard Table
) offers loyal fans a fresh look at her expansive family and community. Readers will savor the slow-paced Southern culture and layered story. Maron was named a Grand Master by the Mystery Writers of America in 2013.—
Library Journal
[four stars] Maron is still going strong with the 19th installment in her Deborah Knott series. DESIGNATED DAUGHTERS is a solid mystery where Southern charm meets murder. Maron delves into some social issues of today, and readers can expect a small-town family atmosphere with a lot of heart.
Judge Deborah Knott's beloved Aunt Rachel is expected to pass away at any moment--but she wakes up surrounded by family and friends and begins to reminisce as if she were a young woman again. The Knott family's happiness at Rachel's great improvement is short lived when she is smothered with a pillow shortly thereafter. As Deborah and her husband, Sheriff's Deputy Dwight Bryant, look into what happened, their path continues to cross with a list of unlikely suspects. The pair soon realizes that the motive for murder was a secret told during Aunt Rachel's mixed-up ramblings before her death--a secret worth killing for.—
RT Book Reviews
or
Not Currently Available for Direct Purchase