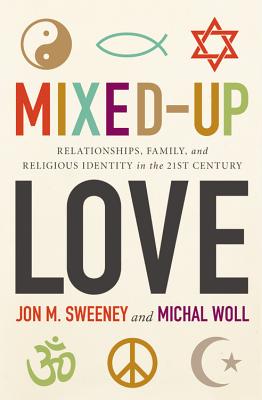 Mixed-Up Love (Paperback)
Relationships, Family, and Religious Identity in the 21st Century
Jericho Books, 9781455545896, 198pp.
Publication Date: October 15, 2013
* Individual store prices may vary.
Description
Dating, commitment, kids, and family--it's all hard work, and when you come from different religious backgrounds it's even harder.
Jon, a Catholic writer, and Michal, a Reconstructionist rabbi, live out the challenges of an interfaith relationship everyday as husband and wife, and as parents to their daughter Sima, who is being raised Jewish. In MIXED-UP LOVE, the couple explores how interfaith relationships impact dating, weddings, holidays, raising children, and family functions--and how to not just cope, but thrive.
This is an engaging and practical resource for singles who are considering dating outside their own faith, couples in interfaith relationships, relatives and friends of "mixed" couples who seek information and understanding, and parents desiring a fresh perspective. With clarity, insight, and humor, Sweeney and Woll demonstrate how to engage with your partner, family, and faith like never before.
About the Author
Jon M. Sweeney is an independent scholar, culture critic, and popular speaker with 25 years of experience in spirituality trade publishing. He's the author of many books including "The Pope Who Quit: A True Medieval Tale of Mystery, Death, and Salvation," recently optioned by HBO, Inc. Raised an evangelical Protestant, today Jon is a Catholic who prefers a monastic-style practice.

Michal Woll is rabbi of the Ann Arbor Reconstructionist Congregation. She is a gifted liturgist, pastoral counselor, physical therapist, and yogi. She has passion for teaching and creating ritual, and deep appreciation of Judaism as both a communal identity and transformative, spiritual path.

Jon and Michal live in Ann Arbor, Michigan with their daughter Sima.
Praise For Mixed-Up Love: Relationships, Family, and Religious Identity in the 21st Century…
"For those considering marrying outside of their faith tradition, Mixed-Up Love is an inspiring work."

"Reflects on the new frontiers of interfaith marriage, and publishing veteran Sweeney can be depended on to know what makes a good book."

"We're way beyond Christmas and Hanukkah here. Sweeney and Woll offer a moving, personal reflection on their search for the divine in everyday life. Mixed-Up Love is an instructive, refreshing, and spiritually sophisticated guide for any couple seeking to navigate a complex religious path."

"What unites us is so much greater than what separates us. If we're sometimes mixed-up, this book can help sort it out."

"One of the most moving and candid love stories I have ever read...mature, sure of itself, deft in its telling, rich in its sharing. Whether you are interested in the possibilities and intricacies of interfaith marriage or not, you are going to be grateful that Sweeney and Woll are and that they have been willing to tell the rest of us why."

"Jon and Michal take us into the most intimate space of all, an interfaith marriage, and provide millions of similar couples with light and warmth on the complicated path of committing to faith and one another when the faiths are different. This is a generous and important book."

"Jon Sweeney and Michal Woll have written an extremely important book for our era, and they have done so with depth, integrity, and humor. The book is beautifully written, and the back and forth dialogue between this husband and wife makes for exciting reading. Maybe their love is not so 'mixed-up' after all."

"All of us are figuring out how to be one big human family on one small planet-when members of our family follow many different religions. Jon and Michal are figuring out how that works in one household, and they share both their experience and the wisdom they've gained through it in this charming, enjoyable, and insightful book."

"Jon Sweeney and Michal Woll represent a new kind of American family, one that celebrates and learns from difference. Readers, in turn, will celebrate and learn from this book about their experiences together, whether it's planning a wedding or dealing with 'the December dilemma.'"

"Woll and Sweeney raise important questions in an engagingly frank way for all interfaith couples...They also add to the growing and multi-faceted conversation about rabbis with non-Jewish partners. "
or
Not Currently Available for Direct Purchase