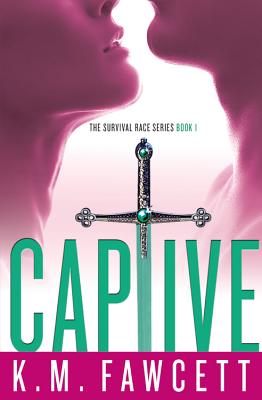 Captive (The Survival Race)
Paperback

* Individual store prices may vary.
Description
"Fawcett delivers a suspenseful and captivating science fiction romance. A must read for all, but especially for fans of THE HUNGER GAMES." --Caridad Pineiro, NY Times & USA Today bestselling author

AN IMPOSSIBLE JOURNEY

The last thing Addy Dawson remembers is a blazing inferno and freezing river water overtaking her lungs. When she awakens, Addy finds herself on a strange, alien planet, trapped in a cell with no doors, no windows-- and to her horror-- a naked warrior who claims to be her mate.

AN UNDENIABLE PASSION

An alpha gladiator, Max is forced to breed and produce the finest specimens for the Survival Race, a deadly blood sport created by the alien rulers of Hyborea. To rebel means torture-or worse-yet Max refuses to become the animal his captors want him to be. But their jailors will not be denied, and soon Addy and Max find themselves unwilling players in this cruel game. Pushed to the limit, they will risk everything for the chance at a life free from captivity. And though fate brought them together as adversaries, Max and Addy will discover that when they're together, there's nothing in the universe that can stop them .
Forever Yours, 9781455546480, 416pp.
Publication Date: June 4, 2013
About the Author
K.M. Fawcett
was a born romantic. At six years old, she would beg her parents to take her to a restaurant with "soft music and candles" where she could drink Shirley Temples and twirl on the dance floor. As she grew, her desire to be whisked into a romantic adventure by a knight in shining armor also grew to the point of annoying her friends and family. When she received Jude Deveraux's A Knight In Shining Armor, she fell head over heals in love...with the romance genre.
K.M. now writes sci-fi & paranormal romances and enjoys stories with action, adventure, and kick-butt heroes and heroines. She and her husband own Tenchi Isshinryu Karate Dojo in NJ where they teach Isshinryu karate, Ryukonkai (Okinawan weapons), and self-defense.
When not writing, training, or blogging at Attacking The Page, she is driving her children to drum practice and ballet classes. Please visit her on Facebook, Twitter, and her website at
www.kmfawcett.com
.
or
Not Currently Available for Direct Purchase