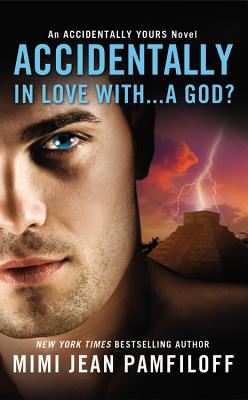 Accidentally In Love With...A God? (Accidentally Yours #1) (Mass Market)
Forever, 9781455546923, 416pp.
Publication Date: October 29, 2013
* Individual store prices may vary.
Description
Trapped for decades, a powerful god seeks freedom . . . and revenge. But the only thing that can save him is the passion of a woman's touch . . .

Emma Keane is your average city girl trying to get a date. There's just one thing holding her back: the disembodied male voice speaking to her through her mind. Sound kind of crazy? Maybe. But crazy turns downright deadly when the voice persuades her to travel to the wilds of the Mayan jungle. There she will free his body-his incredibly hot, muscled, naked body.

Humans are so frail, so undisciplined, so susceptible to love. And when this ancient being connects with Emma, the feelings she sparks drive him utterly mad. Protective, keep-her-close, never-let-her-go kind of mad. Which might not be such a bad thing because from the moment the beautiful, passionate Emma unshackles his body, they are hunted at every turn. Now he'll have to do everything in his power to keep her safe. But will it be enough?

The Accidentally Yours Series

BOOK 1: Accidentally in Love with...a God?
BOOK 2: Accidentally Married to...a Vampire?
BOOK 3: Sun God Seeks...Surrogate?
BOOK 3.5: Accidentally...Evil? (a Novella)
BOOK 4: Vampires Need Not...Apply?
BOOK 4.5: Accidentally...Cimil? (a Novella) (Coming in January 2014)
BOOK 5: Accidentally...Over? (Coming in August 2014)
About the Author
Before taking up a permanent residence in the San Francisco Bay Area, Mimi spent time living near NYC (became a shopaholic), in Mexico City (developed a taste for very spicy food), and Arizona (now hates jumping chollas, but pines for sherbet sunsets). Her love of pre-Hispanic culture, big cities, and romance inspires her to write when she's not busy with kids, hubby, work, and life...or getting sucked into a juicy novel.
She hopes that someday leather pants for men will make a big comeback and that her writing might make you laugh when you need it most.
You can learn more at:
http://www.mimijean.net/
Twitter:
@MimiJeanRomance
Facebook: http://facebook.com/Mimi-Jean/218935048190356
Praise For Accidentally In Love With...A God? (Accidentally Yours #1)…
"If you like sexy Gods and nonstop adventure this is the book for you...Once you read this one you will want to read the next."—
http://romancing-the-book.com/ on ACCIDENTALLY IN LOVE WITH...A GOD?
"I can't wait to read the next one."—
http://romancing-the-book.com/ on ACCIDENTALLY MARRIED TO...A VAMPIRE?
"I want to read the next book in the series so bad. I hope I can handle the wait. It just seems that I get deeper and deeper into this series."—
http://romancing-the-book.com/ on SUN GOD SEEKS...SURROGATE?
"I really love the Accidentally Yours series. I just never know what will happen next."—
http://romancing-the-book.com/ on ACCIDENTALLY...EVIL?
"Strikes a balance between outrageous humor and a thoroughly satisfying love story with aplomb...it won't be difficult to fall for Ixtab and her remarkable transformation, not to mention the thoroughly endearing secondary characters and their scene-stealing plotlines."—
RT Book Reviews on VAMPIRES NEED NOT...APPLY?
or
Not Currently Available for Direct Purchase