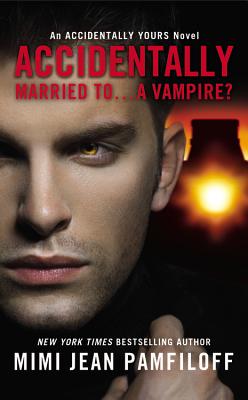 Accidentally Married To...a Vampire? (Mass Market Paperbound)
Forever, 9781455546947, 384pp.
Publication Date: November 19, 2013
* Individual store prices may vary.
or
Not Currently Available for Direct Purchase
Description
This is book 2 in the New York Times and USA Today bestselling paranormal romance Accidentally Yours series.
"If you love her, set her free. If she comes back, she's yours. If she doesn't...Christ Stubborn woman Hunt her down, and bring her the hell back; she's still yours according to vampire law."
"- Niccolo DiConti, General of the Vampire Queen's Army."
After a three-century "time out," legendary vampire Niccolo DiConti vows to fulfill an ancient prophecy and, along the way, defeat the demented queen of the damned. All he has to do is find his human mate, seduce her into agreeing to become a vampire, and bond her to him forever. Luckily, he's handsome, charming, and mind-blowing in bed. How hard could this be?
On vacation in sultry Mexico, biologist Helena Strauss makes the discovery of a lifetime when she meets Niccolo-and finds herself caught in a world of supernatural secrets and dangerous delights. Even more shocking is that he seems to know everything about her and claims her as his true immortal companion. Sure, she can't take her eyes-or mouth-off this gorgeous, perfect being. But can a hot-blooded gal like her really settle down with a cold-hearted vampire?
90,000 words
The Accidentally Yours Series BOOK 1: Accidentally in Love with...a God?
BOOK 2: Accidentally Married to...a Vampire?
BOOK 3: Sun God Seeks...Surrogate?
BOOK 3.5: Accidentally...Evil? (a Novella)
BOOK 4: Vampires Need Not...Apply?
BOOK 4.5: Accidentally...Cimil? (a Novella) (Coming in January 2014)
BOOK 5: Accidentally...Over? (Coming in August 2014)
About the Author
Before taking up a permanent residence in the San Francisco Bay Area, Mimi spent time living near NYC (became a shopaholic), in Mexico City (developed a taste for very spicy food), and Arizona (now hates jumping chollas, but pines for sherbet sunsets). Her love of pre-Hispanic culture, big cities, and romance inspires her to write when she's not busy with kids, hubby, work, and life...or getting sucked into a juicy novel.

She hopes that someday leather pants for men will make a big comeback and that her writing might make you laugh when you need it most.

You can learn more at:

http: //www.mimijean.net/

Twitter: @MimiJeanRomance

Facebook: http: //facebook.com/Mimi-Jean/218935048190356
Praise For Accidentally Married To...a Vampire?…
"Strikes a balance between outrageous humor and a thoroughly satisfying love story with aplomb...it won't be difficult to fall for Ixtab and her remarkable transformation, not to mention the thoroughly endearing secondary characters and their scene-stealing plotlines."
-RT Book Reviews on VAMPIRES NEED NOT...APPLY?

"I cannot possibly put in one review all of the reasons you should read Vampires Need Not...Apply? Mimi Jean Pamfiloff is a master, perfectly balancing hotness (Antonio is just the tip of the iceberg) and humor."
-http://vampirebookclub.net/ on VAMPIRES NEED NOT...APPLY?

"If you're looking for a read that's a little bit silly, a little bit sexy and a whole lot of fun you need to pick Accidentally...Evil? up. I'm off to pick up the other three now. Damn it was a funny one. "
-http://herdingcats-burningsoup.blogspot.com/ on ACCIDENTALLY...EVIL?

"I really love the Accidentally Yours series. I just never know what will happen next."
-http://romancing-the-book.com/ on ACCIDENTALLY...EVIL?

"I want to read the next book in the series so bad. I hope I can handle the wait. It just seems that I get deeper and deeper into this series."
-http://romancing-the-book.com/ on SUN GOD SEEKS...SURROGATE?

"I can't wait to read the next one."
-http://romancing-the-book.com/ on ACCIDENTALLY MARRIED TO...A VAMPIRE?

"If you like sexy Gods and nonstop adventure this is the book for you...Once you read this one you will want to read the next."
-http://romancing-the-book.com/ on ACCIDENTALLY IN LOVE WITH...A GOD?
Advertisement