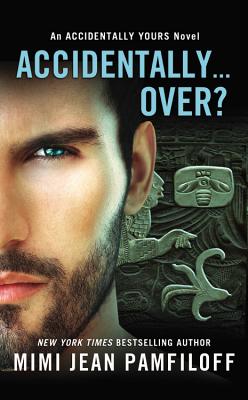 Accidentally...Over? (Accidentally Yours #5) (Mass Market)
Forever, 9781455547012, 400pp.
Publication Date: August 26, 2014
Other Editions of This Title:
Digital Audiobook (8/25/2014)
* Individual store prices may vary.
Description
When it comes to Máax, the God of Truth who refuses to follow the rules, there's more to him than meets the eye. Literally. Because Maáx is invisible! Which is probably why, after seventy-thousand years, he's still unable to find a mate.

Ashli Rosewood was never meant to die. In fact, her death might be the very reason the gods are now faced with stopping that pesky doomsday right around the corner. If only there was a way to undo the past.

Cue Máax. Seven feet of divine masculinity and the unruly god charged with saving Ashli. With a little help from an ancient Mayan tablet, Máax will travel back in time and set things right.

Easy, right?

Wrong.

Because Máax has one teensy challenge. He's invisible. And every time this impatient, powerful deity gets anywhere near Ashli, he spooks her right into harm's way. Meaning...she dies, and he has to start all over again.

Cliff, banana peel, runaway storage container filled with Belgian chocolates, bee sting, the list goes on and on. Does the Universe have it out for this girl? Sure seems that way. But why? And what will Máax do when he begins to suspect that not only is Ashli the key to stopping the apocalypse, but she may be "the one" he's been waiting seventy-thousand years for.

How will he save the one woman the Universe insists on killing and who wants nothing to do with him?

Approx. 85,000 words.

The Accidentally Yours Series BOOK 1: Accidentally in Love with...a God?
BOOK 2: Accidentally Married to...a Vampire?
BOOK 3: Sun God Seeks...Surrogate?
BOOK 3.5: Accidentally...Evil? (a Novella)
BOOK 4: Vampires Need Not...Apply?
BOOK 4.5: Accidentally...Cimil? (a Novella)
BOOK 5: Accidentally...Over?
About the Author
Before taking up a permanent residence in the San Francisco Bay Area, Mimi spent time living near NYC (became a shopaholic), in Mexico City (developed a taste for very spicy food), and Arizona (now hates jumping chollas, but pines for sherbet sunsets). Her love of pre-Hispanic culture, big cities, and romance inspires her to write when she's not busy with kids, hubby, work, and life...or getting sucked into a juicy novel.
She hopes that someday leather pants for men will make a big comeback and that her writing might make you laugh when you need it most.
You can learn more at:
http://www.mimijean.net/
Twitter:
@MimiJeanRomance
Facebook: http://facebook.com/Mimi-Jean/218935048190356
Praise For Accidentally...Over? (Accidentally Yours #5)…
"Pamfiloff injects smart-ass humor into every scene...plot and characters are pure fun."—
Publishers Weekly on SUNGOD SEEKS...SURROGATE?
"Strikes a balance between outrageous humor and a thoroughly satisfying love story with aplomb...it won't be difficult to fall for Ixtab and her remarkable transformation, not to mention the thoroughly endearing secondary characters and their scene-stealing plotlines."—
RT Book Reviews on VAMPIRES NEED NOT...APPLY?
"I really love the Accidentally Yours series. I just never know what will happen next."—
http://romancing-the-book.com/ on ACCIDENTALLY...EVIL?
or
Not Currently Available for Direct Purchase