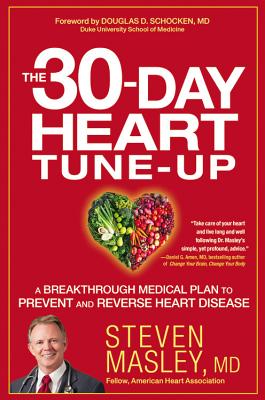 The 30-Day Heart Tune-Up (Hardcover)
A Breakthrough Medical Plan to Prevent and Reverse Heart Disease
Center Street, 9781455547135, 400pp.
Publication Date: February 4, 2014
* Individual store prices may vary.
Description
THE 30-DAY HEART TUNE-UP takes readers step by step through a revolutionary program to tune up their hearts, energy, waistlines, and sex lives, with 60 delicious recipes to help jump-start a heart-healthy diet.
Cardiovascular disease is the #1 killer of Americans today. But, the good news is that everyone-regardless of size, genetics, gender, or age-can treat arterial plaque and prevent heart attacks and strokes with this book. The keys to the program are shrinking arterial plaque, improving circulation, and strengthening your heartbeat. The tools in this book include heart-healing foods, exercise that strengthens the heart and arteries, stress management, and a customized heart-friendly supplement plan. THE 30-DAY HEART TUNE-UP program is easy, fast, and could even be called sexy. Dr. Masley devotes a chapter to showing how improving heart health enhances sex drive and function in both men and women.
About the Author
STEVEN MASLEY, MD is a Fellow with the American Heart Association, the American Academy of Family Physicians,and with the American College of Nutrition. He has devoted his medical career to the study of heart disease and aging, and has published significant research on these subjects in leading medical journals.

Currently he is the president of the Masley Optimal Health Center in St. Petersburg, Florida, and has a clinical appointment with the University of South Florida.

He is also an instructor of Lasting Leadership with Eckerd College, and has taught at the Center for Leadership with Sykes College of Business at the University of Tampa.
Praise For The 30-Day Heart Tune-Up: A Breakthrough Medical Plan to Prevent and Reverse Heart Disease…
"Take care of your heart and live long and well following Dr. Masley's simple, yet profound, advice. It's a program everyone can follow and I highly recommend it."—Daniel G. Amen, MD, bestselling author of Change Your Brain, Change Your Body

"Dr. Masley's program has the potential to be the "Heart Cure" America desperately needs. Get on this inspiring, breakthrough plan!"—Sara Gottfried, MD, New York Times bestselling author of The Hormone Cure

"Dr Masley's 30-Day Heart Tune-up is a state-of-the-art program for preventing and reversing heart disease. His breakthrough supplement recommendations will help all Americans tune-up not only their hearts, but their energy, their waistline, and their sex lives, too."—JJ Virgin, New York Times bestselling author of The Virgin Diet

"In the spirit of Hippocrates, Dr Masley's empowering 30-Day Heart Tune-Up reveals how specific lifestyle changes rival the pharmaceutical approach to enhancing heart health."—David Perlmutter MD, FACN, ABIHM, author of Grain Brain: The Surprising Truth About Wheat, Carbs, and Sugar , Your Brain's Silent Killers

"Dr. Steven Masley brings his passion and experience to his comprehensive prescription for the prevention of heart disease."—Michelle May MD, author of Eat What You Love, Love What You Eat

"Not only will Dr. Masley's 30-Day Heart Tune-Up program be great for your heart, but it will be terrific for your sex life, too!"—Anna Cabeca, DO, FACOG, creator of the Sexy Younger You Program

"We all know that the food we eat and the exercise we do is vital to our health. Dr Masley's has used his profound knowledge and experience to write an easy to understand practical book. It is Essential reading for any-one wishing to live a heart-healthy life."—Fleur Sack, MD, Former President Florida Academy of Family Physicians

"Dr Masley has made a career around helping patients achieve cardiovascular fitness in ways that are understandable and implementable. While making common sense inroads he also pushes the professional envelope and challenges the healthcare profession to do better. The overall aspects of this book are excellent and on target; eat well, get fit, manage stress."—Bruce Flareau, MD, Former President Florida Academy of Family Physicians, Executive Vice President, BayCare Health System

"Many believe that the preventive and therapeutic aspects of heart disease is as complicated as rocket science. It's not! Dr. Masley has created a simple, easy, strategic plan to enhance cardiovascular healing. This is a very important book for anyone who is vulnerable to heart disease and especially those who have malignant family histories of heart disease. Highly recommended!"—Stephen T. Sinatra, M.D., F.A.C.C., F.A.C.N.

Cardiologist and Co-author of The Great Cholesterol Myth
or
Not Currently Available for Direct Purchase