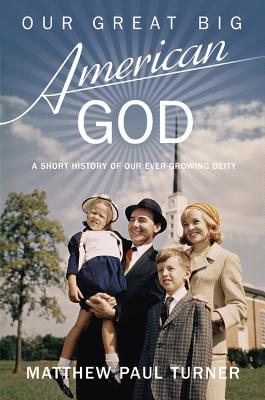 Our Great Big American God
A Short History of Our Ever-Growing Deity
Hardcover

* Individual store prices may vary.
Description
Americans love God. We stamp God on our money, our bumper stickers, and our bodies. With a church on nearly every street, it's hard to deny our country's deep connection with the divine.

Yet culture critic Matthew Paul Turner says that God didn't just change America-America changed God. As a result, do we even recognize the "real" God?

Whip-smart and provocative, Turner explores the United States' vast influence on God, told through an amazing true history of faith, politics, and evangelical pyrotechnics.

From Puritans to Pentecostals, from progressives to mega-pastors, Turner examines how American history and ideals transformed our perception of God. Fearless and funny, this is the definitive guide to the American experience of the Almighty-a story so bizarre, incredible, and entertaining that it could only be made in the U.S.A.

No matter what your political or religious affiliation, this book will challenge and delight with its razor sharp wit, social commentary, and savvy historical insight. It will make you reconsider the way you think about America as a "Christian nation," and help you re-imagine a better future for God and country.

Ultimately, Turner dares to ask: Does God control the future of America-or is it the other way around?
Praise For Our Great Big American God: A Short History of Our Ever-Growing Deity…
"Fiendishly clever and meticulously sourced."
—
Library Journal, Starred Review
"Engaging history that turns a penetrating eye on how God has been shaped to fit the varieties of faith in America... An energetic presentation of our complicated relationship with God."
—
Kirkus Reviews
"With wit and captivating narrative style, Turner takes a historical look at the ways Americans have been shaped by our faith and how the development of the American empire has affected our perception of God. His work offers a deeper look at what it means to be a Christian in the United States."
—
Relevant Magazine
"Whether you're a conservative Christ follower or a seeker straddling the fence of what to believe, Turner's book will challenge all that you've assumed and presumed to be historically accurate about America's founding religious voices."
—
Book Reporter
"Matthew Paul Turner has written a fascinating biography of God-specifically God's sojourn in America. This book is enlightening, funny and filled with so many historical insights, I found myself uttering 'Aha!' at least twice per page."
—
A. J. Jacobs, New York Times bestselling author of The Year of Living Biblically
,
-
"OUR GREAT BIG AMERICAN GODby Matthew Paul Turner combines history, social commentary and good writing into a powerful work that tells us just why we Americans are all so crazy-
God made us do it
! If you want to understand America, read this book."—
Frank Schaeffer, author, And God Said, ?Billy!?
,
-
"A delightful overview of American church history with a perfect blend of sarcasm, irreverence, and love. Illuminating, engaging, and playful, this book is the best thing that has happened to America's God since, well, America. You will love this book, provided you're not a Calvinist."
—
Ed Cyzewski author, The Good News of Revelation and A Christian Survival Guide
,
-
"Whip-smart, wry, acerbic, and surprisingly tender, OUR GREAT BIG AMERICAN GOD is a grand family tree of the union between God and America. As a Canadian who is often baffled by-while still very influenced by-this great big American God, I found Turner's book enlightening, bold, and downright funny."
—
Sarah Bessey, author of Jesus Feminist
,
-
"I read Matthew Paul Turner books for two reasons, he's been a good friend for years and his ideas always challenge me. The question, "Who have I made God out to be?" is a critical one to wrestle with, and this book provides the gym for the match."
—
Jon Acuff, New York Times bestselling author of Start
,
-
"In this book Matthew Paul Turner gives us a glimpse into how the church in America has been trying its best to destroy Christianity, and gives us some hope that it might just survive regardless."
—
Peter Rollins
,
-
"With humor and refreshing candor, Turner has once again challenged the status quo, dared us to all to challenge our pre-conceived notions of God, and succeeded in bringing our eyes back to a God that just simply loves us all."
—
Timothy Kurek, author of the bestselling book, The Cross in the Closet
,
-
"Who knew I could have this much fun reading about Puritans, Great Awakenings, and Jerry Falwell? Who knew a historical book about American Christianity could make me laugh out loud and still cringe at my own hypocrisy? Matthew Paul Turner's story of America's God may make you uncomfortable. It may even offend you. But you will walk away from this book wiser. You will long to know a God outside of culture and time, a God unmarked by humanity's stain."
—
Micha Boyett, Author of Found: A Story of Questions, Grace, and Everyday Prayer
,
-
"The pages are packed full of history, but Turner's approachable and cheeky writing style make it truly entertaining. It's funny, provocative and exceptionally well-written. A must-read." —
Nish Weiseth, author of Speak: How Your Story Can Change the World, Editor in Chief, deeperstory.com
Jericho Books, 9781455547340, 256pp.
Publication Date: August 19, 2014
About the Author
Matthew Paul Turner is the author of Churched, The Christian Culture Survival Guide, and Everything You Need To Know Before College. Before he began writing and speaking full-time, he served as editor of CCM and music and entertainment editor of Crosswalk.com. He and his wife Jessica live in Nashville, Tennessee.
or
Not Currently Available for Direct Purchase