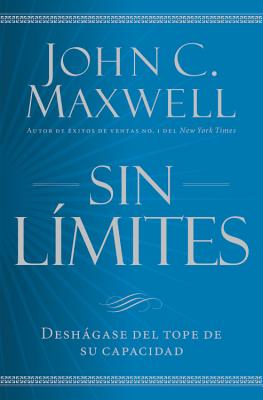 Sin límites (Paperback)
Libere el m¿ximo de su capacidad
Center Street, 9781455548279, 336pp.
Publication Date: March 7, 2017
* Individual store prices may vary.
Description
El más reciente libro del autor de éxitos de ventas No. 1 del New York Times John C. Maxwell mejorará las vidas de sus lectores, líderes y cualquiera que desee alcanzar el éxito profesional y personal.
A menudo utilizamos la palabra capacidad como si fuera una ley natural sobre la limitación. Desafortunadamente, la mayoría de nosotros nos sentimos más cómodos definiendo nuestros límites en lugar de nuestras posibilidades. ¿Será posible que muchas personas han permitido que lo que ellos perciben como una capacidad los defina? ¿Habrán permitido que su percepción limite sus actitudes acerca de su potencial? En su más reciente libro, John Maxwell enseña formas prácticas para deshacerse del "tope" de su capacidad. John afirma que usted puede aumentar su capacidad al quitarse sus topes e identifica, crece y aplica sus capacidades críticas a la vida diaria.
About the Author
JOHN C. MAXWELL, the #1 New York Times bestselling author, coach, and speaker who has sold more than 26 million books, was identified as the #1 leader in business by the American Management Association® and the world's most influential leadership expert by Business Insider and Inc. magazine in 2014. His organizations--The John Maxwell Company, The John Maxwell Team, EQUIP, and the John Maxwell Leadership Foundation--have trained more than 5 million leaders worldwide. Maxwell speaks to Fortune 500 companies, presidents of nations, and many top world business leaders.
Praise For Sin límites: Libere el m¿ximo de su capacidad…
"Drive. Focus. Commitment. I ask this from all of my players because they are essential qualities for success on the court. In INTENTIONAL LIVING, John Maxwell shares how the same qualities are necessary for life. John's ability to share from his own experience inspires the reader to believe they can have a life that matters if they want-and gives the reader tools to make that dream a reality."—John Calipari, National championship head coach and 2015 Naismith Memorial Basketball Hall of Fame inductee

"Thought-provoking and encouraging...with hundreds of questions designed to help readers in their quest for personal and professional growth. Clear and inspiring, this is a great approach to leadership."—Publishers Weekly on Good Leaders Ask Great Questions

"An intriguing look at leadership with practical advice makes this book beneficial to. . .anyone who wants to develop and improve their skills."—Library Journal on Good Leaders Ask Great Questions

"Millions of individuals--myself included--have been inspired by the words and works of John Maxwell. Now, in The 15 Invaluable Laws of Growth, John again shares his remarkable insights and wisdom into how each of us can reach our full potential and make a positive difference in the lives of others."
—Elizabeth Dole, former U.S. Cabinet Secretary, Senator and President of the American Red Cross, on The 15 Invaluable Laws of Growth

"John has been a mentor and teacher for me for many years and what I love most about him is that he has pushed and helped me personally go through The 5 Levels of Leadership!"—Kevin Turner, COO, Microsoft, on The 5 Levels of Leadership

"John Maxwell's books have been required reading for my leadership team for years. I can't think of anyone better at distilling decades of leadership experience into practical, approachable principles that anyone can apply at any level of leadership."—Dave Ramsey, host of The Dave Ramsey Show and best-selling author of The Total Money Makeover, on The 5 Levels of Leadership