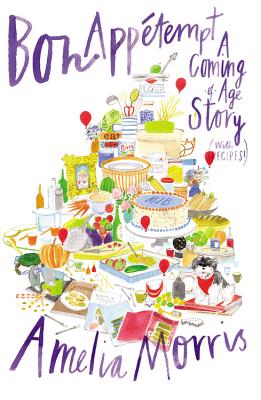 Bon Appetempt
A Coming-of-Age Story (with Recipes!)
Hardcover

* Individual store prices may vary.
Other Editions of This Title:
Digital Audiobook (2/2/2015)
Compact Disc (2/3/2015)
Compact Disc (2/3/2015)
Description
When Amelia Morris saw a towering, beautiful chocolate cake in Bon Appétit and took the recipe home to recreate it for a Christmas day brunch she was hosting, it resulted in a terrible (but tasty) mess that had to be served in an oversize bowl. It was also a revelation. Both delicious and damaged, it seemed a physical metaphor for the many curious and unexpected situations she's found herself in throughout her life, from her brief career as a six-year-old wrestler to her Brady Bunch-style family (minus the housekeeper and the familial harmony) to her ill-fated twenty-something job at the School of Rock in Los Angeles.

As a way to bring order to chaos and in search of a more meaningful lifestyle, she finds herself more and more at home in the kitchen, where she begins to learn that even if the results of her culinary efforts fall well short of the standard set by glossy food magazines, they can still bring satisfaction (and sustenance) to her and her family and friends.

Full of hilarious observations about food, family, unemployment, romance, and the extremes of modern L.A., and featuring recipes as basic as Toasted Cheerios and as advanced as gâteau de crêpes, Bon Appétit is sure to resonate with anyone who has tried and failed, and been all the better for it.
Praise For Bon Appetempt: A Coming-of-Age Story (with Recipes!)…
"A winning memoir about youthful befuddlement and finding yourself."—People

"A delicious portrait of love, loss and what I ate . . . I read this book the way I eat a pizza that's really good. I ate the whole thing in one sitting. . . Morris is masterful and funny in stirring the pot . . . Whether Morris is winning or failing in her relationships or mastery of the dishes, she is always human."—The News and Observer (Raleigh)

"A moving, smart, and often hilarious coming-of-age story."—Largehearted Boy

"A refreshing take on growing up and coming to terms with the joys and travails of family, career and navigating the kitchen. . . Whether Morris is deconstructing her failed attempts at finding satisfying work, struggling with rocky family relationships or experiencing a culinary failure, she adroitly blends the ingredients of humor and self-reflection."—Kirkus Reviews

"Morris adopts an interest in cooking as an adult, grabbing food glossies at grocery checkouts and trying to re-create the meals they picture. The impetus for the blog she starts, with which this book shares its name, was a growing realization that if words failed her, food wouldn't: cooking, as opposed to writing, became a place to lightheartedly attempt great things, and not feel personally hurt if she failed. . . Some recipes are described in the text, too, like the toasted cheerios Morris makes, immediately summoning childhood memories. Sure to appeal to fans of her personable blog, and to round up new ones."
—Booklist

"I picked up Bon Appetempt on a flight, planning to read for maybe five minutes before taking a nap, and when I finally came up for air, three hours had passed. (Readers: consider yourselves warned!) Smart, funny, and most of all human, Amelia Morris is a winning storyteller, even when she's losing at everything. I love this book."—Molly Wizenberg, author of Delancey and A Homemade Life

"Amelia Morris uses her trademark humor and fierce honesty to tell a wry and touching coming-of-age story. It made me laugh, wrenched my heart and gave me an instant craving for beans and rice in coconut milk."—Luisa Weiss, founder of The Wednesday Chef and author of My Berlin Kitchen

"If you like Laurie Colwin and MFK Fisher, you'll love Amelia Morris and Bon Appétempt. It's a charming, thoughtful, and touching memoir about growing up and becoming the person and artist you've always wanted to be--both inside and outside the kitchen."—Edan Lepucki, author of California

"Amelia Morris's debut, Bon Appétempt, is one of the most compulsively readable books I've picked up in years. It's spirited, funny, smartly nostalgic, wistful, real. I've never seen another author break a reader's heart, make them laugh, and offer up a recipe for broccolini in the span of two pages. It's all here: big love, big sadness, superb self-aware writing, and cake. Indulge in all of it as fast as you can, and enjoy the rewarding fullness of this incredible book."—Megan Mayhew Bergman, author of Birds of a Lesser Paradise and Almost Famous Women

"There is a moment I call the 'exchange', a tipping point, where the events of a book start to interest me more than the events of my own waking life. It's the reader's dream and the reason to read. I felt this so deeply and and pleasurably while reading this book. It is full of delight, both intellectual and earthy. It's a book about food, and about family, and about becoming oneself, finally, absurdly, wonderfully. It's just a joy to live inside this book for a while. It's etched in my mind permanently."—Rebecca Lee, author of Bobcat
Grand Central Publishing, 9781455549368, 320pp.
Publication Date: February 3, 2015
About the Author
Amelia Morris is the creator of Bon Appétempt, which Time magazine named as one of the twenty-five best blogs of 2012. Her work has also been featured in the Los Angeles Times, The Splendid Table, Saveur.com, BonAppetit.com, and McSweeney's. She holds an MFA in Creative Writing from the University of North Carolina, Wilmington, where she was the recipient of the Margaret Shannon Morton Fellowship.

She currently lives on the east side of Los Angeles with her husband, baby son, and small dog.