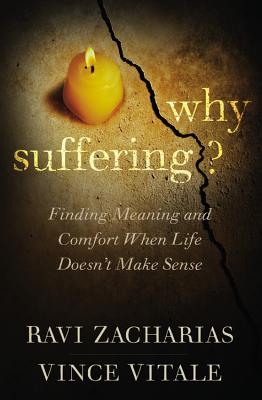 Why Suffering? (Paperback)
Finding Meaning and Comfort When Life Doesn't Make Sense
FaithWords, 9781455549696, 240pp.
Publication Date: October 6, 2015
Other Editions of This Title:
Digital Audiobook (10/20/2014)
Hardcover (10/21/2014)
CD-Audio (10/28/2014)
* Individual store prices may vary.
Description
Why would a loving and powerful God allow so much pain and suffering? In WHY SUFFERING? Ravi Zacharias and Vince Vitale carefully walk you through a variety of responses that considered together provide a clear, comprehensive, and convincing answer. Responses like: Where there is the possibility of love, there has to be the reality of freedom, and therefore the possibility of pain. Wishing God had made a different world is to wish yourself out of existence. In comparison with other world religions, the Christian response is highly distinctive.
Here is a book written with great respect for the complexity of the issue, recognizing that some who read it will be in the trenches of deep suffering themselves and others questioning the very existence of a loving God. WHY SUFFERING? provides an answer to the problem of pain and suffering with emotional sensitivity and intellectual integrity.
About the Author
Ravi Zacharias
is the founder and chairman of the board of Ravi Zacharias International Ministries, headquartered in Atlanta, Georgia, with additional offices in Canada, Hong Kong, India, Singapore, the United Kingdom, and the United Arab Emirates. Zacharias and his wife, Margie, have three grown children. He is the author of many books, including
Can Man Live Without God
and
Why Jesus?
Dr. Vince Vitale, born in NYC and raised in a family one generation removed from Mafia heritage, went to study philosophy at Princeton University and there took an unexpected journey that led him to God. In his PhD, Vince went on to develop a new response to the problem of evil. He now teaches at Wycliffe Hall of Oxford University, is Senior Tutor at the Oxford Centre for Christian Apologetics, and is a speaker for RZIM.