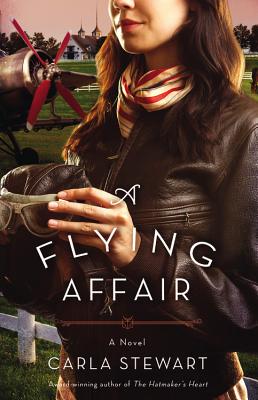 A Flying Affair
A Novel
Paperback

* Individual store prices may vary.
Description
Ever since Mittie Humphreys agreed to join dashing barnstorming pilot Ames for a joyride in his airplane, her lifelong love of horses has been surpassed by one thing -- a longing for the skies. It seems she's not the only one -- with Charles Lindbergh making his victory tour in the Spirit of St. Louis, aviation fever is spreading across the country. Mittie knows flying is the perfect focus for the soaring ambition and taste for adventure within her, and whenever she can slip away from her duties on her family's prosperous Kentucky horse farm, she heads to the airfield.

Considering their shared passion, it's no surprise that Ames begins to vie for Mittie's time. But when handsome British aviator Bobby York offers her flying lessons, he is equally surprised-and beguiled-by Mittie's grit and talent. Driven to succeed, Mittie will do whatever it takes to compete in the Women's National Air Derby alongside Amelia Earhart. But when Calista "Peach" Gilson, a charming Southern belle, becomes her rival both professionally and in love, Mittie must learn how to navigate her heart's romantic longings as well as the skies.
Praise For A Flying Affair: A Novel…
"A well-written romance with characters willing to do what they need to achieve their dreams. The storyline is believable, and some of it is based on true events. Stewart did her research and brings to attention a forgotten piece of history, the Women's National Air Derby."—RT Book Reviews

"Compelling action scenes, clever dialogue, and believable characters add spice and depth to a multidimensional tale....The historical detail and vivid action scenes anchor an enjoyable story."—Publishers Weekly

"Romance, danger, rebellion, exploration...and it's all delivered with the intricate sensory details and historical research readers have come to expect from Stewart's work."—Julie Cantrell%2C New York Times and USA TODAY bestselling author of Into the Free and When Mountains Move

"Rich and complex....In A FLYING AFFAIR, the world is just opening up to women aviators, and Stewart does a beautiful job of capturing the exhilaration and anxiety of the era."—Judy Christie%2C award-winning author of Wreath%2C A Girl

"Deftly written, with a keen eye toward history, Carla Stewart's latest is sure to delight!"—Lisa Wingate%2C national bestselling author of The Prayer Box and The Story Keeper

"Captivating characters, skilled storytelling, and impeccable research....From a 1920s horse farm to the exciting world of women aviators, Stewart combines adventure, romance and faith in a truly compelling story."—Myra Johnson%2C author of When Clouds Roll By%2C historical fiction winner of the 2014 Christian Retailing Best Award

"Carla Stewart has written a novel to remember...With a plot that kept me turning pages from engaging beginning to exhilarating end, A FLYING AFFAIR positively soars!"—Karen Halvorsen Schreck%2C author of Sing for Me and Broken Ground

"Carla Stewart makes her readers...run with the horses, and fly with the pilots. A FLYING AFFAIR is more than a great read--it's an experience!"—Ane Mulligan%2C author of Chapel Springs Revival

"Tons of adventure and a sprinkling of romance...A FLYING AFFAIR will whisk you away to the fascinating worlds of saddlebred horses and women's aviation in the 1920s. It's a journey you won't want to miss."—Anne Mateer%2C author of Playing by Heart

"[A] breathtaking tale of love, ambition, and self-discovery....Stewart once again captures our fascination in this ongoing saga of high society, romance, jazz, and the wealth and drama of the Roaring Twenties."—Camille Eide%2C author of Like There's No Tomorrow

"Fans of Carla Stewart's work won't be disappointed with this Jazz Age tale. With lush sensory details, Stewart brings us deep into this historical setting. . . readers will savor the sweet escape."—Julie Cantrell%2C%26nbsp%3BNew York Times%26nbsp%3Bbestselling author of%26nbsp%3BWhen Mountains Move on The Hatmaker's Heart

"Stewart writes about powerful and basic emotions with a restraint that suggests depth and authenticity; the relationship between Sammie and her mother Rita, the engine that drives the plot, is beautifully and delicately rendered. Coming-of-age stories are a fiction staple, but well-done ones much rarer. This emotionally acute novel is one of the rare ones."—Publishers Weekly%26nbsp%3Bon%26nbsp%3BChasing Lilacs%2C starred review

"While the story is heartbreaking, there is much more to this book. The lives of Mitzi and Brooke are told both in present time and with flashbacks, weaving together love, loss, tragedy and friendship. Stewart skillfully entertains and engages the reader with each character's private pain and survival skills."—RT Book Reviews%26nbsp%3Bon%26nbsp%3BBroken Wings
FaithWords, 9781455549993, 320pp.
Publication Date: June 2, 2015
About the Author
Carla Stewart is an award-winning author of six novels. With a passion for times gone by, it is her desire to take readers back to that warm, familiar place in their hearts called "home." Carla's novels from FaithWords include Chasing Lilacs, for which she won the American Christian Fiction Writer's Genesis Award, Broken Wings, Stardust, Sweet Dreams , and her most recent work, The Hatmaker's Heart.
Learn more: CarlaStewart.com