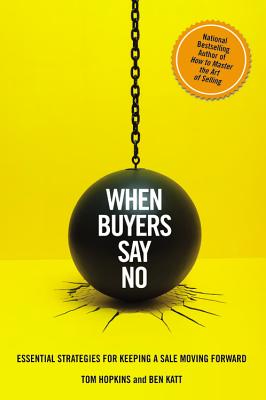 When Buyers Say No
Essential Strategies for Keeping a Sale Moving Forward
Hardcover

* Individual store prices may vary.
Other Editions of This Title:
Digital Audiobook (3/31/2014)
CD-Audio (4/1/2014)
Description
This is a complete and practical guide which highlights the authors' new strategic approaches to selling when the buyer initially declines or is resistant on a sales opportunity. Hopkins and Katt explain that most sales reps take a traditional linear approach to selling, but that the trick in closing is in taking a more creative and circular approach. That's the key.

It all starts with how the buyer initially says, "No." Too many sales reps don't pay close attention as to how that's presented. Hopkins and Katt point out that "no" may suggest all sorts of other options -- avenues that can eventually lead to the buyer actually saying yes.

The authors introduce a novel concept called the Circle of Persuasion which offers sales reps a new approach in this potentially tricky process. Along the way, WHEN BUYERS SAY NO details prescriptive steps and even sample dialogues that will instruct and guide sales professionals on how to best cultivate buyer-seller relationships.

There's particular emphasis on how to establish the kind of rapport that ultimately leads to a successful close.
Praise For When Buyers Say No: Essential Strategies for Keeping a Sale Moving Forward…
"Saying no to a pro gets them on the go, because most great and well-trained salespeople think dyslexically that "no" means "on." Tom and Ben's book will effectively train you to get to "ON" WHEN THE CUSTOMER SAYS NO. Enjoy reading my friends' book that will leverage you to vast profitability, service with a smile, and sales greatness. By reading this inspired book you will thank them in your prayers." -MARK VICTOR HANSEN, CO-CREATOR OF THE WORLD'S BEST-SELLING SERIES CHICKEN SOUP FOR THE SOUL

"There are a lot of books on selling, but none of them provide the kind of ground-breaking insights that Hopkins and Katt provide in WHEN BUYERS SAY NO. This will become mandatory reading for all sales professionals in the years to come." - JOHN O'DONNELL, CKO, ONLINE TRADING ACADEMY



"A crystal clear, concise How-To book that uncovers the hiddden 'yes' behind every 'no'." - ANTHONY PARINELLO, BESTSELLING AUTHOR OF SELLING TO VITO, THE VERY IMPORTANT TOP OFFICER



"Hopkins and Katt prove Henry Ford's theory of 'Whether you think you can or you can't, you're right' by starting with the salesperson's mindset to determine sales success. The tactics that follow help overcome potential rejection for when buyers say no." - SUZANNE GARBER, RISK MITIGATION CEO



"Wow! What a great book! Sales masters and experts Tom Hopkins and Ben Katt have taken the single most important obstacle to sales success and shown sales professionals how to overcome it once and for all." - BRIAN TRACY, BESTSELLING AUTHOR OF THE PSYCHOLOGY OF SELLING



"I just got an advance copy of WHEN BUYERS SAY NO. I got more out of reading the first chapter than I've gotten out of 99.99% of all the sales books I've read. I predict it will be a classic." - GEOFFREY JAMES, AUTHOR OF BUSINESS WITHOUT THE BULLSH*T AND THE AWARD-WINNING COLUMNIST ON INC.COM

"When you understand what the no's in sales really mean, you'll understand how to get more yeses. Read When Buyers Say No by Tom Hopkins and Ben Katt. You won't regret it!"—BILL BARTMANN, BESTSELLING AUTHOR OF BOUNCING BACK

"Business students and practitioners will find this material very useful."—Library Journal
Business Plus, 9781455550593, 320pp.
Publication Date: April 1, 2014
About the Author
Tom Hopkins is the chairman and founder of the renowned sales training organization Tom Hopkins International. He is a member of the National Speakers Association and is the author of the national bestseller How to Master the Art of Selling. Today, more than 35,000 corporations and millions of professional salespeople throughout the world utilize his professional sales training materials.

Ben Katt is a multi-million dollar producer in corporate sales, and has a long track record when it comes to "sealing the deal." He has been instrumental in turning around several top companies and improving their sales records.