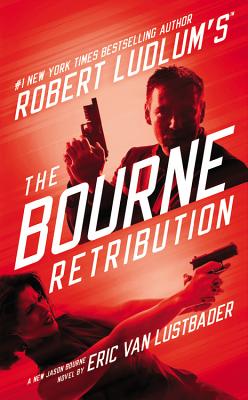 Robert Ludlum's (TM) The Bourne Retribution (Jason Bourne series #11) (Mass Market)
Grand Central Publishing, 9781455550944, 560pp.
Publication Date: June 24, 2014
Other Editions of This Title:
Digital Audiobook (12/2/2013)
CD-Audio (6/17/2014)
CD-Audio (12/3/2013)
Hardcover (12/3/2013)
Hardcover, Large Print (12/3/2013)
Pre-Recorded Audio Player (12/3/2013)
Compact Disc (12/3/2013)
MP3 CD (12/3/2013)
* Individual store prices may vary.
Description
Jason Bourne is one of the most popular and compelling characters in modern fiction. Originally created by bestselling author Robert Ludlum, now New York Times bestselling writer Eric Van Lustbader carries on Ludlum's legacy with a new novel about the rogue secret agent who has lost his memory . . .

Jason Bourne has been pursued by powerful governments--and escaped.
Hunted by the most skilled assassins in the world--and outsmarted them.
Targeted by terrorists--and defeated their plans for global chaos. But now, Bourne wants only one thing: retribution.

THE BOURNE RETRIBUTION

Bourne's friend Eli Yadin, head of Mossad, learns that Ouyang Jidan, a senior member of China's Politburo, and a major Mexican drug lord may have been trafficking in something far more deadly than drugs. Yadin needs Bourne to investigate. Bourne agrees, but only because he has a personal agenda: Ouyang Jidan is the man who ordered Rebeka--one of the only people Bourne has ever truly cared about--murdered. Bourne is determined to avenge her death, but in the process he becomes enmeshed in a monstrous world-wide scheme involving the Chinese, Mexicans, and Russians.

Bourne's increasingly desperate search for Ouyang takes him from Tel Aviv to Shanghai, Mexico City, and, ultimately, a village on China's coast where a clever trap has been laid for him. Bourne finds himself pursued on all sides and unsure whom he can trust. As he moves closer to Ouyang, closer to avenging the woman he loved, he also moves ever closer to his own death . . .
About the Author
ROBERT LUDLUM was the author of twenty-seven novels, each one a
New York Times
bestseller. There are more than 225 million of his books in print, and they have been translated into thirty-two languages. He is the author of
The Scarlatti Inheritance
,
The Chancellor Manuscript
, and the Jason Bourne series--
The Bourne Identity
,
The Bourne Supremacy
, and
The Bourne Ultimatum
--among others. Mr. Ludlum passed away in March 2001. To learn more, visit
www.Robert-Ludlum.com
.
ERIC VAN LUSTBADER is the author of numerous bestselling novels including
First Daughter
,
Blood Trust
,
The Ninja
, and the international bestsellers featuring Jason Bourne:
The Bourne Legacy
,
The Bourne Betrayal
,
The Bourne Sanction
,
The Bourne Deception
,
The Bourne Objective
, and
The Bourne Dominion
. For more information, you can visit
www.EricVanLustbader.com
. You can also follow him on Facebook and Twitter.
Praise For Robert Ludlum's (TM) The Bourne Retribution (Jason Bourne series #11)…
"Eric Van Lustbader keeps the action and plot moving forward, and the tension never lets up...readers most assuredly will be gasping for breath as each eye-opening chapter unfolds."—Book Reporter on The Bourne Imperative

"In true Bourne fashion, "The Bourne Imperative" is fast-paced and full of action. There are twists and turns that even the grandest of plot detectives could not forsee."—The Daily Reporter (IA) on The Bourne Imperative

"Readers familiar with the story of Jason Bourne and Treadstone will be flipping pages as fast as they can...Van Lustbader pulls readers through the story with gusto...For series fans, a solid continuation of Bourne's story."—Booklist on The Bourne Imperative

"Established fans will find all the usual cliffhangers, hairbreadth escapes, and multiple betrayals they expect from this series."—Publisher's Weekly on The Bourne Imperative

"The twists, the nonstop action, and the multilayered plot that Ludlum fans expect are here in abundance. Fans of the Bourne films will eat this one up."—Booklist on The Bourne Dominion

"Complicated, action-packed.... it's a testament to Lustbader's skills that he can keep everyone in place and blazing away without losing track of the ongoing plot."—Publisher's Weekly on The Bourne Dominion

"Thriller addicts who love intricate webs of conspiracy mixed with an adrenaline rush of action and global adventure will snap this one up."—Library Journal on The Bourne Objective
or
Not Currently Available for Direct Purchase