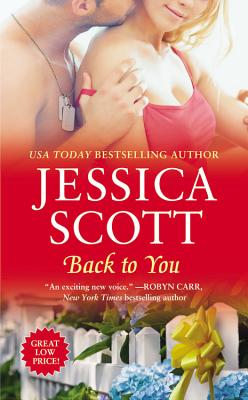 Back to You (Coming Home #1) (Mass Market)
Forever, 9781455553747, 336pp.
Publication Date: July 29, 2014
Other Editions of This Title:
Paperback (2/18/2019)
* Individual store prices may vary.
Description
"Jessica Scott is an exciting new voice in romantic fiction who bursts upon the scene with an unputdownable debut novel!"
--Robyn Carr, New York Times Bestselling Author on Because of You

He's in for the fight of his life . . .

Army captain Trent Davila loved his wife, Laura, and their two beautiful children. But when he almost lost his life in combat, something inside him died. He couldn't explain the emptiness he felt or bridge the growing distance between him and his family-so he deployed again. And again. And again...until his marriage reached its breaking point. Now, with everything on the line, Trent has one last chance to prove to his wife that he can be the man she needs ...if she'll have him

. . . to win back his only love.

Laura is blindsided when Trent returns home. Time and again, he chose his men over his family, and she's just beginning to put the pieces of her shattered heart back together. But when Trent faces a court martial on false charges, only Laura can save him. What begins as an act of kindness to protect his career inflames a desire she thought long buried-and a love that won't be denied. But can she trust that this time he's back to stay?

(85,000 words)
About the Author
USA Today bestselling author Jessica Scott is a career army officer; mother of two daughters, three cats and three dogs; wife to a career NCO and wrangler of all things stuffed and fluffy. She is a terrible cook and even worse housekeeper, but she's a pretty good shot with her assigned weapon and someone liked some of the stuff she wrote. Somehow, her children are pretty well-adjusted and her husband still loves her, despite burned water and a messy house.

She's written for the New York Times At War Blog, PBS Point of View: Regarding War Blog, and Iraq and Afghanistan Veterans of America. She deployed to Iraq in 2009 as part of Operation Iraqi Freedom/New Dawn and has served as a company commander at Fort Hood, Texas.

She's pursuing a PhD in Sociology in her spare time and most recently, she's been featured as one of Esquire Magazine's Americans of the Year for 2012.
Praise For Back to You (Coming Home #1)…
RAVES FOR JESSICA SCOTT and BACK TO YOU:

"Jessica Scott's BACK TO YOU is a moving story with rich, layered characters and real, heart-felt emotion. Don't miss this fabulous read!"
--Brenda Novak, New York Times bestselling author

"Jessica Scott's novels are beautifully written, honestly authentic, and richly emotional."
--JoAnn Ross, New York Times bestselling author

"Few writers can reach the psychological and emotional depths with their characters as Jessica Scott can. A gripping, deeply emotional story that will grab the reader and not let them go."
--Lindsay McKenna, New York Times bestselling author of NEVER SURRENDER

"Touchingly sincere...Trent and Laura are both rendered as wounded, lovable people, and readers will cheer for each stumbling, shy step toward the couple's reunion. Scott's prose is witty and sharp, and her delightful cast of characters keeps this delectable page-turner vibrant throughout."
--Publishers Weekly (starred review)

BECAUSE OF YOU:

"Edgy and current--and a truly satisfying love story. Put this book, Jessica Scott's BECAUSE OF YOU, on your 'must read' list."
--Suzanne Brockmann, New York Times Bestselling Author

"Jessica Scott is an exciting new voice in romantic fiction who bursts upon the scene with an unputdownable debut novel!"
--Robyn Carr, New York Times Bestselling Author

"Jessica Scott writes with a soldier's heart. BECAUSE OF YOU is touching, authentic and a fantastic read."
--Cindy Gerard, New York Times Bestselling Author

"Crackling with realism, sizzling with sexual tension, and pulsing with emotion, Jessica Scott has penned an unforgettable military romance that delivers heartache and hope on every page."
--Roxanne St. Claire, New York Times Bestselling Author
or
Not Currently Available for Direct Purchase