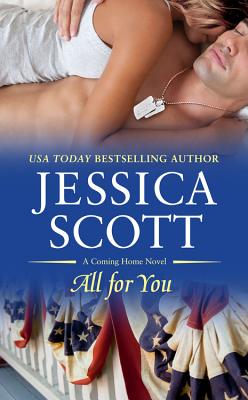 All for You (Coming Home #2) (Mass Market)
Forever, 9781455553778, 336pp.
Publication Date: November 25, 2014
Other Editions of This Title:
Paperback (3/4/2019)
* Individual store prices may vary.
Description
"Jessica Scott is an exciting new voice in romantic fiction!"
--Robyn Carr, New York Times Bestselling Author

Can a battle-scarred warrior . . .

Stay sober. Get deployed. Lead his platoon. Those are the only things that matter to Sergeant First Class Reza Iaconelli. What he wants is for everyone to stay out of his way; what he gets is Captain Emily Lindberg telling him how to deal with his men. Fort Hood's newest shrink is smart as a whip and sexy as hell. She's also full of questions-about the army, its soldiers, and the agony etched on Reza's body and soul.

. . . open his heart to love?

Emily has devoted her life to giving soldiers the care they need-and deserve. Little does she know that means facing down the fierce wall of muscle that is Sergeant Iaconelli like it's just another day at the office. When Reza agrees to help her understand what makes a soldier tick, she's thrilled. Too bad it doesn't help her unravel the sexy warrior in front of her who stokes her desire and touches a part of her she thought long dead. He's the man who thinks combat is the only escape from the demons that haunt him. The man who needs her most of all . . .

(87,000 words)
About the Author
USA Today bestselling author Jessica Scott is a career army officer; mother of two daughters, three cats and three dogs; wife to a career NCO and wrangler of all things stuffed and fluffy. She is a terrible cook and even worse housekeeper, but she's a pretty good shot with her assigned weapon. She's currently pursuing a PhD in Sociology in her spare time and most recently, she's been featured as one of Esquire Magazine's Americans of the Year for 2012.

She's written for the New York Times At War Blog, PBS Point of View: Regarding War Blog, and Iraq and Afghanistan Veterans of America. She deployed to Iraq in 2009 as part of Operation Iraqi Freedom/New Dawn and has served as a company commander at Fort Hood, Texas.
Praise For All for You (Coming Home #2)…
ALL FOR YOU:

"Jessica Scott's novels are beautifully written, honestly authentic, and richly emotional."
--JoAnn Ross, New York Times Bestselling Author

"Top Pick Review! This is another excellent addition to the emotional and heartfelt stories that comprise this series and I look forward to reading even more by this wonderfully talented author who has allowed us to get a brief glance into a world that is often very foreign to those of us who benefit from the sacrifices made by so many brave individuals."
--Night Owl Romance (Top Pick review) on All For You

"ALL FOR YOU is the latest in the Coming Home series, giving fans something to really sink their teeth into. Delving into the subject of how a war-torn soldier adjusts to life after battle really pulls on the heartstrings. Scott is a master at creating characters who are made for one another."
--RT Book Reviews on All For You

PRAISE FOR BACK TO YOU:

"Jessica Scott's Back To You is a moving story with rich, layered characters and real, heart-felt emotion. Don't miss this fabulous read!"
--Brenda Novak, New York Times Bestselling Author

"Back To You is exactly was it sounds like. It is two people trying to find their way back to each other. Trying to work through their problems and what's best for everyone involved. It is not an easy story. It's rough and emotional and real."
--Romancing Rakes

"All I can say is WOW. What a wonderfully moving and compelling story...This book is full of emotion you feel from the very first page. I highly recommend this one!"
--Goodreads

"Top Pick Review! A fantastic love story with harrowing realism about the cost being paid constantly for participating in war and if I could give it more than 5 stars, I would."
--Night Owl Romance (Top Pick review) on Back To You

BECAUSE OF YOU:

"Jessica Scott is an exciting new voice in romantic fiction who bursts upon the scene with an unputdownable debut novel!"
--Robyn Carr, New York Times Bestselling Author on Because of You

"Edgy and current--and a truly satisfying love story. Put Jessica Scott's BECAUSE OF YOU, on your 'must read' list."
--Suzanne Brockmann, New York Times Bestselling Author

"Jessica Scott writes with a soldier's heart. BECAUSE OF YOU is touching, authentic and a fantastic read."
--Cindy Gerard, New York Times Bestselling Author

"Crackling with realism, sizzling with sexual tension, and pulsing with emotion, Jessica Scott has penned an unforgettable military romance that delivers heartache and hope on every page."
--Roxanne St. Claire, New York Times Bestselling Author on Because of You

"Watch out Navy SEALS, there's a new hero in town and he's wearing Army gray! BECAUSE OF YOU is a beautifully crafted, wonderfully emotional debut."
--JoAnn Ross, New York Times Bestselling Author
or
Not Currently Available for Direct Purchase