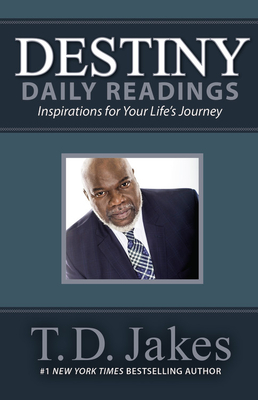 Destiny Daily Readings (Hardcover)
Inspirations for Your Life's Journey
FaithWords, 9781455553952, 384pp.
Publication Date: October 6, 2015
Other Editions of This Title:
Digital Audiobook (10/5/2015)
CD-Audio (10/13/2015)
* Individual store prices may vary.
Description
Break distracting habits and realize your destiny with this portable volume of uplifting daily affirmations and devotionals from #1 New York Times bestselling author T.D. Jakes.
In this eye-opening book, Bishop T.D. Jakes shares short, powerful messages that will inspire you to discover and enjoy God's design for your life every day. His message will inspire you to pay close attention to the structure of your life -- and to achieve your highest God-given aspirations.
Destiny Daily Readings will help you maintain a biblical sense of focus and show you how destiny guides us all through life's many ups and downs. This valuable devotional will help you learn to play the lead role in your own life and stay determined, one day at a time.
About the Author
T.D. Jakes is a #1 New York Times bestselling author of more than 25 books. His television ministry program The Potter's Touch is watched by 3.3 million viewers every week. He has produced Grammy Award winning music and such films as Heaven Is For Real, Sparkle, and Jumping the Broom. A master communicator, he hosts Megafest, Woman Thou Art Loosed and other conferences attended by tens of thousands.

Praise For Destiny Daily Readings: Inspirations for Your Life's Journey…
"One of the nation's most popular evangelists --- and quite possibly the smartest."—
USA Today
"We can always count on a word from God through Bishop Jakes that will not only inspire us but will speak growth to our souls."—
Tyler Perry, bestselling author, actor, and award-winning filmmaker, on Instinct
"Bishop T.D. Jakes is a spiritual warrior who is a master of meeting mankind eye to eye. He is a global teacher whose insights and leadership serve the progressiveness of all people."—
Stedman Graham, speaker, author, and entrepreneur, on Instinct
T.D. Jakes has taken his trademark teaching from the pulpit and delivered it straight to readers in the pages of this inspiring book. He¹s a spiritual leader, humanitarian and educator who has a special talent for bringing out the best in others. 'Instinct' provides practical advice that will inspire many to embrace a new path on their way to leading extraordinary lives.
—
Debra L. Lee, Chairman & CEO, BET Networks, on Instinct
With today's pressure to conform, whether to protect ourselves or fit in, finding our individuality and purpose falls on our priority lists. But to stand out and succeed, we have to know who we are and where our strengths lie. Bishop T.D. Jakes' newest book gives real world advice on how to look within yourself and pull out that inner voice, those instincts, and direct them to a facet of life that is best for you. Bishop Jakes has done it again.
—
Dr. Phil McGraw, Nationally syndicated television host and #1 New York Times bestselling author, on Instinct
Again Bishop T.D. Jakes releases potential within us that enables us to excel and succeed. In this book he shares the awesome strategies by which his spectacular accomplishments have come to past. Read and succeed!
—
BISHOP CHARLES E. BLAKE, SR., Senior Pastor of West Angeles Church, on Instinct
Bishop T.D. Jakes is an anointed leader whose leadership, integrity, passion, and devotion transforms.
—
RON KIRK, former mayor of Dallas, on Instinct