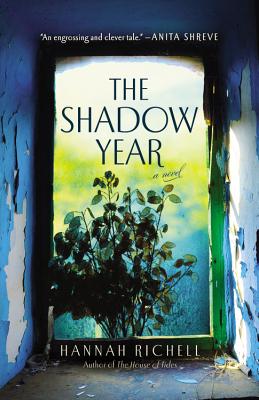 The Shadow Year
Paperback

* Individual store prices may vary.
Description
From the internationally bestselling author of The House of Tides, a psychologically gripping novel about a group of college graduates who decide to live off the grid--and the consequences for their lives.
Still grieving the death of her prematurely delivered infant, Lila finds a welcome distraction in renovating a country house she's recently inherited. Surrounded by blueprints and plaster dust, though, she finds herself drawn into the story of a group of idealistic university grads from thirty years before, who'd thrown off the shackles of bourgeois city life to claim the cottage and rely only on each other on the land. But utopia-building can be fraught with unexpected peril, and when the fate of the group is left eerily unclear, Lila turns her attention to untangling a web of secrets to uncover the shocking truth of what happened that fateful year, in order to come to terms with her own loss and build a new future for herself.
Suspenseful and moving, with a deep secret at its heart,
The Shadow Year
is Hannah Richell's breakout book.
Praise For The Shadow Year…
"Richell's highly charged and effortless writing draws readers in from page one. . . . Literary in style, but not stuffy or arrogant, THE SHADOW YEAR is entertaining and sometimes heartwrenching. It is a smart page-turner, a bit scary and quite atmospheric, exploring the depths of sadness, loneliness, loss and hope, as well as the meaning of family."
—
Sarah Rachel Egelman
,
BookReporter.com
"An absorbing, deeply
satisfying novel examining the relationships that make up our lives and what
happens when the best intentions go deeply astray. Beautifully written and
skillfully woven, this is a compelling tale of tragedy and forgiveness."
—
Booklist
"Richell's story grips the reader from the very beginning and doesn't let go until the last page. The richly depicted characters draw the reader into their hearts and lives. The intricately woven plots drive this page-turner to the very end. Four stars."
—
RT Magazine
"An engrossing and clever tale."
—
Anita Shreve
"A slow-burning drama, with several mysteries furled tightly inside one another... [Richell]'s an astute storyteller and knows exactly how to reel in readers and keep them hooked."
—
The Australian
"Hannah Richell instantly draws you into her story. Powerful, real and memorable."
—
Elizabeth Noble, bestselling author of Things I Want My Daughters to Know
"Hannah Richell is undoubtedly skilled at creating characters that are so believable your heart aches for them."
—
Good Housekeeping (UK)
"[I] had to fight the desire to devour it in one indulgent sitting. The past and present story lines are deftly woven and equally engrossing, while the atmosphere of unease builds and builds, and lingers way beyond the last page. Brilliant."
—
Emylia Hall, author of The Book of Summers
"I whiled away a few joyous hours with Hannah Richell's debut novel . . . this is a 'family story' at its stirring best, a page-turner for sure. It's the perfect novel for a sunny day at the beach, or a rainy one, indoors on the windowseat."
—
The Hudson Valley News
"An engaging family drama with a well-crafted story line and spirited characters."
—
Booklist
"Exactly the kind of book I adore. An idyllic English house, a broken family, past and present, threaded by piercing secrecy.
The House of Tides
propels us forward with hope, even as our hearts break. Tragically beautiful, achingly authentic, Richell's debut will resonate across generations."—
Sarah McCoy, international bestselling author of The Baker's Daughter
"Four and a half stars (a Top Pick). Palpable tension and intriguing characters make this novel tough to put down. . . this story will delight readers with its mood-evoking setting and sense of mystery."
—
Romantic Times Magazine
Grand Central Publishing, 9781455554331, 400pp.
Publication Date: May 6, 2014
About the Author
Hannah Richell was born in England. After graduating from the University of Nottingham, she worked in the book publishing and film industries. She now lives with her husband and two young children in Sydney, Australia.
or
Not Currently Available for Direct Purchase