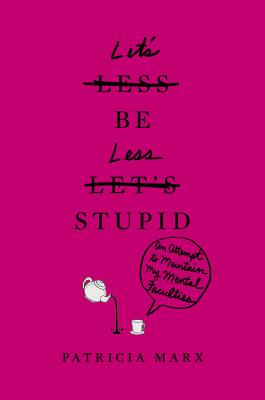 Let's Be Less Stupid (Hardcover)
An Attempt to Maintain My Mental Faculties
Twelve, 9781455554959, 208pp.
Publication Date: July 14, 2015
Other Editions of This Title:
Digital Audiobook (7/13/2015)
Paperback (7/12/2016)
* Individual store prices may vary.
Description
Former SNL writer and The New Yorker staffer Patty Marx employs the weapon she wields best--not that weapon; Patty believes in gun control. Instead, she uses her sharp-edged humor to tackle the most difficult facet of aging: the mind's decline. From forgetting her brother-in-law's name while he was wearing a nametag to hanging up the phone to look for her phone, Marx confesses to her failures, and not only to make you feel better about yourself.

In Let's Be Less Stupid Patty addresses troubling conundrums, such as: If there are more neural connections in your brain than stars in the Milky Way, why did you put the butter dish in your nightstand drawer? Patty's quest to get smarter includes just about everything: learning Cherokee, popping pills (not the good kind), and listening to--who's the guy who didn't write dum de de dum but the other one?
About the Author
Patricia Marx is a writer for the New Yorker, former writer for Saturday Night Live, and the first woman elected to the Harvard Lampoon. Her books include the novel Him Her Him Again The End of Him, the children's book Now Everybody Really Hates Me, and the humor book How To Regain Your Virginity. After writing this book, Patty Marx got so smart she changed her name to Patricia Marx.
Praise For Let's Be Less Stupid: An Attempt to Maintain My Mental Faculties…
"Patty Marx's unending wit, comedy, insight, and panic are here on display in her new, exciting, book."—Steve Martin

"Much the way the movie 'Inside Out' does with its 11-year-old protagonist, Ms. Marx takes us on a guided tour of the inner workings of her head... you can dip in and out, the way you might take an occasional swig of whiskey (or whatever works) as a pick-me-up...Ms. Marx might not be everyone's cup of tea. But she is mine."—New York Times

"This book is hilarious. In gleefully mocking her own feeble brain, Patty Marx reveals herself to be downright brilliant. Predictably, her humor is packed with merriment, fizzy wit and belly laughs, but here's the surprise: she brings truckloads of knowledge to her complex subject and even the occasional flash of wisdom."—John Lithgow

"[A] lighthearted and insightful romp."—The Wall Street Journal

"Patty Marx has plenty of advice to help you keep your mind young- while acknowledging how hopeless the dream of maintaining a young brain really is. So, don't think about it; let your mind go blank; look at the pictures, and laugh out loud."—Bill Nye

"[Marx is] as sharp as ever."—O Magazine

"Employing candor and wit...Marx has written a hilarious and comforting book on maintaining mental acumen at any age."—Publishers Weekly

"Patty Marx's new book on the mind and its slippages is one more welcome Marxian performance: fascinating truths, offered with wit, and wonderful wit, with truth inside it."—Adam Gopnik

"Does laughing out loud make you smarter? Scientists need to study the brains of people right after they've read anything by Patricia Marx." —Andy Borowitz

"Patty Marx is one of the funniest, smartest people I know. I am pretty sure I have gotten smarter, or at least less stupid, since reading this book. You will too!"—Roz Chast

"In this juggernaut trek through various scientific labyrinths, Ms. Marx proves that it takes a huge and powerful brain to find out how stupid you are. Of course, she fails -- in fact seems to lose interest in that dismal quest about halfway through -- but so what; her purpose is to squeeze laughs out of anything and everything she does, or finds out, or screws up. What a brain, and

thus what a book."—Bruce McCall

"I've long had a nagging suspicion that I'm getting stupider by the day. But not until giving myself over to the program put forth in this book--call it "Patty Marx's Bootcamp for the Brain"TM--did I fully grasp the extent of my cognitive decline. I can't remember most of what's in it, but I can say that it's the feel-good read of the season. Especially for people who don't know what season it is." —Meghan Daum

"If you had a conversation with your funniest, smartest friend about your secret fear of losing your mind, this is what it would sound like. Marx's book is hilarious, engaging, and jammed with wonderfully oddball science, delivered with her inimitable wit. A must-read for anyone who has a brain."—Susan Orlean

"Both heart and brains...Since one of the meditation techniques mentioned [in LET'S BE LESS STUPID] is laughter, merely reading this book could help your hippocampus feel the burn. Start with Marx's suggestions, then plot your personal brain boot camp since sadly, liposuction is not an option for shaping up an aging brain."—BookPage

"A short and giddy book ...both the author and her humor are sharper than they initially let on."—Boston Globe

"Smarten up with Marx's quizzes, brainteasers, anecdotes, and self-help guides while giving your funny bone a witty workout."—Elle

"Frothy, funny, and abounding in quizzes, exercises, and questionnaires...A sly, irreverent take on the latest obsessions regarding self-improvement."—Kirkus

"Equal parts sarcasm, silliness and smarts...Throughout, 'Middle-Age Mad Libs' mock brainteasers and ludicrous quizzes are filled with sharp sendups of our cultural obsessions... anyone clever enough to write Let's Be Less Stupid is clearly still firing on all cylinders."—NPR Books

"A smart, often laugh-out-loud exploration of the human brain...hilariously sophisticated, often literally mind-boggling."—Shelf Awareness

"It doesn't sound amusing, but it is."—The Toronto Star

"This 'sub-primer' on the neuroscience of intelligence and memory by New Yorker staff writer and master humorist Patricia Marx delivers salutary cognitive jolts amid the general hilarity... If you regularly arrive in rooms with no memory of what you were looking for, this one is for you."—Nature

"Patricia Marx is my favorite kind of humorist. A funny one."—Omnivoracious

"Will amuse, astonish and aggravate you, but it's also great fun...Worry not. You'll quickly get with it and by the end, be much smarter."—Acadiana Lifestyle
Coverage from NPR
or
Not Currently Available for Direct Purchase