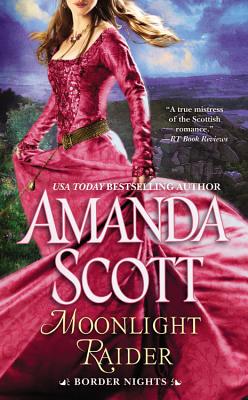 Moonlight Raider (Border Nights #1)
Mass Market

* Individual store prices may vary.
Description
A Man of His Sward Border lord Walter Scott of Rankilburn, grief-stricken after burying his father, goes to the forest seeking solace. Instead he finds a half-naked young lady fleeing pursuit. Wat offers his protection, but honor demands that he return the golden-eyed beauty to her rightful husband-even though the last thing he wants is to see her in another man's arms.A Runaway Bride Molly Cockburn has fled her home, family, and the brutal scoundrel she was forced to wed. Her pursuers are closing in when the powerful new Lord of Rankilburn bravely intervenes, then promises to help prove her marriage unlawful. Though fiercely loyal to her family, Molly fears they might harm the man she is coming to love, and now she must decide whether to remain faithful to her blood . . . or to her heart.
Praise For Moonlight Raider (Border Nights #1)…
"Wonderfully romantic...[a] richly detailed 15th century Scottish historical from the author frequently credited with creating the subgenre."—
Library Journal on The Laird's Choice
"Great with sensual scenes, Scott excapes the cliche of a masterful male taming a 'wildcat' woman; instead, Fin and Catriona learn to communicate and compromise in this solid roomantic adventure....Scott...deftly handles period dialogue and attitudes."
—
Publishers Weekly on Highland Master:
For
Highland Master:
"Marvelous Scottish tale of a time in history when various plays for power were held....a piece of history as well as a great tale. Amanda Scott does it again with another fascinating part of Scottish history."—
Romance Reviews Magazine
Rave for first book in
Scottish Knights Trilogy:
"Amanda Scott proves once again she is the
Highland Master
when it comes to a thrilling tale starring Scottish Knights."—
Harriet Klausner on Highland Master
On
Highland Master:
"[Scott] uses her knowledge of Scottish history to weave an engrossing and sexy story about Highland life in the 1400s."—
Robert Walch
,
The Salinas Californian
"
Blue-ribbon Rating - 4 !
Deliciously sexy....
Highland Master
is a rare treat of a read."—
romancejunkies.com
"Amanda Scott has an uncanny knack of picking up her readers and plunking them down right in the middle of her storyworld. The physical settings, the tenor of the times, the characters, the language, and the political and family tensions, all present an unmatched air of authenticity to her work...
Highland Master
is an eminently satisfying read."—
Romance Reviews Today on Highland Master
On
Tempted by a Warrior:
"
4 Checks!
...Terrific story. Loved the tension between Fiona and Dickon...Plenty of ...suspense throughout. Another wonderful Scottish tale with lots to recommend to all."—
Romance Reviews
On
Seduced by a Rogue:
"The historical romance writer adds this title to her impressive bibliography, delivering another trademark tale of strong-willed women and warrior-clans in 14th -century Scotland."—
Allen Pierleoni
,
The Sacramento Bee, www.sacbee.com
On
Seduced by a Rogue:
"Another excellent novel from Amanda Scott, who just keeps producing one fine story after another..."—
-Romance Reviews Magazine
,
romancereviewsmag.com
On
Seduced by a Rogue
: "
Top Pick!
Scott's wonderful book is...populated by characters who jump off the pages and grab your attention....Tautly written, passionate romance."—
-Kathe Robin
,
Historical Romance Reviews, rtbookreviews.com
"Ms. Scott is able to make settings and history come to life...For a read brightened by suspense, wit, and love,
Tamed by a Laird
is a great choice."—
-Jane Bowers
,
Romance Reviews Today
On
Tamed by a Laird
: "Noted for her exceptionally well-written and well-researched Scottish historicals, Scott breathes vivid, colorful life into 14th-century Scotland with strong, well-motivated characters, a passionate love story, and enough political intrigue to keep the action lively."—
-Kristin Ramsdell
,
Library Journal Reviews
Forever, 9781455556656, 400pp.
Publication Date: September 30, 2014
About the Author
Amanda Scott is the author of over 62 romance novels and the recipient of the Romance Writers of America's prestigious RITA Award. She lives in Folsom, California, outside of Sacramento. She is a fourth-generation Californian.
or
Not Currently Available for Direct Purchase