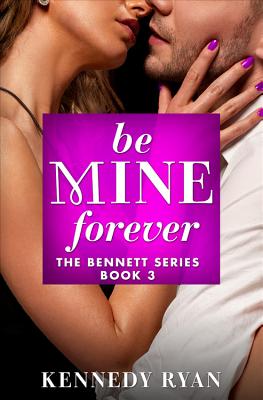 Be Mine Forever (The Bennett Series #3)
Paperback

* Individual store prices may vary.
Description
Can a secret crush . . .

Jo Walsh has loved Cameron Mitchell for as long as she can remember. Whether front and center in her life or on the periphery, the tall, brooding artist has made his presence seductively and irresistibly known. But whenever they start to get close, Cam pulls away. Jo's tired of keeping her feelings in a box Cam is afraid to open. If he wants her, he'll have to prove it. And if he doesn't, Jo will need to know the real reason why . . .

. . . become the love of a lifetime?

How do you walk away from your soul mate? Cam wishes he knew. No matter how far he runs from Jo, he can't resist looking back at the silver eyes that seem to see right through him. But as well as Jo thinks she understands Cam, the dark truth about his past is something she shouldn't have to handle. Cam's sure that setting Jo free is the right thing to do. Too bad his heart has other ideas . . .
Praise For Be Mine Forever (The Bennett Series #3)…
"When You Are Mine is exactly what I look for in a romance! Achingly beautiful with palpable, real characters, you cannot help but completely fall in love with. I cannot wait for more!"
—
New York Times bestselling author A.L. Jackson on When You Are Mine
"Ryan's debut is rife with sexual tension while her easy style and likable characters bring this unpredictable love triangle to life."
—
USAToday bestselling author Karina Halle on When You Are Mine
Forever Yours, 9781455556878, 368pp.
Publication Date: February 3, 2015
About the Author
A RITA Award Winner and bestselling author, Kennedy Ryan writes for women from all walks of life, empowering them and placing them firmly at the center of each story and in charge of their own destinies. Her heroes respect, cherish, and lose their minds for the women who capture their hearts.

She is a wife to her lifetime lover and mother to an extraordinary son. She has always leveraged her journalism background to write for charity and nonprofit organizations, but enjoys writing to raise autism awareness most. A contributor for Modern Mom magazine, Kennedy's writings have appeared in Chicken Soup for the Soul, USA Today, and many others. The founder and executive director of a foundation serving Atlanta families living with Autism, she has appeared on Headline News, Montel Williams, NPR, and other media outlets as an advocate for families living with autism.

To learn more, sign up for Kennedy's mailing list at bit.ly/KennedyMailingList, or visit her at:
KennedyRyanWrites.com
Twitter @KennedyRWrites
Facebook.com/KennedyRyanAuthor
Instagram @KennedyRyan1