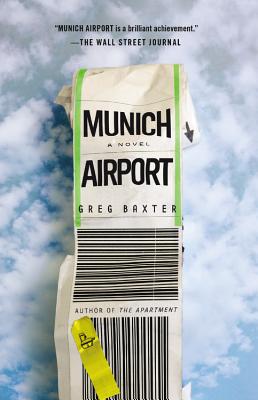 Munich Airport
A Novel
Paperback

* Individual store prices may vary.
Other Editions of This Title:
Digital Audiobook (1/26/2015)
Hardcover (1/27/2015)
Compact Disc (1/27/2015)
Compact Disc (1/27/2015)
Paperback, Large Print (8/1/2017)
Description
From the critically acclaimed author of The Apartment comes a powerful, poetic, and haunting exploration of loss, love, and isolation.

An American living in London receives a phone call from a German policewoman telling him the nearly inconceivable news that his sister, Miriam, has been found dead in her Berlin apartment-from starvation. Three weeks later the man, his father, and an American consular official named Trish find themselves in the bizarre surroundings of a fogbound Munich Airport, where Miriam's coffin is set to be loaded onto a commercial jet and returned to America.

Greg Baxter's bold, mesmeric novel tells the story of these three people over the course of three weeks, as they wait for Miriam's body to be released, grieve over her incomprehensible death, and try to possess a share of her suffering--and her yearning and grace.

With prose that is tense, precise, and at times highly lyrical, Munich Airport is a novel for our time, a work of richness, gravity, and even dark humor. Following his acclaimed American debut, Munich Airport marks the establishment of Greg Baxter as an important new voice in literature, one who has already drawn comparisons to masters such as Kafka, Camus, and Murakami.


Praise For Munich Airport: A Novel…
ACCLAIM FOR MUNICH AIRPORT
"MUNICH AIRPORT confirms [Baxter] as a writer of courage and lucidity. His fluent and assured prose owes some debt to the Austro-Hungarian Franz Kafka and the Austrian Thomas Bernhard... Baxter is high literature."
—
New York Times Book Review, Editors' Choice
"A masterwork of minimalism."
—
Entertainment Weekly
"With expert undercurrents and subtext, Baxter can fill quiet scenes with the weight of a funeral...Baxter's realizations are artful, and give poignant images to a man's struggle for identity."
—
Austin American-Statesman
"MUNICH AIRPORT is a brilliant achievement."
—
Sam Sacks, The Wall Street Journal
"Greg Baxter is a writer of style...His proven brand of philosophical literature bypasses current fiction's fad for recklessly baroque construction and aims straight for the higher shelves of the Western canon."
—
Barnes & Noble Review
"[A] haunting and memorable work."
—
Hudson Valley News
"Powerful and poignant...The novel's tone, together with Baxter's limpid prose and his narrator's clear-eyed confessions, keep us riveted until the bittersweet climax, when the fog finally lifts and each broken character can take to the sky."
—
Minneapolis Star Tribune
"Fascinating and sad, unfolding...profound philosophical and psychological insight...The developing themes range from family and life's meanings to the role of memory and the passage of time, all illuminated by some of the best writing appearing in fiction today."
—
San Antonio Express-News
"Stunning... Few novels so urgently and demandingly make themselves feel as necessary as MUNICH AIRPORT."
—
Tweed's
ACCLAIM FOR THE APARTMENT BY GREG BAXTER
"Baxter has written a novel of subtle beauty and quiet grace; I found myself hanging on every simple word, as tense about the consequences of a man finding an apartment as if I were reading about a man defusing a bomb... It is one of the best novels I have read in a long time."—
Stacey D'Erasmo, New York Times Sunday Book Review
"Absorbing, atmospheric and enigmatic... With its disorienting juxtaposition of the absolutely ordinary and the strange and vaguely threatening, the novel evokes the work of Franz Kafka and Haruki Murakami, while its oblique explorations of memory suggest a debt to W.G. Sebald... Baxter's provocative, unsettling novel is, among other things, about the inexorability of identity and 'the immortality of violence.'"
—
Los Angeles Times
"It is precisely this sort of subversion, along with the author's shimmering prose, that makes THE APARTMENT such a surprisingly compelling read and so apropos; it captures the mood of the current moment and what seems to be a new "lost generation," one formed not so much by exposure to violence, as immunity to and alienation from it. Once upon a time, there was no place like home; in Mr. Baxter's world, home, it seems, is no place."
—
Adam Langer, The New York Times
"In this bleak but affecting novel, an unnamed American expat spends a day walking through a frigid, unidentified European city in search of an apartment...The details of his day are rendered with anaesthetized precision and achieve a cumulative force of grief, equanimity, and resolve."
—
The New Yorker
"A true gem... Lucid, often hypnotic and, at times, even transporting. [Baxter] keeps his sentences short, his adjectives limited, his pacing leisurely. The paragraphs are long and there are no chapter breaks, yet his acute observation means this is no mere minimalist undertaking... The Iraq sections are astonishingly well done, and the man's history as a Naval officer feels almost exactly right to the former Naval officer who happens to be writing this review."
—
Los Angeles Review of Books
"In a year marked by epics, it's a relief to delve into this quiet, surprisingly tense debut novel - small enough to fit into a stocking but packing a huge emotional punch."
—
Entertainment Weekly
"In just over 200 pages, The Apartment impressively and tactfully covers everything from the effects of American interventionism on its relationship with Europe to questions of personal identity."
—
Esquire
"'I was born to hate the place I came from.' Greg Baxter's first novel THE APARTMENT is a short but powerful exploration of that sentiment, uttered halfway through the novel by its narrator, a 41-year-old American ex-Navy officer and Iraq War veteran."
—
Chicago Tribune
"A beautiful meditation on brutality and culture, which are sometimes one and the same."
—
Minneapolis Star Tribune
"An elegant portrait of a man half-fractured, half-intact-a post-war somebody caught between repair and capitulation, controlling his own fate and imprisoned by regret."
—
The Texas Observer
"In the layered narratives of Baxter's piercing first novel, a young American returned from Iraq struggles to find a new life in Europe."
—
New York Times, Sunday Book Review, Editor's Choice
"Greg Baxter deserves to be included with Karl Ove Knausgaard, Elena Ferrante, Ben Lerner and Rachel Cusk in the current conversation about what fiction can do and where it is going."
—
Brooklyn Magazine
"Baxter has written another profound yet immensely relatable book."
—
The Acadiana Advocate
Twelve, 9781455557967, 288pp.
Publication Date: January 26, 2016
About the Author
Greg Baxter is the author of The Apartment and A Preparation for Death. Originally from Texas, he has lived in Europe for almost two decades. He currently lives in Berlin with his wife and two children.