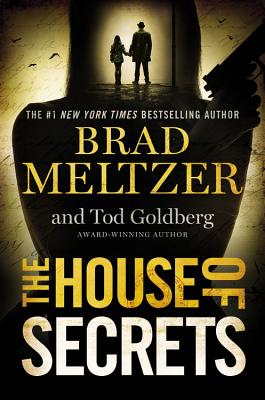 The House of Secrets
Hardcover

* Individual store prices may vary.
Other Editions of This Title:
Digital Audiobook (6/6/2016)
Hardcover, Large Print (6/21/2016)
Mass Market (1/31/2017)
CD-Audio (1/31/2017)
MP3 CD (6/7/2016)
Compact Disc (6/7/2016)
Description
A secret worth killing for, a woman with no past, and an act of treason that changed America: #1 bestselling author Brad Meltzer returns with The House of Secrets.
"When Hazel Nash was six years old, her father taught her: mysteries need to be solved. He should know. Hazel's father is Jack Nash, the host of America's favorite conspiracy TV show, The House of Secrets.
Even as a child, she loved hearing her dad's tall tales, especially the one about a leather book belonging to Benedict Arnold that was hidden in a corpse.
Now, years later, Hazel wakes up in the hospital and remembers nothing, not even her own name. She's told she's been in a car accident that killed her father and injured her brother. But she can't remember any of it, because of her own traumatic brain injury. Then a man from the FBI shows up, asking questions about her dad -- and about his connection to the corpse of a man found with an object stuffed into his chest: a priceless book that belonged to Benedict Arnold.
Back at her house, Hazel finds guns that she doesn't remember owning. On her forehead, she sees scars from fights she can't recall. Most important, the more Hazel digs, the less she likes the person she seems to have been.
Trying to put together the puzzle pieces of her past and present, Hazel Nash needs to figure out who killed this man -- and how the book wound up in his chest. The answer will tell her the truth about her father, what he was really doing for the government -- and who Hazel really is. Mysteries need to be solved. Especially the ones about yourself."
Praise For The House of Secrets…
"Highly satisfying...a conspiracy-laden spy novel that's at its best when it's gleefully cutting the legs out from the genre's tropes."—Publishers Weekly

"Highly entertaining...Meltzer and Goldberg move THE HOUSE OF SECRETS at a breakneck pace...what never wavers is Meltzer's meticulous historical research, drawing on little known facts to make the past come alive....An intriguing twist pulls together the tight story of THE HOUSE OF SECRETS."—South Florida Sun Sentinel

"Nobody does historical speculation better than Meltzer, to the point where the lines between fiction and fact become utterly blurred. And that helps make THE HOUSE OF SECRETS great fun, pure reading entertainment of the highest order."—Providence Sunday Journal

"A fast-paced and twisty thriller not to be missed."—Library Journal

"Meltzer's many fans should have a good time here, as will all conspiracy-minded readers, even those not familiar with the author's brand."—Booklist

"THE HOUSE OF SECRETS packs a brilliant mystery into a hair-raising conspiracy that will leave readers on the edge of their seats. Fast pacing, nonstop suspense, and a climactic final act make this one of the summer's best novels...Sure to leave you questioning everything-including the history books!"
—The Real Book Spy

"A game-changing female protagonist."
—The Big Thrill

PRAISE FOR THE CULPER RING SERIES:

"Clearly a history buff of the highest order, Meltzer knows his stuff, and he's included research from chats with none other than President George H.W. Bush....Beecher's got the mental acumen of Robert Langdon and the gumption of Indiana Jones, but unlike those globe-trotting types, Meltzer's protagonist is thrown into adventures made in the USA and acts as an awesome gateway into the deadlier aspects of American history."—USA Today on The Fifth Assassin

"History and suspense collide in shocking ways - and the intensity never lets up. Beecher carries the weight of the story. He's a great character who will resonate with readers since he's like the fun next-door neighbor or your best friend in college....One of his best books to date...The ending of The Fifth Assassin appears to announce that Beecher White will return, and that cannot come fast enough."—Washington Post on The Fifth Assassin

"A fascinating story that blends historical facts, secret codes, with an engrossing mystery...Meltzer is a master at writing his mysteries as puzzles where the pieces are hints dropped throughout the book..."—Military Press on The Fifth Assassin

"Because not since the Fletcher Knebel seminal Seven Days inMay or James Grady's scathing Days of the Condor, has there been a political thriller as relentlessly paced or blisteringly effective as The Fifth Assassin. An early contender for the best thriller of 2013."—The Providence Journal on The Fifth Assassin

"Full of surprises, action, twists and turns, it is a wild and entertaining (and yes, educational) romp, wonderful in every way...Read The Fifth Assassin and prepare to be entranced and enthralled."—BookReporter on The Fifth Assassin

"When you sit down to start reading, make sure the chair has a comfortable cushion because you'll find yourself unable to put the book down and get anything done. It's that good a read...As always Meltzer's character development and believable plot is spot on. Clearly Mr. Meltzer has done his homework. I think his attention to detail; using true facts combined with fiction to tell his story is what makes him a standalone author in the thriller genre and his fans coming back for more. "—Suspense Magazine on The Fifth Assassin

"Ratchets up the drama and human interest, and Meltzer's fans will enjoy the usual sprinkling of history factoids, fast-paced writing and the double-whiplash bombshell conclusion."—Kirkus Reviews on The Fifth Assassin

"All of Brad's books are a fascinating read. He is a great storyteller who keeps all of us on the edge of our seats."—President George H.W. Bush

"[Meltzer] is an architect. His structures are towering , intricate, elegant, and surprising -- but always grounded in humanity and logic."—Joss Whedon

"Meltzer has mastered the art of baiting and hooking readers into a fast-moving plot."—USA Today

"Meltzer has earned the right to belly up to the bar with John Grisham, Scott Turow, and David Baldacci. "—People
Grand Central Publishing, 9781455559497, 368pp.
Publication Date: June 7, 2016
About the Author
Brad Meltzer is the #1 New York Times bestselling author of The Inner Circle, The Book of Fate, and seven other bestselling thrillers. In addition to his fiction, Brad is one of the only authors to ever have books on the bestseller list for nonfiction (History Decoded), advice (Heroes for My Son and Heroes for My Daughter), children's books (I Am Amelia Earhart and I Am Abraham Lincoln) and even graphic books (Justice League of America).

He is also the host of Brad Meltzer's Decoded on the History Channel, and Brad Meltzer's Lost History on H2. He currently lives in Florida. You can find much more about him at BradMeltzer.com. You can also see what he's doing right now at Facebook.com/BradMeltzer and on Twitter @bradmeltzer.