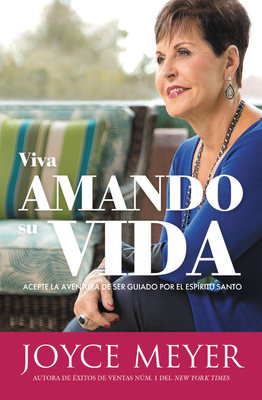 Viva amando su vida (Paperback)
Acepte la aventura de ser dirigido por el Espíritu Santo
FaithWords, 9781455560172, 224pp.
Publication Date: April 3, 2018
* Individual store prices may vary.
Description
Como muchas personas, puede que le sea fácil expresar amor por su familia, su cónyuge, su iglesia, el Señor, o por cosas temporales, como una buena taza de café, su casa o una buena cena en su restaurante favorito. Sin embargo, quizás tenga que esforzarse de verdad por decir: "¡Amo mi vida!"

Las rutinas y las responsabilidades pueden convertirse en una monotonía, que lo hagan sentirse amedrentado, en vez de desearlas con ansias. No obstante, usted puede convertirse en un ser optimista y maravillarse de las cosas que Dios puede hacer todos los días.
Escrito por la autora número uno del
New York Times
, Joyce Meyer, este libro es la clave para cambiar su perspectiva, que le permite a su vez disfrutarse cada momento y cada área de la vida. Joyce explica cómo amar la vida completamente, a pesar de los obstáculos, ¡para que pueda experimentar el gozo y la plenitud que Dios tiene para usted!
Los capítulos incluyen:
Dios tiene un plan asombroso para usted,
Niéguese a dejar que el temor determine su destino,
Considere cada día como una oportunidad, y
¡Sea la persona que Dios creó que fuera!
La clave para amar su vida se encuentra en el amor de Dios por usted. Aprenda cómo Dios puede ayudarle a mantener una actitud alegre, haciendo que el amor y la bondad sean las prioridades principales, y que lo que usted regale se le devuelva con creces. Como explica Joyce, Dios ya le ha bendecido con lo que necesita para que VIVA AMANDO SU VIDA. Y este libro le mostrará cómo hacerlo.
About the Author
JOYCE MEYER is a #1 New York Times bestselling author and one of the world's leading practical Bible teachers. Her broadcast, Enjoying Everyday Life, airs daily on hundreds of television networks and radio stations worldwide. Joyce has written nearly 100 inspirational books. Bestsellers include Power Thoughts; The Confident Woman; Look Great, Feel Great; Starting Your Day Right; Ending Your Day Right; Approval Addiction; How to Hear from God; Beauty for Ashes; and Battlefield of the Mind. Joyce holds conferences throughout the year, speaking to thousands around the world.