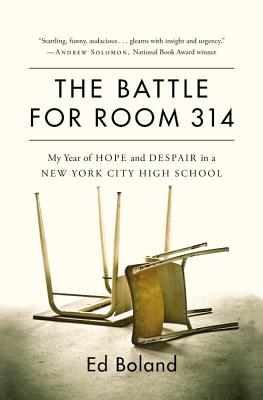 The Battle for Room 314
My Year of Hope and Despair in a New York City High School
Hardcover

* Individual store prices may vary.
Other Editions of This Title:
Digital Audiobook (2/8/2016)
Description
In this insightfully honest and moving memoir about the realities of teaching in an inner-city school, Ed Boland "smashes the dangerous myth of the hero-teacher [and] shows us how high the stakes are for our most vulnerable students" (Piper Kerman, author of Orange is the New Black).
In a fit of idealism, Ed Boland left a twenty-year career as a non-profit executive to teach in a tough New York City public high school. But his hopes quickly collided headlong with the appalling reality of his students' lives and a hobbled education system unable to help them. Freddy runs a drug ring for his incarcerated brother; Nee-cole is homeschooled on the subway by her brilliant homeless mother; Byron's Ivy League dream is dashed because he is undocumented.
In the end, Boland isn't hoisted on his students' shoulders and no one passes AP anything. This is no urban fairy tale of at-risk kids saved by a Hollywood hero, but a searing indictment of schools that claim to be progressive but still fail their students.
Told with compassion, humor, and a keen eye, Boland's story is sure to ignite debate about the future of American education and attempts to reform it.
Praise For The Battle for Room 314: My Year of Hope and Despair in a New York City High School…
"[Boland] never paints himself a hero, rather shares his failings generously when his own education and passion leave him short on immediate solutions. Boland seamlessly ushers readers into his stressful world and keeps them there. Readers will ache for him when students turn in blank worksheets, laugh when he tries to control his classroom using phrases he imagines 'a real teacher would say,' and furiously turn the pages to find out what the next school day holds. While there are few victories, readers are not left hopeless. Some students succeed, and Boland concludes the book with his case for changes needed in America's educational system. With skillful storytelling, self-deprecating humor and swiftly paced narratives, Boland's vulnerability will lure readers from the first scene."—Associated Press

"The Battle for Room 314 chronicles a year of gladiatorial altruism in the unruly arena of American public education. Ed Boland shares the startling, funny, audacious, and sad confrontations and conundrums he must puzzle his way through after deciding to try his hand at one of the most important, least appreciated professions in this country: teaching. His vivid anecdotes ensure there will be no reader left behind. Like his students, he sometimes fails a test, but he never loses hope, and his story gleams with insight and urgency."—Andrew Solomon, National Book Award-winning author of Far from the Tree: Parents, Children and the Search for Identity

"By turns harrowing and hilarious, Ed Boland's memoir about teaching in a New York City high school is raw, moving, and smashes the dangerous myth of the hero-teacher. The story told in The Battle for Room 314 shows us how high the stakes are for our most vulnerable students. It offers a fresh view and a pointed and powerful first-person perspective on American public education."—Piper Kerman, author of Orange is the New Black: My Year in a Women's Prison

"There is an edge to this book that I have not encountered before in any book about education, and it is extremely refreshing because education is edgy and often controversial."
—Getting Smart

"Enthralling...By turns hilarious and heartbreaking, Boland's memoir is a deeply human story about the power of teaching."
—Publishers Weekly

"Boland has a knack for capturing the stakes in seemingly small moments and the intensity of clashes between personalities. Ruthless in his evaluation of himself, his students, and the larger educational system, Boland provides a clear look at the challenges facing public schools today."
—Booklist

"Boland is modest, likable, and realistic...[He] has a charming way with words that makes the book entertaining to read, even laugh-out-loud funny...The results of his experiment in teaching are dispiriting and absolutely beautiful, in turn."
—Utne Reader

"Captivating, insightful, and instructive...Boland's colorful descriptions let the reader share his experience, living his successes, his growing understanding of his craft and his students, his dissections of days that did not go well, and his efforts to maintain hope."
—Library Journal

"Told with compassion and wry humor...An unflinchingly honest account of one man's experiences with inner-city education."
—Kirkus

"Riveting... There's nothing dry or academic here. It's tragedy and farce, an economic and societal indictment of a system that seems broken beyond repair."—NY Post

"Boland writes a book filled with funny, startlingly real moments that will entertain and educate even as it sheds light on the problems."—Columbus Dispatch

"If you've ever fretted about the state of education--on either side of the teacher's desk--The Battle for Room 314 goes to the head of the class."—Naples News

"The Battle for Room 314 is a personal account of Ed Boland's jarring foray into the high school classroom from the world of fundraising. With humor, insight, and grim persistence, Boland grapples with the realities of his students' lives as they all face the enduring issue of poverty. This memoir is a humbling reminder that no teacher is an island, and that schools, systems, and communities all share a responsibility to ensure that every child has access to a quality education."—James E. Ryan, Dean, Harvard Graduate School of Education

"In a sea of books in which the conquering hero arrives at an inner city school and magically transforms it, Ed Boland's The Battle for Room 314 is a breath of fresh air. Finally, a book that presents not the panacea but the reality of making schools work in communities where students face the triple challenge of poverty, racism, and violence."
—Luis Ubinas, former president, the Ford Foundation

"From laughter to heartbreak, Ed Boland's The Battle for Room 314 is a searing indictment of the current state of urban public schooling. With humor, sensitivity, and sophistication, Boland challenges us to acknowledge and reform our country's starkly bifurcated educational system-and the racial and socioeconomic power structures that back it. Deserving of a place alongside Jonathan Kozol's classic Death At An Early Age, Boland's memoir is an absolute must-read for educators, politicians, and activists."—Dan-el Padilla, author of Undocumented: A Dominican Boy's Odyssey from a Homeless Shelter to the Ivy League

"This is a fantastic book -- funny, heartbreaking, insightful -- everything a reader could want in a book about something as important as our education system. It reads like a fast-paced novel, with Boland choosing to illustrate so many dynamic scenes that pack a punch AND relay a message, while never coming across as preachy or condemning. An honest, searing portrait of the challenges facing public schools from all sides -- showing us the humanity and grace of the REAL people in these very REAL institutions. I laughed and cried through this wonderful book, and when I finished, I wanted to read it again."—Rachel Harper, author of Brass Ankle Blues and This Side of Providence

"Ed Boland's honesty, heart, and humor left me laughing, crying, shaking my fist in rage (sometimes all at the same time), open-mouthed with his hard-won insights. The Battle for Room 314 punches you right in the heart, and should be read by...everyone."—Marie Myung-Ok Lee, author of Somebody's Daughter
Grand Central Publishing, 9781455560615, 256pp.
Publication Date: February 9, 2016
About the Author
Ed Boland has dedicated his entire professional life to nonprofit causes as a fundraiser and communications expert. He has worked for predominantly educational institutions but also for arts and social service organizations. Boland was an Admissions Officer at his alma mater, Fordham, and later at Yale, and lived in China as a Princeton in Asia Fellow. He is now a senior administrator at the nation's premier educational access program, which places gifted students of color at leading private schools. He lives in New York with his husband.
or
Not Currently Available for Direct Purchase