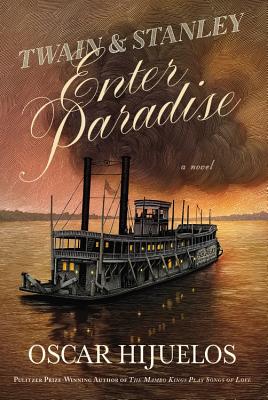 Twain & Stanley Enter Paradise
Hardcover

* Individual store prices may vary.
Other Editions of This Title:
Digital Audiobook (11/2/2015)
Paperback (10/4/2016)
CD-Audio (11/3/2015)
Compact Disc (11/3/2015)
Description
Twain & Stanley Enter Paradise, by Pulitzer Prize-winning author Oscar Hijuelos, is a luminous work of fiction inspired by the real-life, 37-year friendship between two towering figures of the late nineteenth century, famed writer and humorist Mark Twain and legendary explorer Sir Henry Morton Stanley.

Hijuelos was fascinated by the Twain-Stanley connection and eventually began researching and writing a novel that used the scant historical record of their relationship as a starting point for a more detailed fictional account. It was a labor of love for Hijuelos, who worked on the project for more than ten years, publishing other novels along the way but always returning to Twain and Stanley; indeed, he was still revising the manuscript the day before his sudden passing in 2013.

The resulting novel is a richly woven tapestry of people and events that is unique among the author's works, both in theme and structure. Hijuelos ingeniously blends correspondence, memoir, and third-person omniscience to explore the intersection of these Victorian giants in a long vanished world.

From their early days as journalists in the American West, to their admiration and support of each other's writing, their mutual hatred of slavery, their social life together in the dazzling literary circles of the period, and even a mysterious journey to Cuba to search for Stanley's adoptive father, Twain & Stanley Enter Paradise superbly channels two vibrant but very different figures. It is also a study of Twain's complex bond with Mrs. Stanley, the bohemian portrait artist Dorothy Tennant, who introduces Twain and his wife to the world of sv©ances and mediums after the tragic death of their daughter.

A compelling and deeply felt historical fantasia that utilizes the full range of Hijuelos' gifts, Twain & Stanley Enter Paradise stands as an unforgettable coda to a brilliant writing career.
Praise For Twain & Stanley Enter Paradise…
"Oscar Hijuelos, who left us suddenly and far too soon, has been deeply missed by those of us who were his friends-missed both as a friend and as a writer. The friend will not be coming back, but what a miracle that he has given us this last novel-which is a fine and wonderful novel, and surely among the best books Oscar ever wrote."—Paul Auster

"The great Oscar Hijuelos lives on in this ambitious, fascinating, and richly detailed work that, like the author, is in a class by itself."—Gay Talese

"TWAIN & STANLEY ENTER PARADISE is a natural and delightful extension of Hijuelos' work, and like his earlier books, this one is distinguished by vitality so intense as to give the reader a charge just picking up the book. . . . a voice that is haunting and mesmerizing, and a story that shows just how fantastic and enjoyable Oscar Hijuelos' imagination really was."—Craig Nova, author of The Good Son

"What a wonder to have Oscar Hijuelos return from the celestial beyond with a tale that is thoroughly of this world and firmly anchored in history! TWAIN & STANLEY ENTER PARADISE is a marvelous blend of research and the imagination, resurrecting two fascinating contemporaries-Mark Twain and Henry Morton Stanley-and lending a bygone era the shimmer of here and now."—Marie Arana, author of American Chica, Cellophane, and Bolívar: American Liberator.

"An extraordinary feat of imaginative historical re-creation."—Booklist (starred review)

"This book is good news for Hijuelos fans."—Kirkus

"Vividly imagined and detailed epic...How lucky we are to have this rich novel."—Publisher's Weekly (starred review)

"The final masterpiece by the Pulitzer-Prize-winning writer....Twain fans, get ready."—Huffington Post

"A magical story."—David Baldacci, CBS Sunday Morning

"So sad that this is our last Hijuelos novel, so fabulous that we have it."—Library Journal (starred review)

"A brilliant posthumous capstone."—EW.com

"Hijuelos spins a great tale... There's just a kind of gorgeous magic to the disparate but parallel lives he is charting."—NPR

"An engrossing commentary on friendship, fame and fate."—Newsday

"[A] masterful, sweeping novel."—Miami Herald

"Stylistically adventurous...TWAIN & STANLEY ENTER PARADISE will make illuminating reading for Hijuelos fans."—USA Today

"If you are a history buff who loves an intersection of different worlds, this novel will cause you to practically go mad with happiness."—Bookreporter.com

"At day's end, TWAIN & STANLEY ENTER PARADISE delivers as an erudite vaudeville of turn-of-the-century superstars (Bram Stoker! Gladstone! Conan Doyle!) and a self-effacing swan song for a gifted novelist."—Boston Globe

"One could add that, as long as people read books, they will read books by Oscar Hijuelos...this novel shows you why."—BookPage

"An imaginative though incomplete homage to the bond of two of the most famous men of the 19th century."—New York Times

"A rollicking adventure tale, a bromance, and an illuminating portrait of two fascinating men who battled their way to prominence during an era defined by yellow fever, the Civil War, and a pioneering American zeal."—O Magazine

"An exciting and moving blend of letters, narrative, and imagined memoir from the two famed men, Hijuelos gives a delightful glimpse into the relationship of two of history's most fascinating subjects."—Vanity Fair

"As a character study and a window into the past, [Hijuelos has] left us with a book that is worthy of his fascination."—Austin American-Statesmen

"...marvelously entertaining. You don't feel as if you are reading a novel but, rather, an authentic account of the relationships of the two men. That in and of itself is a major accomplishment, an obvious attestation of Hijuelos' imagination."—Counterpunch Magazine
Grand Central Publishing, 9781455561490, 480pp.
Publication Date: November 3, 2015
About the Author
Oscar Hijuelos, the son of Cuban immigrants, was in New York City in 1951. He is a recipient of the Rome Prize, the Pulitzer Prize, and grants from the National Endowment for the Arts and the Guggenheim Foundation. His novels -- Mambo Kings, Our House in the Last World, The Fourteen Sisters of Emilio Montez O'Brien, Mr. Ives' Christmas, Empress of the Splendid Season, and A Simple Habana Melody -- have been translated into twenty-five languages.
Coverage from NPR
or
Not Currently Available for Direct Purchase