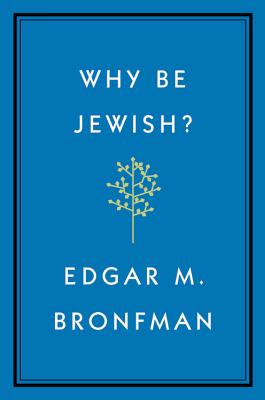 Why Be Jewish?
A Testament
Hardcover

* Individual store prices may vary.
Other Editions of This Title:
Digital Audiobook (3/21/2016)
Description
Edgar M. Bronfman's clarion call to a generation of secular, disaffected, and unaffiliated Jews, this book addresses the most critical question confronting Judaism worldwide.

Completed in December 2013, just weeks before he passed away, Why Be Jewish? expresses Edgar Bronfman's awe, respect, and deep love for his faith and heritage. Bronfman walks readers through the major tenets and ideas in Jewish life, fleshing out their meaning and offering proof texts from the Jewish tradition gleaned over his many years of study with some of the greatest teachers in the Jewish world.

With honesty, poignancy, and passion, Bronfman shares in Why Be Jewish? insights gleaned from his own personal journey and makes a compelling case for the meaning and transcendence of a secular Judaism that is still steeped in deep moral values, authentic Jewish texts, and a focus on deed over creed or dogma.
Praise For Why Be Jewish?: A Testament…
"This book had me nodding my head and taking notes in the margin from the very first page. Edgar Bronfman . . . rightly points out that Judaism can be a powerful way to access the feeling of wonder about the universe, even for the most secular of us."—A. J. Jacobs

"This book is Edgar Bronfman's parting gift to his people-his legendary devotion in a new form. As he was with his deeds, so he is with his words: a prince of Jewish commitment."—Leon Wieseltier

"This book is a must-have for anyone compelled to more deeply understand and love being Jewish."
—Mayim Bialik

"Edgar Bronfman's book gives voice to so many of us who feels outside of the normal religious constructs but love Judaism. While I wish I had met him in person, this book made me feel like I was having a lifelong conversation with this very wise man."—Tiffany Shlain, filmmaker

"This moving and powerful testament demonstrates how much Judaism, with its intertwined concepts of freedom and responsibility, has to offer the thinking modern person in search of life's purpose. Read, and choose to stand at Sinai."—Dara Horn, author of A Guide for the Perplexed

"I was blown away by the beauty of this book and whole-heartedly recommend it."—Bruce Feiler, New York Times bestselling author of Walking the Bible and Abraham

"Excellent for nontheistic and unaffiliated readers, Jewish or not, who want to better understand this religion. It will also make a solid graduation gift."—Library Journal

"This is a fantastic rumination on the principles and practices of Judaism for anyone interested in Jewish faith and culture."—Publishers Weekly

"One man's personal call to laggard Jews to study, learn and seek justice in a broken world."—Kirkus
Twelve, 9781455562893, 256pp.
Publication Date: March 22, 2016
About the Author
Formerly CEO of the Seagram Company Ltd, Edgar M. Bronfman was a renowned philanthropist supporting a wide variety of Jewish organizations. Mr. Bronfman was the foundation chairman of the international board of governors of Hillel and also president of the World Jewish Congress. He passed away in December of 2013, and is survived by his wife, Jan Aronson, and his seven children.