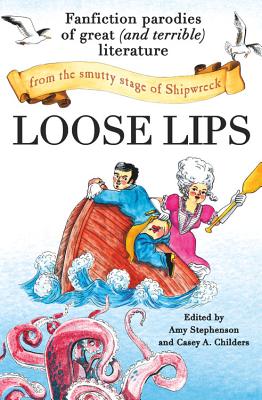 Loose Lips (Paperback)
Fanfiction Parodies of Great (and Terrible) Literature from the Smutty Stage of Shipwreck
Grand Central Publishing, 9781455566426, 304pp.
Publication Date: September 27, 2016
* Individual store prices may vary.
Description
From the wildly popular San Francisco-based reading series comes a loving look at all of our favorite classics . . . with a salacious twist!
You've probably heard rumors about regions of the Internet dedicated to fanfiction-vast, unmapped territories for fans so taken with their favorite books and movies (not to mention video games and cartoon cereal mascots) that they write their own continuing adventures. You've probably also heard the stories get real dirty and weird. Everything you've heard is true.

In 2013, humanitarians Amy Stephenson and Casey A. Childers took fanfiction from the internet to the stage with Shipwreck, a monthly erotic fanfiction competition. Shipwreck is simple:
Invite (bestselling, Hugo, Nebula, and Rita award-winning) writers to rework literature into low humor, erotic pastiche, and, like, LOTS of dick euphemisms
Perform said rewrites for a well-lubricated crowd

Repeat

Here, in book form, you'll find the most outrageous wrecks in Shipwreck's three-year history, drawn kicking and moaning from twenty-three of history's most cherished books and illustrated for your pleasure. LOOSE LIPS will destroy your favorites, shock everyone in your book club, broaden your perspective, and (hopefully) make you laugh until you pee a little.
Contributors include Seanan McGuire, Jeffrey Cranor, Mara Wilson, Joseph Fink, John Scalzi, Carolyn Ho, Jacquelyn Landgraf, Lauren Traetto, Joe Wadlington, Alan Leggitt, Na'amen Gobert Tilahun, Maggie Tokuda Hall, Alexander Chee, Nathaniel Waggoner, Ryan Britt, Danielle Henderson, Maya Rodale, Maris Kreizman, John William, Lauren Parker, Ivan Hernandez, Gabriel Cubbage, Camden Avery, Samuel Rye, Heather Donahue, Tara Marsden, Harrison Boneron, Kitty Stryker, Molly Sanchez, Evan Burton, Spencer Bainbridge, Lily Miller, Virgie Tovar, David Cairns, Leena Rider, Kate Leth, Rose Garrett, Andrew Dudley, Sean Chiki, Colin Winnette, Fifi LaFan, Sarah Maria Griffin, Deborah Kenmore and Kamala Puligandla.
Plus, a foreword by Seanan McGuire!
About the Author
Casey A. Childers is a men's lifestyle editor by trade, co-creator of Shipwreck, and a producer of WRITE CLUB San Francisco. He is the author of the novel Bear Season and the short fiction collection Pictures of the Floating World, She Said, and I Pretended to Understand. He lives in San Francisco, has three children, and is loved by all he meets.

Amy Stephenson is a curly-haired human female and lipstick enthusiast who prefers whiskey. She's Booksmith's social media maven, the emcee of an untold quantity of literary events, and a sort of dry bartender for everyone who wants to tell her what the 60s were like. She's Shipwreck's co-creator and emcee, and a writer for Hoodline's Upper Haight channel, which was voted Best News Site in Best of the Bay (RIP) 2014. She tweets at @LoserTakesAll and for @Booksmith.
or
Not Currently Available for Direct Purchase