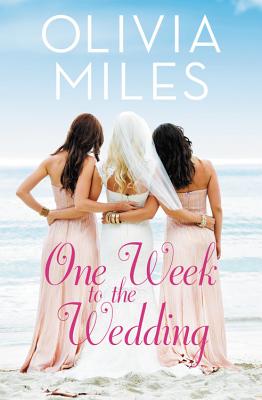 One Week to the Wedding (Paperback)
An unforgettable story of love, betrayal, and sisterhood (Misty Point #1)
Forever, 9781455567225, 352pp.
Publication Date: June 13, 2017
* Individual store prices may vary.
Description
In the vein of New York Times bestselling authors Susan Mallery and Kristan Higgins comes a women's fiction novel about moving forward and mending relationships after two sisters are torn apart by a devastating betrayal.

Lately, just thinking about gowns and centerpieces makes her want to hide under the covers with her dog and a good book --one that doesn't include a romantic plot, thank you very much. Maybe it's because her fiance cheated. Or maybe it's because he cheated with her younger sister, Charlotte. Or maybe it's because her newfound reputation as jilted wedding planner isn't exactly doing wonders for her career.

Charlotte knows she messed up. Big time. But she also knows something Kate doesn't-something that might bring them close again, if her sister will ever take her calls. But as time passes and silence grows, Charlotte begins to realize she can't hide from her problems forever, and that sometimes the only place to run is home.

With the wedding only a week away, Kate expects a few surprises. But what she doesn't expect is to find herself believing...in the strength of family, and the possibility of finding love again.

About the Author
Olivia Miles writes women's fiction and contemporary romance. A city girl with a fondness for small town charm, Olivia enjoys highlighting both ways of life in her stories. She lives just outside Chicago with her husband, young daughter, and two ridiculously pampered pups.

You can learn more at:
http://oliviamilesbooks.com/
Twitter at @MsOliviaMiles
Facebook at https://www.facebook.com/authoroliviamiles
Praise For One Week to the Wedding: An unforgettable story of love, betrayal, and sisterhood (Misty Point #1)…
"Hope Springs on Main Street is a warm, tender story overflowing with emotion. With strong, memorable characters and a delightful small town, this book will surely work its way into your heart. Olivia Miles weaves a beautiful story of healing and second chances."
--RaeAnne Thayne, New York Times bestselling author

"With a charming cast of characters, the touching connection of family and the lovely bloom of romance, this would be a sweet and worthy addition to your romance collection."—USA Today, "Happy Ever After" blog on Hope Springs on Main Street

"Miles is [an] expert at creating a sweet romantic plot and setting endearing characters within it, which...results in a delightful read."—RT Book Reviews on Love Blooms on Main Street

"Genuinely charming characters and the quaint town of Briar Creek are the highlights of Miles' latest...this story is delightfully engaging."
--- RT Book Reviews on Hope Springs on Main Street

"Romantic, touching, and deep-sigh satisfying."
--Emma Cane on Hope Springs on Main Street

"Miles brings us a book filled with crisp storytelling, amusing banter and charming, endearing characters. Miles' modern romance will lure readers in and keep them turning the pages."
--- RT Book Reviews on A Match Made on Main Street

"Sweet, tender, and burgeoning with Christmas spirit and New England appeal, this engaging reunion tale sees one couple blissfully together, artfully setting the stage for the next book in the series."
--- --Library Journal on Mistletoe on Main Street

"The passion and tension between Luke and Grace is equal parts tender and intense, and their journey back toward each other is a sweet and nostalgic one. With a down-home feel throughout, this story is sure to warm any reader's heart. A delightful read."
--RT Book Reviews on Mistletoe on Main Street
1. As she plans Elizabeth's wedding, Kate works to hide her own heartbreak over Jake's betrayal. Talk about a time when you had to hide your feelings from a loved one. Why did you do it? Do you think it was the right decision?
2. Kate says about her dog Henry: "Henry deserved a life that was overflowing with love. Didn't everyone?" How does this belief illustrate Kate's general outlook? How do you think that outlook affects Kate's relationships? Do you think it made it easier for her to forgive Charlotte at the end of the book? Why or why not?
3. At one point, Kate notes that "thirty is a far cry from eighteen, when the world felt so full of promise." How does your outlook change as you grow older? Do the possibilities for your life really diminish, or does it just feel like they do? Have they for Kate? How does her journey throughout the book illustrate that?
4. Charlotte's "life hadn't taken such a traditional route, but was instead being taped and glued together piece by piece." What's the value in living a glued-together life? What's the downside? Has your life followed a traditional route, or has it been more cobbled together?
5. When asked about whether or not he thinks that the town should undertake renovations on the Misty Point Lighthouse, Alec says yes, adding, "The only way for progress is to move forward, not stay rooted in the past." How does this apply to the way he lives his life? What about Kate? Do you believe that you can have progress without letting go of the past? Why or why not?
6. In the beginning of the book, Alec and Kate can't stand each other, and by the end they've fallen in love. How do you think they were able to overcome their initial bad first impressions? Has there been a time in your own life when you've realized that your first impression of someone was wrong? What made you realize that?
7. Both Alec and Kate struggle in their relationships with their siblings but ultimately find peace. How do the two very different sibling relationships illustrate the complicated ways that families interact emotionally?
8. At the end of the book, Kate forgives Charlotte, after hearing what really happened with Jake. Why do you think what seemed like an impossibility for Kate happened so easily in the end? Do you think that forgiveness lessens the pain caused by a betrayal or strengthens it? What makes forgiveness so hard?
or
Not Currently Available for Direct Purchase