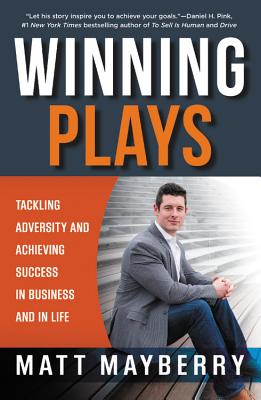 Winning Plays
Tackling Adversity and Achieving Success in Business and in Life
Paperback

* Individual store prices may vary.
Other Editions of This Title:
Digital Audiobook (9/5/2016)
Hardcover (9/6/2016)
Description
No one goes undefeated when playing the game of life. Matt Mayberry is no exception. He's faced setbacks beyond his control and lots more he created himself. But even after conquering addiction, realizing his lifelong dream to play in the NFL, and then having it taken away from him in an instant, he came from behind yet again to achieve more success than ever before.

Sometimes we are knocked down-and even out-by circumstances within or beyond our control. That's life. But these moments can be opportunities to tap into inner strength and start over. By sharing how he treated failure as a way to start over, Matt is now a nationally sought-after speaker and success coach to audiences of more than 100,000 people per year for Fortune 500 companies, NFL and NBA teams, government and nonprofit groups, professional associations, and universities. In WINNING PLAYS, he presents his strategies to survive and thrive in the real world, no matter what gets thrown your way.

Just as no football team can be successful without a solid game plan, you can't be successful without one either. This book is full of Matt's inspirational, motivational, and prescriptive advice, such as: be authentic, create opportunities, power through adversity, reaffirm your goals, rebuild, and many other strategies for developing your own personal game plan to succeed in business and in life.
Praise For Winning Plays: Tackling Adversity and Achieving Success in Business and in Life…
This is a fabulous book. How we respond to failure determines success more than anything else. It is something you can learn, and should learn, and nobody can teach you like Matt Mayberry can. Don't let your failures define you. Read this book and learn how to transform failure into the building blocks for a bigger future.—Matthew Kelly, New York Times Bestselling Author of The Rhythm of Life and The Dream Manager

A brilliant, empowering look at the positive side of failure. Failure makes you stronger and better if you are willing to learn from it and thankfully, Matt shows us how.—Jon Gordon, Bestselling Author of The Energy Bus and The Carpenter

Matt's ability to motivate, inspire, and lead people to becoming the best version of themselves is unbelievable!—Stedman Graham, chairman & CEO of S. Graham & Associates, and a New York Times Bestselling Author

Matt Mayberry is the next big thing in the personal development world. And this book is going to once and for all shift the perspective people have about failure. Read WINNIG PLAYS; it'll change the way you think about setbacks forever!—Rory Vaden, New York Times Bestselling Author of Take the Stairs

Athletes at the top level know best how to overcome adversity to turn their mess into a powerful message. Matt has done just this in sports and life, and this book will guide you in doing the same.—Lewis Howes, New York Times bestselling author of The School of Greatness

WINNING PLAYS is a story of hope and renewal. Author Matt Mayberry has seen the highs and lows -- from drug addiction to an NFL career cut short -- and he knows what he's talking about when he writes about finding success in the ashes of failure. Let his story inspire you to achieve your goals.—Daniel H. Pink, #1 New York Times bestselling author of To Sell Is Human and Drive

As Matt Mayberry's former teammate, I have seen him put to use all of the ideas and strategies within the pages of this book. He shows us how to turn failures into great opportunities. As an NFL veteran, I wish I had this book when I first started my career.—Rodger Saffold, NFL veteran and offensive lineman for the Los Angeles Rams

If you think your failures are painful, you haven't met Matt Mayberry. His experiences with persevering in the face of adversity are full of inspiration and lessons for all of us.—Adam Grant, Wharton professor and New York Times bestselling author of Originals and Give and Take
Center Street, 9781455568277, 272pp.
Publication Date: July 25, 2017
About the Author
MATT MAYBERRY is a highly acclaimed keynote speaker and performance strategist. A former Indiana University and Chicago Bears linebacker, Matt is one of the most widely-read columnists for Entrepreneur.com, where he writes on peak performance, overcoming adversity, leadership, and motivation. Matt's work has been featured on ESPN, Forbes, Huffington Post, ABC, NBC, Fox Business, Fox News, Business Insider, and MSN Lifestyle. As the CEO of Matt Mayberry Enterprises, he helps individuals and organizations all over the world to maximize their potential to achieve breakthrough performance.