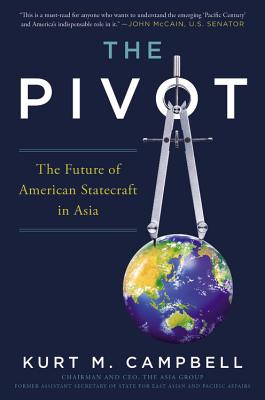 The Pivot
The Future of American Statecraft in Asia
Hardcover

* Individual store prices may vary.
Other Editions of This Title:
Digital Audiobook (6/6/2016)
Compact Disc (6/7/2016)
Compact Disc (6/7/2016)
Description
From former assistant secretary of state Kurt M. Campbell comes the definitive analysis and explanation of the new major shift in American foreign policy, its interests and assets, to Asia.

There is a quiet drama playing out in American foreign policy far from the dark contours of upheaval in the Middle East and South Asia and the hovering drone attacks of the war on terror. The United States is in the midst of a substantial and long-term national project, which is proceeding in fits and starts, to reorient its foreign policy to the East. The central tenet of this policy shift, aka the Pivot, is that the United States will need to do more with and in the Asia-Pacific hemisphere to help revitalize its own economy, to realize the full potential of the region's dramatic innovation, and to keep the peace in the world's most dynamic region where the lion's share of the history of the twenty-first century will be written.

This book is about a necessary course correction for American diplomacy, commercial engagement, and military innovation during a time of unrelenting and largely unrewarding conflict. While the United States has intensified its focus on the Asia-Pacific arena relative to previous administrations, much more remains to be done.

The Pivot is about that future. It explores how the United States should construct a strategy that will position it to maneuver across the East and offers a clarion call for cunning, dexterity, and ingenuity in the period ahead for American statecraft in the Asia-Pacific region.
Praise For The Pivot: The Future of American Statecraft in Asia…
"This is a must-read for anyone who wants to understand the emerging 'Pacific Century' and America's indispensable role in it."—John McCain, U.S. Senator

"In THE PIVOT, Campbell provides a deeply compelling rationale for refocusing American foreign policy priorities more on Asia. Surveying the wreckage of U.S. involvement in the Middle East over the last nearly twenty years, he provides a powerful guide for how to navigate the turbulent political waters of the Asia-Pacific, a region where American strategic engagement can make a deciding and decisive difference."—Walter Isaacson, president and CEO, Aspen Institute, and author of Steve Jobs

"THE PIVOT demonstrates why Kurt Campbell has become America's go-to expert on Asia. The book masterfully explains what Campbell calls the operating system in Asia and how he worked to rebalance U.S. foreign policy to give more attention to China and the Asia-Pacific region. Campbell's greatest strength is that he understands all the regional players-Japan, South Korea, Singapore, the Philippines, and Vietnam-as well as China. If America gets Asia right in coming years, Campbell and his 'pivot' deserve much of the credit. How do you say must-read in Chinese?"—David Ignatius, columnist, Washington Post

"One may agree or disagree with Kurt Campbell's THE PIVOT . . . but one thing is clear: It is a timely contribution to a better understanding of the dilemmas inherent in the vital U.S.-China relationship."—Zbigniew Brzezinski, former National Security Advisor

"It is difficult to overstate the importance of the Asia-Pacific to America's national security and prosperity. It is even more difficult to overstate Kurt Campbell's qualifications on this critical subject. Many have studied U.S. foreign policy toward Asia. Far fewer have set it. Kurt has done both with high honors."—Graham Allison, director, Belfer Center for Science and International Affairs at Harvard University, author of Rethinking America's Security: Beyond Cold War to New World Order

"As the chief architect of the Obama administration's pivot to Asia, Dr. Kurt Campbell served his country with distinction. In THE PIVOT, Dr. Campbell gives a comprehensive description of the evolution of U.S. policy toward Asia, captures the centrality of Asia to America's future, and makes a compelling argument as to the specific ways we can harness the potential of this dynamic region in the twenty-first century. This book should be required reading for policy makers and scholars alike."—Richard Armitage, former Deputy Secretary of State

"No region of the world will be more consequential for U.S. security and prosperity in the twenty-first century than the Asia-Pacific. THE PIVOT offers a rare combination of incisive insights and smart policy recommendations for how the United States should approach this critical region, now and in the future. Kurt Campbell's narrative is a rich tapestry of historical analysis, policy prescription, and personal anecdotes, woven together in a highly readable, sometimes provocative, and always interesting book. This is a must-read for anyone interested in America's future role in the world."—Michèle Flournoy, CEO, Center for a New American Security, and former Under Secretary of Defense for Policy

"Asia holds more than half the world's people including the second and third largest economies (China and Japan); the largest democracy (India); and the largest Muslim country (Indonesia). Kurt Campbell has played a central role in shaping American policy toward this vital region, and in THE PIVOT he skillfully guides us through the past, present, and future of this crucial relationship."—Joseph S. Nye, Jr., distinguished service professor, Harvard's Kennedy School of Government, and author of Is the American Century Over?

"In THE PIVOT, Kurt Campbell, one of the nation's leading master strategists, makes a powerful case for America's sustained and forward-leaning engagement of Asia. As both intellectual architect and front-line diplomat for the Obama administration's 'pivot' to Asia, no one has a better view of the great historical forces and policy debates at play in this unfolding drama. THE PIVOT is both a witty and insightful firsthand account of America's emerging policy toward a rising Asia and a singularly eloquent statement of America's grand purposes in the world."—John Ikenberry, Albert G. Milbank Professor of Political and International Affairs, and author of Liberal Leviathan

"Kurt Campbell is one of America's foremost diplomats on Asia. He has written a highly provocative account of the history, and future, of America's engagement with the Eastern Hemisphere. Importantly, his voice is bound to be influential in any future Clinton administration."—Kevin Rudd, former Prime Minister, Australia

"Balanced, constructive, and uniquely sensible, THE PIVOT is a must for those discussing, debating, or just thinking about America's role in the world. A thoughtful strategist, tested practitioner, and principal architect of rebalancing our foreign policy, Kurt Campbell pragmatically and convincingly drives home the foundations and imperative of America's continuing role in Asia and why Asia will continue to matter to the security and prosperity of the United States."—Admiral Gary Roughead, former Chief of Naval Operations

"Campbell has captured the rising portent of Asia's expanding contributions to manufacturing, transportation, cuisine, and, yes, culture and music. This fascinating read is not only a cogent narrative of the long and twisting tale of U.S. engagement towards Asia, but also a valuable foundation for those seeking insight into what lies ahead for U.S. relations with this vital part of the world."—Tim Westergren, founder, Pandora Music

"No modern American has contributed more to the ideas and plans which have driven the Obama administration's rebalancing of American national security policy to prioritize the Asia-Pacific than Kurt Campbell. Credit of course goes to principals: in this case, President Barack Obama and Secretary of State Hillary Clinton. But Kurt Campbell drove the innovative ideas and programs which gave the concept life. For a time, leaders in the region looked forward to a Campbell visit. Asian hosts knew they would be in receipt of serious policy acumen, not narrow American special pleading. His brand of diplomacy brought the relentless forward momentum of a heavy cruiser at flank speed. No one is better placed than Kurt Campbell to provide an authoritative guide to U.S.-Asia relations. This work will be required reading in every Asian capital."—Kim Beazley, former Australian Ambassador to the United States
Twelve, 9781455568956, 432pp.
Publication Date: June 7, 2016
About the Author
Kurt M. Campbell is chairman and chief executive officer of the Asia Group, LLC, and served as the assistant secretary for East Asian and Pacific Affairs at the Department of State from 2009 to 2013. For his service, he received the Secretary of State's Distinguished Service Award -- the nation's highest diplomatic medal -- and has been recognized with top national honors across Asia. He is chairman of the board at the Center for a New American Security, a non-resident fellow at Harvard's Belfer Center, on the board for Standard Chartered PLC, and is a member of the Aspen Strategy Group.

Dr. Campbell is the author or editor of ten books, including Difficult Transitions: Why Presidents Fail in Foreign Policy at the Outset of Power and Hard Power: The New Politics of National Security. He is married to Dr. Lael Brainard, governor on the U.S. Federal Reserve Board and former under secretary of Treasury for International Affairs. Together, they live in Washington, D.C. with their three daughters.