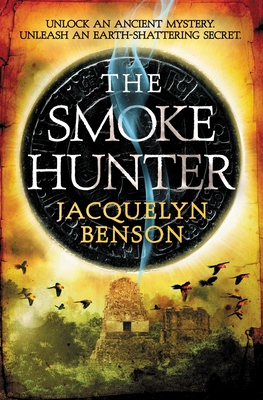 The Smoke Hunter (Paperback)
Grand Central Publishing, 9781455569069, 448pp.
Publication Date: September 13, 2016
* Individual store prices may vary.
Description
"Indiana Jones meets Lara Croft in Benson's engrossing action thriller."
-RT Book Reviews, Top Pick

THE DEBUT OF A CAPTIVATING VOICE AND RIVETING STORYTELLER!

Frustrated suffragette and would-be archaeologist Ellie Mallory stumbles across a map to a city that shouldn't exist, a jungle metropolis alive and flourishing centuries after the Mayan civilization mysteriously collapsed. Discovering it would make her career, but Ellie isn't the only one after the prize. A disgraced professor and his ruthless handler are hot on her heels, willing to go any extreme to acquire the map for themselves.

To race them through the uncharted jungle, Ellie needs a guide. The only one with the expertise is maverick surveyor Adam Bates. But with his determination to nose his way into Ellie's many secrets, Bates is a dangerous partner.

As Ellie gets closer to her goal, she realizes it's not just her ambitions at stake. A powerful secret lies hidden in the heart of the city - and if it falls into the wrong hands, it could shake the very fate of the world.
About the Author
Jacquelyn Benson has always known who she wanted to be when she grew up: Indiana Jones. She studied anthropology in Belfast, Northern Ireland and married a man from Dublin, New Hampshire. She wrote a thesis on paranormal investigators and spent four years living in a museum. When not writing, you may find her turning flowers into wine, herding her unruly offspring, or hiding under a blanket devouring genre fiction.

Praise For The Smoke Hunter…
"4.5 Stars. Top Pick. Indiana Jones meets Lara Croft in Benson's engrossing action thriller. From the very first page, Benson entices readers, luring them into an ancient legend and pulling them along as her three-dimensional characters follow a trail leading from London into the jungles, where a deadly threat could be unleashed. This is one fun, wild ride of an adventure tingled with the paranormal, magical, mystical and believable."—RT Book Reviews


"Fans of spirited heroines, dashing heroes, and perilous mysteries will love this rollicking adventure. A thoroughly engaging debut!"—New York Times bestselling author Deanna Raybourn