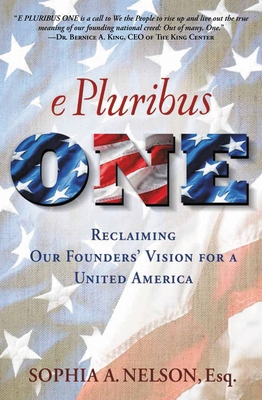 E Pluribus ONE
Reclaiming Our Founders' Vision for a United America
Hardcover

* Individual store prices may vary.
Other Editions of This Title:
Digital Audiobook (1/16/2017)
Description
Our Founders understood that America was the greatest experiment on earth. And they sealed it with these words: E pluribus Unum: "Out of Many We Are One."

"America is the story of us. And us isn't doing so great right now." Says award winning journalist and author Sophia A. Nelson. Coming on the heels of the raucous and divisive 2016 general election campaign, Nelson attempts to give the nation an inspirational charge and lift by helping us to reclaim our founders' vision for a united and strong America. Nelson reminds us that "we the people" are charged by our founders' to cherish life, liberty, freedom and equality, as well as to safeguard the nation from intrusive governance. The founders' also charged our leaders to be moral, virtuous, patriotic servants of the people.

In this groundbreaking book, Nelson challenges us to live out the call of our founding:

We are ONE America.

We are ONE People.

We are ONE nation indivisible with liberty and justice for all.

Pulling from our founding fathers' core principles of liberty, citizenship, morals, virtues, civic engagement, equality, self-governance, and, when required, civil disobedience, Nelson calls us to a higher standard. She calls us to purpose. And she calls us to rediscover the things that unite us, not divide us.

One is a book that all Americans, regardless of political party, race, religion, or gender can embrace and share with their children and grandchildren for generations. It is a reminder simply of what makes America great and what makes us the envy of the world. Alexis de Tocqueville said it best: "America is great because America is good. If America ever ceases to be good, it will cease to be great." Nelson takes us on a historical, yet very inspirational journey of not just our founding values, but the men and women who walked them out and brought America to be the great light it is in the world over the past 240 years.
Praise For E Pluribus ONE: Reclaiming Our Founders' Vision for a United America…
"E PLURIBUS ONE is a call to We the People to rise up and live out the true meaning of our founding national creed: Out of many, One."—Dr. Bernice A. King, CEO of The King Center

"E PLURIBUS ONE is a fearless and urgent national call to unity. We couldn't put it down!"—Essence Magazine Book Review

"Nelson delivers a truly non-partisan take on how America became one great nation, from our diverse strength. Reading this book will inform, challenge, and inspire you to rise to the highest calling we all have as citizens."—Leslie Sanchez, CBS News Contributor, author and former Director of White House Initiative on Hispanic Education

"Through a variety of American voices, Sophia Nelson has come up with a how-to guide of citizenship and political leadership. Brimming with straightforward talk about our Founders' vision for a unified nation, and why we need it now more than ever."—Jonathan Capehart, Washington Post Editorial Board and Pulitzer Prize winning journalist

"Sophia Nelson's smart, powerful insight in E PLURIBUS ONE is more than just an American history book, it is a book of American inspiration and what animates that indomitable American Spirit!"—Michael Steele, Former RNC Chairman, MSNBC Contributor and Political Analyst

"What a fantastic, straightforward, and honest book about what our founding fathers and mothers envisioned for us as one unified and proud nation."—Betsy Rothstein, Columnist, The Daily Caller

"A must-read for anyone who wants to understand the beginnings and greatness of America."—Mayor Kevin L. Faulconer, San Diego, California

"Sophia Nelson reviews and revives the unshakable values that bonded Americans from our founding- through the Civil War-to the present. It's nothing short of magnificent, serving as inspiration for every citizen who seeks our national healing."—Donna Brazile, ABC This Week Contributor

"Sophia Nelson has done it again. E Pluribus One is more than just an American history book, it is a book of American inspiration and what has kept us one, united people for over 240 years."—Rebecca Lopez, WFAA Dallas News

"Sophia Nelson makes a compelling case for a fractured America to realize that we are still in this thing together. It may not feel like it, but we are more united than divided."—Roland S. Martin, Tom Joyner Morning Show and News One Now Anchor

"In times of great turmoil, Sophia Nelson reminds us that our nation is stronger when we celebrate and respect our diversity, that our survival depends upon an enlightened citizenry."—A'Lelia Bundles, Chairman, National Archives Foundation

"As America looks for guidance and direction this book provides a road map. Sophia Nelson brings critical thinking to the nation's attempt to unify."—Ed Gordon, The Steve Harvey Morning Show and host of Ed Gordon on Bounce TV
Center Street, 9781455569397, 352pp.
Publication Date: January 17, 2017
About the Author
Sophia A. Nelson, Esq., is an award-winning author and journalist. She covered the White House from 2010 to 2012 as a reporter during the first term of the historic Obama administration. She is a noted national political pundit, writer, and political insider, who in the past served as a Congressional Committee Counsel in the House of Representatives. She embodies the notion of "Oneness" in everything she does.
or
Not Currently Available for Direct Purchase