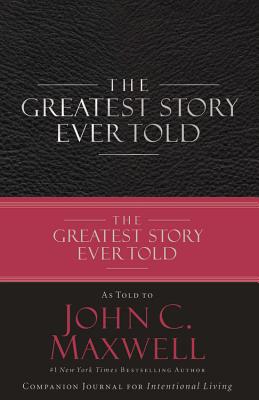 The Greatest Story Ever Told (Leather / fine binding)
Center Street, 9781455569588, 256pp.
Publication Date: November 1, 2016
* Individual store prices may vary.
Description
In 1976, John Maxwell was excited to receive a book as a gift. The title:
The Greatest Story Ever Told.
Imagine his shock when he opened it to find all the pages blank-except for a note from the giver that said, "John, your life is before you. Fill these pages with kind acts, good thoughts, and matters of your heart. Write a great story with your life." This was John's invitation to become proactive in writing his own life story. And it marked him. Now John extends that same offer to you and people you care about. It's time to become intentional about writing your own story of significance. THE GREATEST STORY EVER TOLD
is the perfect companion for every milestone:
Promotion
Graduation
Wedding
New Year
Begin writing your story today.
About the Author
John C. Maxwell is a #1
New York Times
bestselling author, coach, and speaker who has sold more than 24 million books in fifty languages. Often called America's #1 leadership authority, Maxwell was Identified as the most popular leadership expert in the world by
Inc.
magazine in 2014. And he has been voted the top leadership professional six years in a row on LeadershipGurus.net. He is the founder of The John Maxwell Company, The John Maxwell Team, and EQUIP, a non-profit organization that has trained more than 5 million leaders in 180 countries. Each year Maxwell speaks to
Fortune
500 companies, presidents of nations, and many of the world's top business leaders. He can be followed at
Twitter.com/JohnCMaxwell
. For more information about him visit
JohnMaxwell.com
.