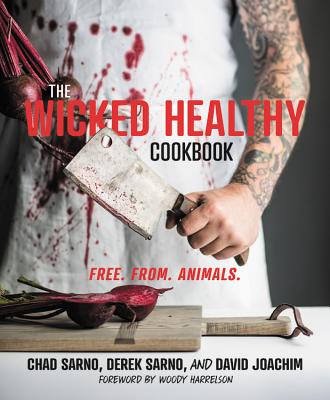 The Wicked Healthy Cookbook
Free. From. Animals.
Hardcover

* Individual store prices may vary.
Description
Hi, we're Chad and Derek. We're chefs and brothers who craft humble vegetables into the stuff of food legend. Everything we create is a bold marriage of delicate and punchy flavors, and crunchy textures-all with knife-sharp attention to detail. We're proud graduates of the University of Common Sense who simply believe that eating more veg is good for you and good for the planet.

THE WICKED HEALTHY COOKBOOK takes badass plant-based cooking to a whole new level. The chefs have pioneered innovative cooking techniques such as pressing and searing mushrooms until they reach a rich and delicious meat-like consistency. Inside, you'll find informative sidebars and must-have tips on everything from oil-free and gluten-free cooking (if you're into that) to organizing an efficient kitchen.

Celebrating the central role of crave-able food for our health and vitality, Chad and Derek give readers 129 recipes for everyday meals and dinner parties alike, and they also show us how to kick back and indulge now and then. Their drool-inducing recipes include Sloppy BBQ Jackfruit Sliders with Slaw, and Grilled Peaches with Vanilla Spiced Gelato and Mango Sriracha Caramel. They believe that if you shoot for 80% healthy and 20% wicked, you'll be 100% sexy: That's the Wicked Healthy way.

Praise For The Wicked Healthy Cookbook: Free. From. Animals.…
Healthy, plant-based food can be exciting, easy to prepare, and downright delicious--and THE WICKED HEALTHY COOKBOOK proves it. Whether you're just trying animal-free eating or if you've been a fellow vegan for years, the Sarno brothers' celebration of the tantalizing potential of plant-based food exhilarates and inspires a new passion for healthy eating.
—Senator Cory Booker

"Chad and Derek just created the next required reading in plant-based cooking. You can't even flip through this book without saying, 'DAMN, now I hafta make that.' So, make your life easier, tastier, and Wicked Healthy with the Sarno boys."—Michelle and Matt, New York Times bestseller authors of the Thug Kitchen series

"Derek and Chad have pulled off something quite difficult: made a believer out of a confirmed omnivore. In THE WICKED HEALTHY COOKBOOK, both brothers show off their talent and creativity in the pursuit of making vegan food attractive--even craveable--to skeptics like me who have a hard time thinking about a diet sans meat."—Andy Ricker, chef/owner and author, Pok Pok restaurants

"I totally love this cookbook! Everything the Sarno brothers create is out-of-this-world delicious, nourishing, and filled with plant-based innovation. I highly recommend you add this wicked awesome book to your library--you'll be so happy you did!"—Kris Carr, New York Times bestselling author and wellness activist

"If there was one new cookbook to be sure you get your hands on this year, THE WICKED HEALTHY COOKBOOK is without a doubt the one. The Sarno brothers have been kicking ass for years in the culinary world and this book certainly showcases that. A must for anyone into delicious food."
—Tal Ronen, chef, author, and owner of Crossroads Kitchen

"THE WICKED HEALTHY COOKBOOK is an incredible book. Not only are the recipes appealing, fun, and wonderfully healthy, but it also shows the secrets for getting flavors, aromas, and presentation working for you in the most practical way. Smartly written and filled with gorgeous photography, WICKED HEALTHY is the coolest cookbook I have seen in a long time."—Neal Barnard, MD, FACC, New York Times bestselling author

"Whatever preconceptions you had about plant-based cooking, prepare to be wrong. Derek and Chad deliver you a world of flavors, textures, and downright sexy food! These plant-pushers know their stuff. Learn from them and feel better because of them. Cook the future-of-food now!"
—Jane Land and Matthew Glover, founders of Veganuary

"Chad and Derek had me at first bite and have made vegan food wickedly delicious and easy. With tasty recipes such as King Oyster Scallops, Cauliflower Ribs, and Chocolate Fudge Brownies, the Sarnos make it fun to eat vegan!"—Chloe Coscarelli, chef, entrepreneur, and bestselling author
Grand Central Life & Style, 9781455570287, 320pp.
Publication Date: May 8, 2018
About the Author
Chad Sarno is vice president of culinary at Good Catch Foods and cofounder of the Wicked Kitchen line of foods at Tesco. Chad also is an ambassador for Rouxbe, the world's largest online cooking school, where he has launched the Professional Plant-Based Certification course. He spent several years at Whole Foods Market as senior culinary educator, and media spokesperson for the Global Healthy Eating program. Prior to this, Chad launched a line of boutique restaurants throughout Europe, in Istanbul, Munich, and London.
Derek Sarno is the executive chef and director of plant-based innovations for Tesco, the third largest food retailer in the world. Derek is the cofounder of Wicked Kitchen line of foods in Tesco and cofounder of Good Catch Foods. He is the former Whole Foods Market senior global executive chef, where he catered all of the company's major executive leadership events and oversaw national recipe development. Derek has owned several critically acclaimed restaurants and catering businesses.
David Joachim has authored, co-authored, or collaborated on over forty cookbooks, including several award winners and bestsellers such as The Food Substitute Bible and A Man, a Can, a Plan, a series of healthy cookbooks that has sold over one million copies.