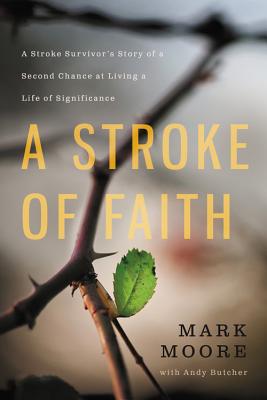 A Stroke of Faith (Hardcover)
A Stroke Survivor's Story of a Second Chance at Living a Life of Significance
FaithWords, 9781455571116, 256pp.
Publication Date: April 25, 2017
* Individual store prices may vary.
Description

Mark Moore always believed he was in charge of his life. All that changed on a beautiful Saturday morning in May 2007. Suddenly he was no longer in control of anything. Though his life will never return to his pre-stroke normality, through this crisis, he has gained a deeper understanding of the centrality of God's role in his life and in all of our lives. A STROKE OF FAITH tells the story of moving from acceptance to surrender and from hope to faith. It reveals God's work in Mark's life as He transformed him from thinking he had everything under control to knowing God has had control all along.
About the Author
Mark Moore is a philanthropist and successful businessman. Along with his wife, Brenda, Mark has established the Mark and Brenda Moore and Family Foundation, through which he supports advances in healthcare, education, culture and the arts, and Christian evangelism. Prior to engaging full time in his philanthropic work, Mark was Chief Operating Officer and co-owner of Segovia, Inc., a leading provider of global internet protocol services to the US Defense Department.
Praise For A Stroke of Faith: A Stroke Survivor's Story of a Second Chance at Living a Life of Significance…
An unforgettable story of a man's ability to overcome. Mark unveils his journey through stroke recovery with relentless courage and unshakable honesty. I was humbled by Mark's willingness to share his struggles and triumphs side by side - a true testament to the power of the human spirit.—Lonnie G. Bunch III, Founding Director, National Museum of African American History and Culture

Mark's story reminds us that we all have the power to overcome the unthinkable... an important reminder to all of us about the unshakable place of family and faith as we face life's struggles and triumphs.—Lee Woodruff, New York Times bestselling author and CBS This Morning contributor

I was stunned when I first met Mark Moore and learned that he had suffered two strokes at age 46-the exact same age when my own father suffered a stroke. That point of similarity grabbed my attention, and aroused my compassion, as I learned Mark's powerful story. Read A Stroke of Faith, and you too will be caught up in the story of how Mark first experienced the stroke, and even more in the story of how God helped Mark to face the devastating reality and then emerge to become a new man, dedicated to living his entire life God's way.—Reverend Dr. Mark Olson, President, John Leland Center for Theological Studies

A Stroke of Faith is not just the account of Mark Moore's strokes and road to recovery. It is a touching story of his life, love, family and faith. Its message will inspire hope to all who read about his journey.—Wayne Reichman, MD, Medical Committee Co-Chair,
Community Coalition for Haiti

A Stroke Of Faith by Mark Moore is a literary personification of the heartfelt ruminations of a highly successful businessman, struggling with an incapacitating illness. As a cerebro-vascular neurologist, who deals with stroke patients on a daily basis, I was touched by this lesson in humanity, persistence, recovery and triumph. This great work of art is a must read for health care providers in all capacities.—Richard T. Benson, MD/PhD, American Heart Association/American Stroke Association, Greater Washington Region Board of Directors President

Mark Moore can best be described as a philanthropic activist whose impact ripples out across our local, regional and national communities in the way that a coin ripples the water when it is dropped into a wishing well. All who are touched by his ripple are affected in positive ways that are realized today, tomorrow and in their future. He will call you to action and expect nothing less than maximum effort for the causes that he so passionately believes in... their mission is his mission.—Anthony T. Burchard, President, Inova Health Foundation

Rarely does one meet a person, akin to King Hezekiah, who is able to give testimony of how the Lord gave him many more years of productive life. Mark had almost obtained royalty status; wealth, influence, and living the dream, until he suffered a stroke. Having been reminded of how great God is, he has used his story to glorify God and give others hope. A Stroke of Faith is truly a treasure chest among the many resources God gives us to better appreciate how faith, love, determination and hope empowers us to overcome major challenges in our lives.—Rev. Dr. James L Graham Jr., Senior Pastor (Retired), Mount Pleasant Baptist Church, Herndon, Virginia

In this powerful memoir, Mark Moore shares his journey of recovery from a series of two strokes that should have taken his life. The love and support of family and friends, and most importantly his decision to let his future be guided by his faith are the reasons he weathered the storm. This book is sure to inspire anyone that is going through difficult times.—Pastor Marvin Winans, Grammy Award Winning Artist, Founder & Pastor of Perfecting Church

A Stroke of Faith is the incredible story of Mark Moore, who courageously fought to get his life back after suffering two nearly fatal strokes. It is also a celebration of love and faith that will be a source of strength to anyone facing a long road to recovery from a debilitating illness or serious accident. This book is a must-read for those who need encouragement, hope, or just a reminder that the challenges we face will often make us stronger individuals.—Nancy Brown, CEO, American Heart Association/American Stroke Association