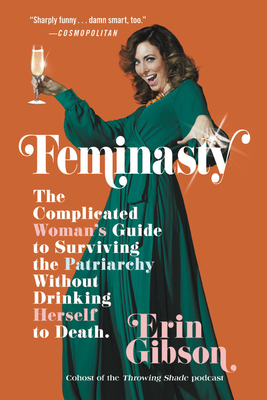 Feminasty
The Complicated Woman's Guide to Surviving the Patriarchy Without Drinking Herself to Death
Paperback

* Individual store prices may vary.
Other Editions of This Title:
Digital Audiobook (9/3/2018)
Compact Disc (9/4/2018)
Hardcover (9/4/2018)
Compact Disc (9/4/2018)
Description
From the wickedly funny and feminist creator and host of the Throwing Shade podcast, a collection of hilarious personal essays and political commentary perfect for fans of Lindy West and Roxane Gay.

Since women earned the right to vote a little under one hundred years ago, our progress hasn't been the Olympic sprint toward gender equality first wave feminists hoped for, but more of a slow, elderly mall walk (with frequent stops to Cinnabon) over the four hundred million hurdles we still face. Some of these obstacles are obvious-unequal pay, under-representation in government, reproductive restrictions, lack of floor-length mirrors in hotel rooms. But a lot of them are harder to identify. They're the white noise of oppression that we've accepted as lady business as usual, and the patriarchy wants to keep it that way.

Erin Gibson has a singular goal-to create a utopian future where women are recognized as humans. In Feminasty -- titled after her nickname on the hit podcast "Throwing Shade" -- she has written a collection of make-you-laugh-until-you-cry essays that expose the hidden rules that make life as a woman unnecessarily hard and deconstructs them in a way that's bold, provocative and hilarious.

Whether it's shaming women for having their periods, allowing them into STEM fields but never treating them like they truly belong, or dictating strict rules for how they should dress in every situation, Erin breaks down the organized chaos of old fashioned sexism, intentional and otherwise, that systemically keeps women down.
Praise For Feminasty: The Complicated Woman's Guide to Surviving the Patriarchy Without Drinking Herself to Death…
We dare you to find a more relatable book title. Comedian and Throwing Shade podcast host Erin Gibson gave us the gift of this collection of omg-I'm-literally-dying level hilarious essays that tackle the 'hidden rules that make life as a woman harder.' Not only will you learn sh*t, but you'll also laugh a lot. What could be better than that?"
—Betches.com

"The rhetorical purposes of the work are clear: Gibson seeks to lift up women at every opportunity, especially by changing the gender balance in political power."—Kirkus Reviews

"Gibson uses her very presence as an act of defiance-she's a loud Southern lady with size-11 feet who grew up poor white trash-and readers will be grateful that she can't keep her mouth shut."—Booklist

"Erin Gibson--one-half of the crazy-popular Throwing Shade podcast--is as sharply funny as she is unabashedly feminist. Damn smart, too. Each of the essays in this book is an eye-opening lesson in how the patriarchy is working against us, and how to fight back. #themoreyouknow"—Cosmopolitan

"In her edgy, fierce, and funny debut essay collection, comedian and 'Throwing Shade' podcast cohost Gibson serves up scathing wit and graphic observations on the 'insane ways people try to control' women...The result is a bubbly acid bath of clever invective encouraging her fellow women to make the world a better place."—Publisher's Weekly

"Feminasty is laugh-out-loud funny. But it'll also make you seriously mad. Erin Gibson, co-host of the podcast Throwing Shade, sheds light on niche women's issues that aren't at the forefront of the news but desperately need our attention."—HelloGiggles.com

"Gibson blazes across the page like a firework shooting over a landscape of ALL CAPS and italics for emphasis...Feminasty is a Best-Friend Book. Reading it feels like having a feminist hype-woman in your corner. She's taking patriarchal bullies apart with the catty, flippant venom they deserve. She's pouring you a glass of something bubbly. She's making you laugh til it runs out your nose."—Portland Mercury
Grand Central Publishing, 9781455571871, 288pp.
Publication Date: October 8, 2019
About the Author
Emmy-nominated Southern loudmouth Erin Gibson is an expert at mixing social commentary, political satire, and vagina jokes into neat little comedy packages. Based in Los Angeles, she's one half of the Throwing Shade empire, which includes an award-winning political absurdist comedy podcast, international live touring show, the Funny or Die web series and a TV Land late night show. She developed her social commentary chops as the host of Modern Lady and sharpened them writing and directing political sketches for Funny or Die, where you've seen her impersonate terrible women like Michele Bachmann, Megyn Kelly, Michelle Duggar, and Ivanka Trump. She also created the long running Emmy-nominated "Gay of Thrones" starring her real-life hair stylist, Jonathan Van Ness. Feminasty is her debut book of comedic essays.