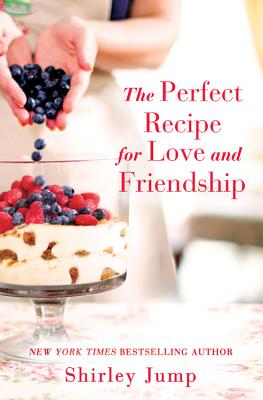 The Perfect Recipe for Love and Friendship (Paperback)
Forever, 9781455572007, 368pp.
Publication Date: July 11, 2017
* Individual store prices may vary.
Description
"Beautifully written and unflinching in its portrayal of the complexities of marriage, sisterhood and long-held secrets."
Kristan Higgins, New York Times bestselling author, on The Secret Ingredient for a Happy Marriage

Bridget O'Bannon is ready for a do-over. After years of pretending she had a happy marriage and denying that she missed the friends and family she'd left behind, she's headed home to restart her life.

But working alongside her family every day at their bakery isn't as easy as whipping up her favorite chocolate peanut butter cake. Her mother won't give her a moment's peace, and her sister Abby is keeping secrets of her own. And there doesn't seem to be enough frosting in the world to smooth over the cracks forming between them.

Bridget can see the recipe for a happy life- including the possibility of a new romance- written out before her, but first she and her family will need to lay bare their secrets and rediscover the most elusive ingredients of all: forgiveness, laughter, and love.
About the Author
When she's not writing books, New York Times and USA Today bestselling author Shirley Jump competes in triathlons, mostly because all that training lets her justify mid-day naps and a second slice of chocolate cake. She's published more than 60 books in 24 languages, although she's too geographically challenged to find any of those countries on a map. Visit her website at www.ShirleyJump.com for author news and a booklist, and follow her on Facebook at www.Facebook.com/shirleyjump.author for giveaways and deep discussions about important things like chocolate and shoes.
Praise For The Perfect Recipe for Love and Friendship…
"4 Stars! Bridget O'Bannon's grief at the loss of her husband is authentic, and her tumultuous relationship with her controlling mother and sisters refreshingly honest. As the author peels back the layers of this heartwarming, sometimes heart-wrenching, story, readers are given a glimpse of the good, the bad, and the ugly sides to family and forgiveness."—RTBookReviews.com

There really isn't anything better than a book about family, friendship and food and The Perfect Recipe for Love and Friendship has all of this and more!—MargiesMustReads.com

"Beautifully written and unflinching in its portrayal of the complexities of marriage, sisterhood and long-held secrets."—Kristan Higgins, New York Times bestselling author, on The Secret Ingredient for a Happy Marriage