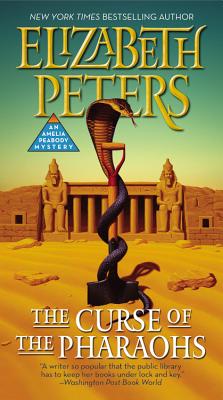 The Curse of the Pharaohs (Amelia Peabody Mysteries) (Mass Market Paperbound)
Grand Central Publishing, 9781455572366, 384pp.
Publication Date: May 28, 2013
* Individual store prices may vary.
Description
It's 1892, and Amelia and Emerson, who is now her husband, are back in England raising their young son Ramses, when they are approached by a damsel in distress. Lady Baskerville's husband, Sir Henry, has died after uncovering what may have been royal tomb in Luxor. Amid rumors of a curse haunting all those involved with the dig, Amelia and Emerson proceed to Egypt and begin to suspect that Sir Henry did not die a natural death. The accidents plaguing the dig appear to be caused by a sinister human element, not a pharaoh's curse.
About the Author
Elizabeth Peters was born and brought up in Illinois and earned her Ph.D. in Egyptology from the University of Chicago's famed Oriental Institute. Peters was named Grand Master at the inaugural Anthony Awards in 1986 and Grand Master by the Mystery Writers of America at the Edgar Awards in 1998. She lives in a historic farmhouse in western Maryland. You can learn more at: ameliapeabody.com