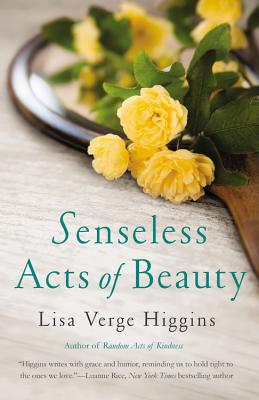 Senseless Acts of Beauty (Paperback)
Grand Central Publishing, 9781455572878, 352pp.
Publication Date: March 10, 2015
* Individual store prices may vary.
Description
A towel with a faded camp logo is the only clue that fourteen-year-old Sadie Tischler has to the identity of her birth mother. With her family life in upheaval, the reckless teenager runs away to the Adirondack camp, determined to find her mother and force her to take responsibility for the child she'd so callously given up.

Tess Hendrick has a secret. For years, she has been following the life of the daughter she gave up for adoption, firmly believing that Sadie has a better home than she could have ever provided. Now, with Sadie on the run, Tess has no choice but to rush back to the hometown she swore never to set foot in again.

But Tess's unexpected return has stirred up old memories, probing questions, and a dangerous investigation. The only way Tess can protect her daughter is to hide the ugly truth about the past-and deny, at all costs, that Sadie is hers.

In this deeply moving new novel from Lisa Verge Higgins, the unbreakable bonds of family unknowingly guide two strangers in making difficult choices, adapting to momentous changes, and finally finding their way home again.
About the Author
While studying for her Ph.D. in chemistry, Lisa Verge Higgins wrote and sold her first novel. Now an author of fifteen books, this opera-loving mother of three has been twice named to Barnes & Noble's General Fiction Forum for their top twenty novels of the year. Her stories about women's lives and women's friendships have been described by reviewers as "joyous, uplifting life lessons" that "inspire us to focus on what's really important in our lives." When not writing stories, Lisa works as a reviewer for The New York Journal of Books. She currently lives in New Jersey with her husband and their three teenage daughters, who never fail to make life interesting.
Praise For Senseless Acts of Beauty…
"Top Pick! 4 1/2 Stars! Higgins doesn't use flowery verse; she presents hard realities, dysfunction and, best of all, possibilities and hope...in a novel that you won't soon forget."—RT Book Reviews on Friendship Makes the Heart Grow Fonder

"Characters that could have been stock (the rich girl, the Trekkie programmer) have a depth that is strengthened by relationships with family, boyfriends, the past, and, most important, friends."—Booklist on One Good Friend Deserves Another

"Higgins writes with grace and humor, reminding us to hold tight to the ones we love."—Luanne Rice, New York Times bestselling author of The Deep Blue Sea for Beginners on The Proper Care and Maintenance of Friendship