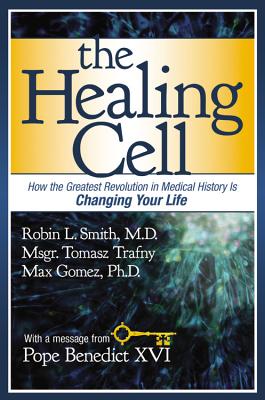 The Healing Cell
How the Greatest Revolution in Medical History is Changing Your Life
Hardcover

* Individual store prices may vary.
Other Editions of This Title:
Digital Audiobook (4/1/2013)
Description
The Healing Cell is an easy to read, carefully researched, and clear-eyed view of medicine many decades in the making that is now paying off with treatments that repair damaged hearts, restore sight, kill cancer, cure diabetes, heal burns, and stop the march of such degenerative diseases as Alzheimer's, multiple sclerosis, and Lou Gehrig's disease. The emotionally and intellectually stimulating stories throughout the book dramatically illustrate that stem cell therapies can change the way we live our lives after being afflicted by a disease or trauma. The book is the result of a unique collaboration between the Vatican's Pontifical Council for Culture and the Stem for Life Foundation. It includes a special address by His Holiness Benedict XVI, urging increased support and awareness for advancements in adult stem cell research.
Praise For The Healing Cell: How the Greatest Revolution in Medical History is Changing Your Life…
"In addition to making the science easy to understand, we filled the book with here-and-now case studies on how adult stem cell therapies are already helping real people suffering needlessly from deadly and debilitating diseases and medical conditions. Not only does the book speak to the success of our historical partnership with The Vatican, but it sets the stage for our next great event." —Dr. Robin L. Smith, co-author

"This book promotes a powerful dialogue between scientific and religious communities. This dialogue must find its expression within the important framework of searching for truth and being guided by the highest ethical values. We hope this book will help educate people throughout the world regarding the importance of ethical scientific research and help them understand they do not need to choose between their faith and science; but in fact, the two can work together to profoundly improve humanity."—Monsignor Tomasz Trafny, co-author

"The future is upon us. Cell therapy is taking medicine where drugs cannot go. The Healing Cell is a guide to how this evolving technology can offer patients living with many serious conditions - including my MS - something we barely know. Hope."—Richard M. Cohen, New York Times Best Selling author of Blindsided and Strong at the Broken Places

"This book distinguishes itself from the multiplicity of websites and books on the subject of stem cells by being scientifically, politically, and most important, ethically correct, and it does so in an entertaining way. Quite a remarkable accomplishment."—Tommy Thompson, U.S. Secretary of Health and Human Services from 2001 to 2005

"The authors offer a clear, calm and yet somehow startling overview of the remarkable promise of adult stem cell therapies and research. The book is worthy of its subject."—Peggy Noonan, columnist for The Wall Street Journal and best selling author
Center Street, 9781455572922, 240pp.
Publication Date: April 2, 2013
About the Author
Robin L. Smith, M.D. became the Chief Executive Officer and Chairman of the Board of NeoStem effective June 2, 2006, after first joining the Company as Chairman of its Advisory Board in September 2005. Dr. Smith is the President and serves on the Board of Directors of The Stem for Life Foundation. Dr. Smith received a medical degree from Yale University in 1992 and a master's degree in business administration from the Wharton School in 1997.

Since 2006, Rev. Tomasz Trafny has served as the official at the Pontifical Council for Culture, head of Science and Faith Department (Vatican City State) and executive director of STOQ Project. His focus is on matters related to the wide-ranging dialogue between science and religion, especially cultural analysis of scientific advancements.

Max Gomez, Ph.D. is one of television's most respected medical journalists. He has produced award-winning health and science segments for network stations in New York and Philadelphia. Dr. Max has reported for Dateline, Today Show, and 48 Hours. Over more than three decades, he's earned nine Emmy Awards. Dr. Max graduated with honors from Princeton University and received his Ph.D. in Neuroscience from the Wake Forest School of Medicine. Among the many boards he serves on is the Stem for Life Foundation and the American Heart Association.
or
Not Currently Available for Direct Purchase