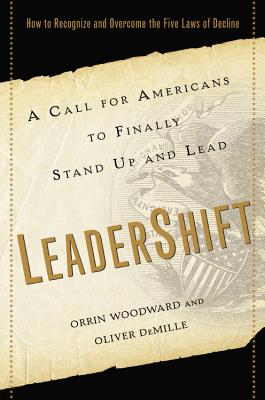 Leadershift: A Call for Americans to Finally Stand Up and Lead (Hardcover)
A Call for Americans to Finally Stand Up and Lead
Business Plus, 9781455573370, 192pp.
Publication Date: April 16, 2013
* Individual store prices may vary.
or
Not Currently Available for Direct Purchase
Description
A most provocative business parable for our troubled times, LeaderShift is the story of how David Mersher, the successful CEO of IndyTech, sets out to discover why the United States is losing its leadership edge and what he can do to turn things around and make America truly great again.
In the process, Mersher and his team learn how the Five Laws of Decline are eroding the nation's economy-quietly ruining businesses and big institutions-and what American executives and citizens need to do to put a stop to this.
Above all, Mersher and his colleagues discover something few business leaders or citizens of free nations have yet to realize: Our world today is on the verge of a momentous LeaderShift, one which will reframe the twenty-first century and significantly alter the way we govern, lead, and do business.
When Mersher and his team get help from a surprising source, the result is stunning and unexpected-and it's one that concerned Americans will certainly reflect upon for decades to come.
The next LeaderShift is almost here.
Are you ready?

About the Author
Orrin Woodward co-authored the NY Times bestseller Launching a Leadership Revolution. His first solo book RESOLVED: 13 Resolutions for LIFE made the Top 100 All-Time Best Leadership Books List. In 2011 Orrin was awarded the prestigious Independent Association of Business (IAB) Leader of the Year Award. He has co-founded two multi-million dollar leadership companies and serves as the Chairman of the Board of the LIFE Business. Born and raised in the American Southwest, Oliver DeMille collects rocks, knives, watches, old books, and sunsets. His quest for a Founders-like education has defined his life and mission, and led to the founding of a college, a think-tank and an educational movement for our time, known as Thomas Jefferson Education (TJEd). He is a popular keynote speaker, a sought-after mentor, and a two-time recipient of the Gold Honor Medal from the Freedoms Foundation at Valley Forge. Oliver is the author or co-author of Leadership Education, A Thomas Jefferson Education, The Student Whisperer, The Coming Aristocracy, The Four Lost American Ideals, 1913, and FreedomShift - among others. Oliver and his wife Rachel are raising their eight children in Cedar City, Utah.
Praise For Leadershift: A Call for Americans to Finally Stand Up and Lead…
"Woodward and DeMille have outdone themselves. This book might just be the lever that the smartest people in America use to shift America back on course. Spread the word - the revolution is coming."

- Daniel R. Castro, award-winning author of Critical Choices that Change Lives.

"Orrin Woodward and Oliver DeMille offer a third way out. The old "left - right" arguments died with the Cold War. The spending that brought the Soviet Union to its knees is now about to sink the West. This book is a brilliant wake-up call."

- Doug Wead, former adviser to two American presidents, New York Times bestselling author.

"This book rises high above partisanship with real suggestions that are deep, thought provoking, and incredibly original. The Five Laws of Decline introduced in this book will make a significant contribution to the national discourse."

- Chris Brady coauthor NY Times bestseller Launching a Leadership Revolution

"This is probably one of the most important and powerful books written for the times we are in -- as well as coming times. Orrin and Oliver have woven a story so compelling and so rich that it forces you to turn the next page. The underlying message with the 5 Laws are so brilliantly crafted that I do not use this word often- but this book is GENIUS."

- Doug Firebaugh, Co-Founder of Home Business Radio Network

"Whether a Republican, Democrat, Independent or Libertarian, if you are saddened by our country's declining abundance, real hope has arrived. It happens to be in the form of a story that just might be, to our time, what Thomas Paine's Common Sense was to his time."

- Bob Burg, coauthor of The Go-Giver

"Woodward and DeMille combine their knowledge of history, philosophy, science, systems thinking, economics, and government to explain the challenges facing America from the Five Laws of Decline. This non-political book explains how to fix the government gridlock and end the political "smoke and mirrors" so prominent in our society today."

- Tim Marks Best-selling Author of Voyage of a Viking

"I've been convinced for a long time that America's much-needed revival depends largely on entrepreneurs and business leaders; they have the most to lose from our national decline. In this thoroughly engaging read, Oliver DeMille makes this case with unprecedented depth and breadth. This is not typical whiny, partisan fluff. Oliver transcends party to articulate a compelling vision and detail a provocative and and realistic formula for restoring America's freedom and greatness. Responsible, freedom-loving citizens are hungry for solutions, and this instant classic is meat-and-potatoes freedom fare."

- Stephen Palmer, Founder of Life Manifestos & Author of Uncommon Sense: A Common Citizen's Guide to Rebuilding America
Advertisement