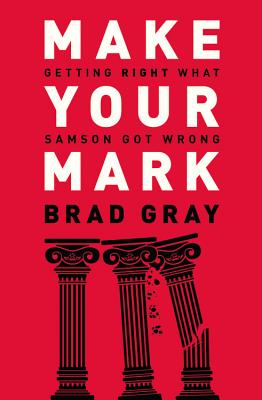 Make Your Mark
Getting Right What Samson Got Wrong
Paperback

* Individual store prices may vary.
Description
Your decisions matter. You've been created to live a great story and leave a dent in this universe.

Wrestling with our calling in life is a fundamental struggle for just about everyone. Who are we supposed to be? How are we supposed to live? What are we supposed to do? These are all questions many of us grapple with.

Surprisingly, the Samson narrative is one of the most instructive stories for helping us answer these questions. Often touted as a story about muscles, testosterone, and seduction, there is so much more to this ancient account. Employing all the best tools for interpreting the Bible today, Brad Gray unpacks the Samson story anew, giving us fresh insights into the universal callings of those desiring to live out God's fullest design for life. Perfect for personal and small group study, Make Your Mark will reignite your sense of purpose and stretch your faith so you can find the next step on the journey towards your calling.

With passion, humor, and skill, Brad shows us how we can get right what Samson got wrong in order to flourish in our humanity, to make the most of the lives we've been given, and to leave a positive mark on our world.

It's time to make your mark! Learn more and find a FREE Discussion Guide at www.WalkingTheText.com.
Praise For Make Your Mark: Getting Right What Samson Got Wrong…
"In MAKE YOUR MARK Brad Gray helps strip away our Western cultural assumptions and gives us a fresh look into the story of Samson. Along the way he gives us practical and biblical instruction that helps us navigate through our own stories as we become a part of the larger story."
—
TobyMac, Grammy award-winning artist, producer, song-writer, and author of City on Our Knees
"Samson is the perfect archetype for the conflicted superheroes we find in movies today. Despite his supreme strength, he's often hardly heroic in how he fulfills God's calling. What can we learn from his weaknesses? By digging into Samson's life in its ancient context, Brad Gray has excavated much fresh insight for today. I was delighted and convicted by Brad's thoughtful heart, his humor and his passion for studying God's Word in its original time and place."
—
Lois Tverberg, author of Sitting at the Feet of Rabbi Jesus and Walking in the Dust of Rabbi Jesus
"Brad Gray provides a rare combination of cultural understanding, geographical context, historical perspective, and biblical insight, making this book a powerful read. The life lessons from Samson's story are clear and highly relevant for today's culture."
—
Kirk Cousins, NFL Quarterback and author of Game Changer
"MAKE YOUR MARK brings three dimensional insights to a mysterious story. The image of Samson has long been that of a muscular one man wrecking crew. By guiding us through the geography, customs, and language, Brad Gray provides a refreshing look at an enigmatic character. In the process, he motivates us to become better stewards of our own calling, gifts, and opportunity."
—
Jeff Manion, Sr. Teaching Pastor, Ada Bible Church and author of The Land Between and Satisfied
"Brad Gray's mighty fine book MAKE YOUR MARK probably should be titled "It Will Leave a Mark" because it will! Over the years, I have had the unspeakable pleasure of teaching preaching to literally hundreds of young men and women all eager to take their place in the long line of preachers who have gone before them. I keep in my mind a list of the "best of the best" I have ever taught, and Brad Gray is on that list. He may actually be at the very top of that list in this particular regard; he is the most relentless studier of the text I have ever taught. He tirelessly turns over every stone in sight to see what is just beneath the surface! What a wonderful gift to once be a teacher of a person who then becomes your teacher! If you read MAKE YOUR MARK like I did, it will leave a mark on you, and you will be better for it!"
—
Dr. Timothy Brown, president and Henry Bast Professor of Preaching, Western Theological Seminary, Holland, Michigan
"Brad Gray has a remarkable gift for merging the best tools we use to interpret the Bible today. Here he employs historical geography, the culture of ancient Israel, Hebrew language insights, and a wide knowledge of the Bible to bring to life the stories of Samson that are frequently neglected in the church. His aim is not mere exposition, however. His heartfelt desire is to see these ancient inspired stories find new life for believers and he does it with enthusiasm, humor, and skill. MAKE YOUR MARK is as fascinating as it is inspiring. And particularly for those Christians who may think they've heard it all in the Bible, Brad Gray proves that there are fantastic surprises still to be discovered."
—
Gary M. Burge, Ph.D., professor of New Testament at Wheaton College & Graduate School
FaithWords, 9781455573608, 208pp.
Publication Date: August 19, 2014
About the Author
Brad Gray is the Teaching Pastor at Central Wesleyan Church in Holland, Michigan. He has traveled extensively to the biblical lands of Israel, Jordan, Egypt, Turkey, and Greece, and currently leads biblical study trips to Israel and Turkey. Brad has a BA in Business Management from Cornerstone University (Grand Rapids, MI), an MDiv from Western Theological Seminary (Holland, MI), and did additional graduate work at Jerusalem University College (Jerusalem, Israel). Brad and his wife, Shallon, live with their children in Holland, Michigan. To learn more about Brad and his ministry, please visit www.WalkingTheText.com.