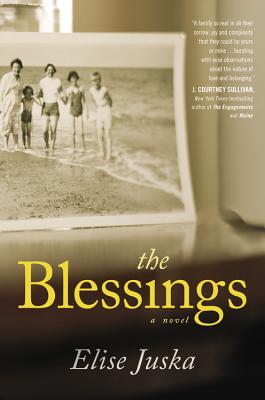 The Blessings
Hardcover

* Individual store prices may vary.
Other Editions of This Title:
Digital Audiobook (5/5/2014)
Paperback (5/26/2015)
Description
"Bursting with wise observations." -- J. Courtney Sullivan, author of The Engagements and Maine

"Gleams like a jewel." -- The Philadelphia Inquirer

"Stunning. . . Unique and unforgettable." -- Glamour

Hailed as one of the best books of 2014 by The Philadelphia Inquirer, Elise Juska's The Blessings is a moving novel about a tight-knit Irish Catholic clan over the course of twenty years.

The Blessings rally around one another in times of celebration and those of sorrow, coming together for departures and arrivals, while its members harbor private struggles and moments of personal joy. College student Abby ponders homesickness in her first semester away from her Philadelphia home, while her cousin Stephen commits a petty act of violence that takes a surprising turn, and their aunt Lauren faces a crisis in her storybook marriage she could never have foreseen. Through the lens of one unforgettable family, this beautifully moving novel explores how our families define us and how we shape them in return.
Praise For The Blessings…
"There's no shortage of novels about the quirks and tragedies of large families, but
The Blessings
is a uniquely poignant, prismatic look at an Irish-Catholic clan as it rallies after losing one of its own."—
Entertainment Weekly
"[A] bighearted novel. . . . Juska's moving, multifaceted portrait of the Blessing family gleams like a jewel."
—
The Philadelphia Inquirer
"Takes us into the heart of one of Philadelphia's large Irish-Catholic families . . . the storytelling is confident and Juska writes movingly about the emotional life of individuals within a close social unit."
—
The Toronto Star
"Several generations of the Blessings, a Philadelphia-based, Irish-American family, come beautifully to life in a deceptively simple tale that examines the foibles, disappointments and passions that tie family members together. . . The author brings a depth of understanding to the human condition, including in her descriptions of Abby's cousin Stephen, on the road to becoming a ne'er-do-well; her uncle Patrick, a successful eye doctor, contemplating infidelity; and Meghan coming to terms with her eating disorder . . . Despite these challenges, the Blessings rally round each other-whether that attention is wanted or not-and the reader leaves feeling lucky to have spent some time in their presence."
—
Publishers Weekly (starred review)
"Juska explores the collective experiences, traditions and loyalties of a close-knit family . . . a multilayered, sympathetic account of its members' lives."
—
Kirkus Reviews
"We are in good hands with award-winning short story author Juska. She is a shrewd observer of human nature and has an outstanding ability to bring her characters to life on the page . . . this wonderfully readable work about family life will have you eagerly turning pages."
—
Library Journal
"With each chapter, Juska takes readers into the life of a different family member, honoring the individuality that blossoms even amid the strong bonds of a family's deep love. She draws intimate and detailed sketches of each of these characters, but the ultimate portrait is of the Blessing family as a whole. This heartfelt tribute to the ups and downs of a large, devoted family is warm, uplifting, and recommended for readers from families of all sizes."
—
Booklist
"Beautifully crafted. . . Juska draws the characters so fully, with thoughts and feelings so real, the reader can't help but become emotionally invested."
—
All You
"Juska's emotionally resonant storytelling will remain with you long after turning the last page."
—
Irish America
"The Blessings are a family so real in all their sorrow, joy and complexity that they could be yours or mine. Juska's portrait of this close-knit clan is bursting with wise observations about the nature of love and belonging. I enjoyed every page."
—
J. Courtney Sullivan, New York Times-bestselling author of The Engagements and Maine
"In the tradition of Elizabeth Berg's and Alice McDermott's work,
The Blessings
is a knowing portrait of a sprawling Irish-American family in Philly across the last thirty years, in all their shared strength and separate weaknesses. Elise Juska is deft and tender, letting us get close to her characters in their most vulnerable moments. The ties that bind are never simple, and often painful, but as one daughter acknowledges, 'these are the hidden intimacies, the private exchanges, on which she builds her life.'"—
Stewart O'Nan, author of Songs for the Missing and Emily, Alone
"Elise Juska is so good at describing people, places, and moments that you not only picture them, you
feel
them."—
Curtis Sittenfeld
"In this absorbing novel, Elise Juska moves effortlessly among family members and across decades, covering tragedy and triumph, love and loyalty. I adored everything about this book and raced to finish it, only to turn the last page and long for more time with this large, complicated, close-knit family."
—
Jennifer Close, author of Girls in White Dresses and The Smart One
"Elise Juska, with a sharp and generous eye, charts the duality of family life in her novel-in-stories,
The Blessings.
Juska's characters, in their all-too-real efforts at self-discovery, remain home or travel the world, dabble with temptation or stay committed, reveal secrets or keep them; the one constant is their shared blood and history
.
Each exquisitely layered story builds on top of the other, leaving the reader with a lasting portrait of what it means to be a part of a family in today's fractured world."—
Siobhan Fallon, author of You Know When the Men Are Gone
Grand Central Publishing, 9781455574032, 272pp.
Publication Date: May 6, 2014
About the Author
Elise Juska's fiction and nonfiction have appeared in Ploughshares, Gettysburg Review, The Missouri Review, Good Housekeeping, the Hudson Review, and many other publications. She is the recipient of the Alice Hoffman Prize for Fiction from Ploughshares and her work has been cited in the Best American Short Stories. She lives in Philadelphia, where she is the director of the undergraduate creative writing program at the University of the Arts.
or
Not Currently Available for Direct Purchase