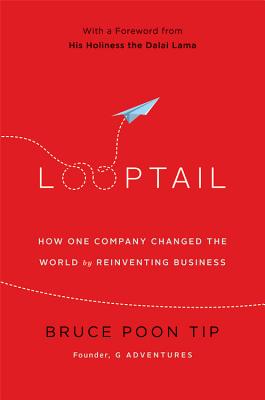 Looptail: How One Company Changed the World by Reinventing Business (Hardcover)
How One Company Changed the World by Reinventing Business
Business Plus, 9781455574094, 288pp.
Publication Date: September 17, 2013
* Individual store prices may vary.
or
Not Currently Available for Direct Purchase
Description
Much in the same vein as DELIVERING HAPPINESS, LOOPTAIL combines both Bruce Poon Tip's extraordinary first-person account of his entrepreneurial instincts to start and develop G Adventures, a highly-successful international travel adventure company, and along the way, he reveals his unusual management secrets that not only keep his employees fully engaged but also keep his customers extremely happy.
About the Author
A native of Trinidad, Poon Tip grew up with his family in Canada and still lives there. He is the founder of the travel company G Adventures.
Praise For Looptail: How One Company Changed the World by Reinventing Business…
From the Foreword of LOOPTAIL from His Holiness the Dalai Lama:

This book by Bruce Poon Tip encourages me. I met Bruce in May this year. In today's materialistic world where people risk becoming slaves to money, Bruce seems to be one of those entrepreneurs who understand that human dignity, freedom and genuine well-being are more important than the mere accumulation of wealth. Wealth should serve humanity, and not vice versa. The stark economic inequality between rich and poor is not only morally wrong, but is the source of many practical problems, including war, sectarian violence, and the social tensions created by large-scale economic migration.

Not only in his business, but also in this account of his adventures, Bruce Poon Tip is making an active contribution to creating a more peaceful and happier world, while at the same time creating a model from which others can learn.










"I've never bribed my way out of a Burmese prison, nor have I climbed anything higher than a few flights of stairs, but Bruce has the courage not only to brave these, but also to lead a company with the candor and character demanded from our twenty-first-century business leaders. Executives take note, the internet age will not be forgiving to companies that fail to walk the talk of being a socially responsible, high-quality business.
-Alexis Ohanian, startup guy: reddit & Hipmunk

"LOOPTAIL gives readers an insightful glimpse into Bruce's world and his philosophy of constantly seeking out new adventures while simultaneously ensuring his company maintains a sense of social responsibility."
-Tony Hsieh, author of the New York Times bestseller Delivering Happiness and CEO of Zappos.com, Inc.

"Bruce Poon Tip has created an awesome company that is changing the world. As both a fan and a customer, I loved peeking behind the curtain to see all the greasy inner gears whirl and clink with beauty. LOOPTAIL is not only an incredible story, but also serves as a how-to guide for creating happiness in the workplace!"
-Neil Pasricha, author of the New York Times bestseller The Book of Awesome

"In LOOPTAIL, Bruce Poon Tip shares an entertaining and engaging account of his entrepreneurial success story of how he built his company from the ground up, and how elevating customer and employee engagement to a higher purpose can also be great for business."
-Marc Benioff, co-founder and CEO, Salesforce.com
Advertisement