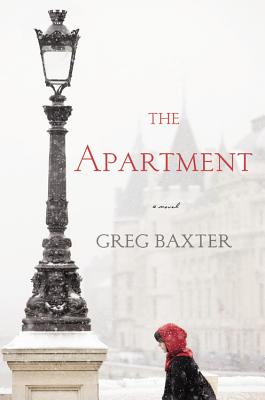 The Apartment (Hardcover)
A Novel
Twelve, 9781455574780, 208pp.
Publication Date: December 3, 2013
Other Editions of This Title:
Digital Audiobook (12/2/2013)
Paperback (11/18/2014)
Compact Disc (12/3/2013)
Pre-Recorded Audio Player (12/3/2013)
Compact Disc (12/3/2013)
* Individual store prices may vary.
Description
A powerful and elegant debut novel about love, memory, exile, and war.

One snowy December morning in an old European city, an American man leaves his shabby hotel to meet a local woman who has agreed to help him search for an apartment to rent. THE APARTMENT follows the couple across a blurry, illogical, and frozen city into a past the man is hoping to forget, and leaves them at the doorstep of an uncertain future-their cityscape punctuated by the man's lingering memories of time spent in Iraq and the life he abandoned in the United States. Contained within the details of this day is a complex meditation on America's relationship with the rest of the world, an unflinching glimpse at the permanence of guilt and despair, and an exploration into our desire to cure violence with violence.

A novel about how our relationships to others-and most importantly to ourselves-alters how we see the world, THE APARTMENT perfectly captures the peculiarity and excitement of being a stranger in a strange city. Written in an affecting and intimate tone that gradually expands in scope, intensity, poetry, and drama, Greg Baxter's clear-eyed first novel tells the intriguing story of these two people on this single day. Both beguiling and raw in its observations and language, THE APARTMENT is a crisp novel with enormous range that offers profound and unexpected wisdom.


About the Author
Greg Baxter was born and raised in Texas. Over the last twenty years, he has lived variously in Ireland, England, Austria, Chicago, Louisiana, and Germany. In 2010 he published his first book, the critically acclaimed A Preparation for Death. He now lives in Berlin, where he writes and translates.
Praise For The Apartment: A Novel…
"It is precisely this sort of subversion, along with the author's shimmering prose, that makes THE APARTMENT such a surprisingly compelling read and so apropos; it captures the mood of the current moment and what seems to be a new "lost generation," one formed not so much by exposure to violence, as immunity to and alienation from it. Once upon a time, there was no place like home; in Mr. Baxter's world, home, it seems, is no place."—Adam Langer, The New York Times

"THE APARTMENT Greg Baxter's absorbing, atmospheric and enigmatic first novel, unfolds in extended paragraphs without chapter breaks on a single snowy mid-December day in a fictional European city that evokes aspects of Vienna, Prague and Budapest. Its long, frigid journey into a long, sleepless night explores a man's uneasy relationship with his past, himself and a world in which violence is inescapable."—Los Angeles Times

"THE APARTMENT proved to be a quiet and powerful read through and through. Baxter's clean and direct prose generates its own momentum. He chooses not to create a tidy drama where characters are explained by their pasts. Rather, he creates something bigger and more true."—The Daily Beast

"Violence, lurking offstage throughout the story, makes a shocking entrance near the end, setting in place everything that's come before. The effect is devastating, in the best possible way."—Denver Post

"A beautiful meditation on brutality and culture, which are sometimes one and the same."—Minneapolis Star Tribune, "Hot Five" list

"THE APARTMENT is an exciting debut novel, and leaves one eager for Baxter's follow-up, whenever that may be."—The Daily Beast, Hot Reads

"It is one of the best novels I have read in a long time... It is very much to Baxter's credit that he presents this struggle as if it were thriller, love story, philosophical novel and dark comedy combined, in a novel not like a bullet but like an arrow flying straight to the heart of the matter."—Stacey D'Erasmo, New York Times Book Review

"This profound and perfectly paced novel worked such magic on me that by its final pages I felt simultaneously destroyed and revived."—Antoine Wilson, author of Panorama City

"The novel shines most in the telling-the slow, deliberate narrative unfolds like a quiet symphony, and Baxter's prose lingers inexplicably, like a beautifully sad song."—Publisher's Weekly

"Clever, entertaining, brave, it stretches the rules while following a man through one day of his life. I loved it."—Roddy Doyle

"A formally and thematically ambitious debut novel... Following the lead of James Joyce, Don Delillo and others, the novel takes place over the course of a single day in the life of its protagonist as he makes his way across an unnamed European city in search of the titular apartment...A very smart novel."—Kirkus Reviews (Starred Review)

"THE APARTMENT is the kind of novel that expands one's sense of what a novel can and ought to be and do. It is brave, captivating, formally innovative in a way that never seems showy or false, and with a tone perfectly balanced between poetic-factual deadpan and astringent wit-this book is a triumph from beginning to end."—Michael Griffith, author of Spikes and Trophy

"Exceptional--a book rich in ideas and poetry."—Hisham Matar, Man Booker Prize finalist for Country of Men

"Imagine you're on a roller-coaster ... suddenly, without warning, it tips vertiginously, so quickly that your chest constricts and while you're there, suspended, momentarily, at the apex of this roller-coaster, you're aware suddenly of a kind of clarity, a totally new perspective on everything below. Greg Baxter's THE APARTMENT is a bit like this ... Full of unshowy wisdom and surprising moments of beauty."—Sunday Telegraph

"Stunningly good."—Saturday Review, BBC Radio 4

"Admirable for its scope, ambition and unashamed seriousness of purpose, as well as its willingness to take stylistic and structural risks."—Observer

"Baxter's superbly elegant, understated writing explores the dynamics of America's relationship with the rest of the world."—The Times
or
Not Currently Available for Direct Purchase