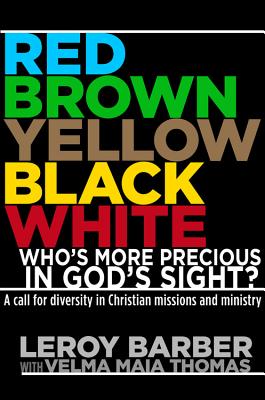 RED, BROWN, YELLOW, BLACK, WHITE -- WHO'S MORE PRECIOUS IN GOD'S SIGHT?
A Call for Diversity in Christian Missions and Ministry
Hardcover

* Individual store prices may vary.
Description
Drawing upon two decades of mission experience, Leroy Barber exposes the racial divisions within Christian ministries and offers practical and comprehensive solutions for promoting diversity. Red, Brown, Yellow, Black and White highlights the historic patterns that have created racial discrepancies within missions. It joins the essential canon created by touchstone books like Divided by Faith by Michael Emerson and Christian Smith and the ever-popular Race Matters by Cornel West. With a no-blame attitude, powerful personal narratives from a dozen other black, Hispanic, Asian, Native American and white Christians, interactive histories of missions, and the writings of MLK and Howard Thurman (the entire "Letter From Birmingham Jail" and Howard Thurman's motivational speech "Sound of the Genuine"), Barber addresses this tough issue in a way that will inspire and motivate readers of all races toward change.
Jericho Books, 9781455574957, 224pp.
Publication Date: September 9, 2014
About the Author
Leroy Barber is the Executive Director of Word Made Flesh Ministries, and former president of Mission Year and of Focus Community Strategies (FCS) Urban Ministries. He is the author of two previous books, New Neighbor and Everyday Missions. He lives in Portland, Oregon.

Velma Maia Thomas is author of six books on African American history, including the award-winning interactive project Lest We Forget, and co-author of Emancipation Proclamation: Forever Free. She lives in Atlanta, Georgia.
or
Not Currently Available for Direct Purchase